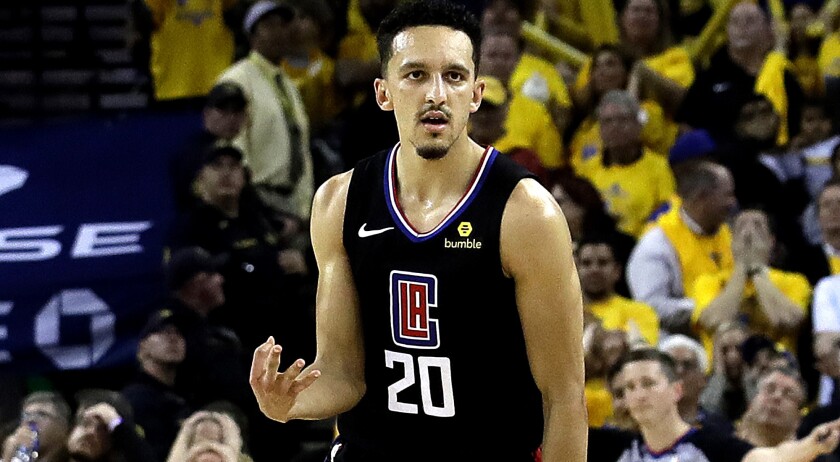 The Clippers left Game 2 of their first-round playoff series against Golden State with a record.
Regrets, too.
Sitting in folding chairs Wednesday morning at their practice facility in Playa Vista, the Clippers reviewed Monday's 31-point comeback, the largest in NBA postseason history, to stun the Warriors along with the mistakes that created such a hole in the first place.
"What we did was historic, but the reality tells a whole different story," Clippers coach Doc Rivers said. "The reality is that we were down 31 and the reality is we're not going to win a lot of games against anybody doing that.
"The reality is they're shooting over 50% and there are a lot of realities in this series that don't bode well unless we do something about it. I'm fully aware of that. All the backslapping and all that is nice, but we need to get back to reality that we got to play better if we're going to win."
By halftime the Clippers had committed more turnovers (nine) than they'd made three-pointers (six) or free throws (eight). A defensive wrinkle in Game 1, designed to make it harder for Kevin Durant and Stephen Curry to get open coming off screens, had been straightened. The top-seeded Warriors were shooting nearly 60% from the field and 46% from three-point range.
Sign up for our daily sports newsletter »
Then the Clippers focused, the Warriors collapsed and the series was tied at 1-1.
Television trucks absent for much of the season crammed into makeshift parking spots outside the team's facility Wednesday to hear Rivers, whose team has rallied to win four times since February after trailing by 20 points or more, liken the group to roaches because of how difficult it is to kill them off.
The Clippers reveled after the win but rookie guard Landry Shamet, whose three-pointer with 15 seconds remaining was Game 2's go-ahead basket, said the celebration had come to an end because the series against the still-powerful Warriors has not.
"We can't afford any big-win hangover where we're still riding the wave from that game," Shamet said. "Just trying to move past it, it's been fun, you enjoy it you, appreciate it, but today, we're back in here ready to work."
Just as the Clippers spent the last two days attempting to refocus, so have the Warriors. After three championships in four seasons, and four consecutive appearances in the NBA Finals, the Warriors' longtime core of Curry, Draymond Green and Klay Thompson have played under far harsher spotlights than they will find inside Staples Center during Game 3 on Thursday.
Yet going forward, they will have neither center DeMarcus Cousins, whom coach Steve Kerr said will likely miss the rest of the postseason because of a torn quadriceps muscle, nor an aura of invincibility. Not after an all-time roster was felled by small mistakes, head-scratching turnovers and careless defense. The Clippers poured in 85 points after halftime, the second-most scored in the second half of a playoff game since Milwaukee had 87 in 1978.
Forward Kevin Durant is averaging 22 points in the series on 54% shooting yet was ejected from Game 1 after tangling with Clippers guard Patrick Beverley and fouled out of Game 2 after committing four offensive fouls in the second half. He committed nine turnovers, his most in three seasons.
Kerr expects Durant to be more aggressive. Durant felt the nine-inch height difference between himself and Beverley was a factor in how he'd been officiated.
"With this series, it's kind of weird because when a guy's that small, you've got the advantage but the referees see David and Goliath," Durant told reporters in Oakland. "We hear that story a lot growing up so that story is prominent in people's minds. When you put that out on the court the ref's going to give him a little bit more."
Said Beverley: "I think it works in my favor. His center base is probably where my shoulder starts, so I'm fortunate to have a strong base line and try to take away his legs from him."
For all of the focus on Durant, Curry played just four minutes in the third quarter because of foul trouble and turned the ball over twice while missing all three shots he took during a seven-minute stretch in the fourth quarter. It helped the Clippers stage a startling finish.
For an encore, they'll need a sharper start.
"We know we probably just pissed off a sleeping bear," Shamet said of the Warriors. "They are going to be ready to go tomorrow."
Twitter: @andrewgreif
---