Blake Griffin returns to Clippers practice, could be ready to play before playoffs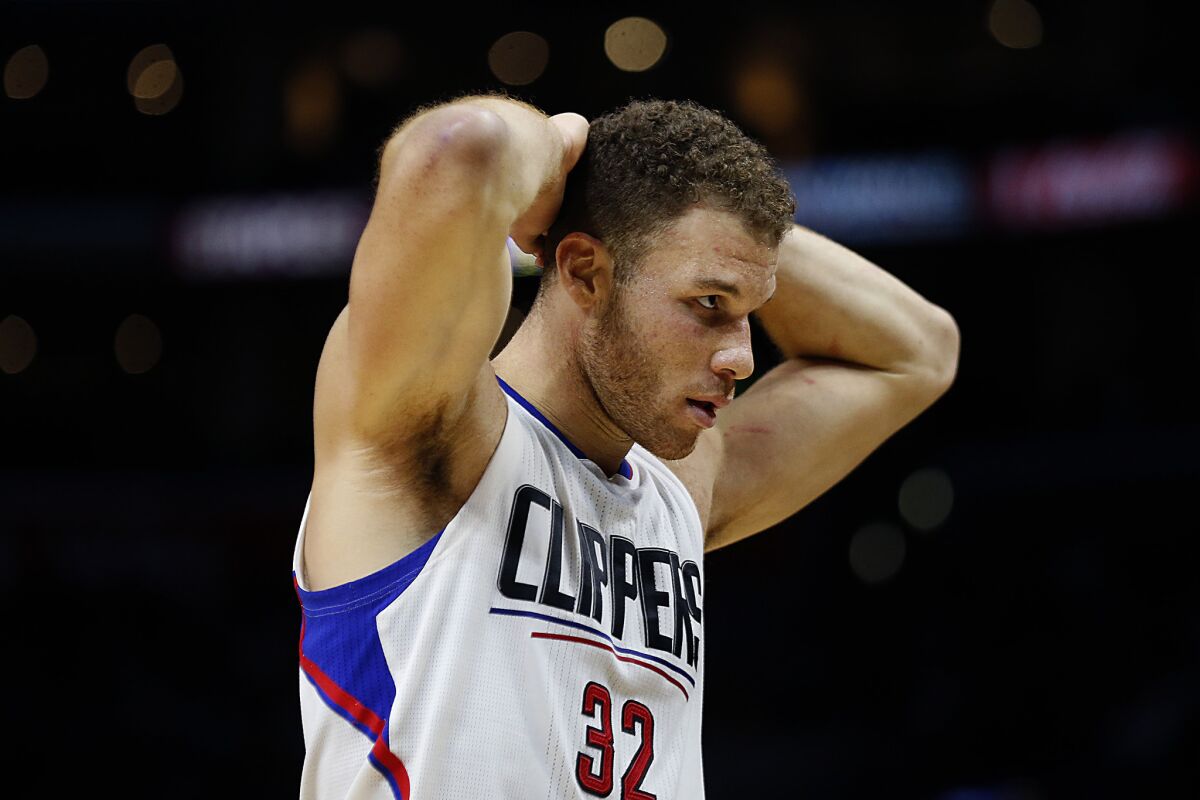 Blake Griffin smiled as he milled about the Clippers' practice facility Saturday morning, graciously lingering to speak with a pair of guests wearing his jersey.
There was a reason for his buoyancy. He was about to get back onto the court with his teammates.
Griffin participated in his first practice since December, meaning his return from the quadriceps and hand injuries that have sidelined the star power forward for more than three months could come in a week or so.
See more of our top stories on Facebook >>
Of course, there will be one final delay included in that timeline. Griffin must serve a four-game suspension for punching team assistant equipment manager Matias Testi, punishment that won't start until the Clippers inform the NBA that Griffin has been cleared to play.
That could come as soon as Sunday, when the Clippers play the Denver Nuggets at Staples Center, based on the results of Griffin's first practice. Clippers Coach Doc Rivers said Griffin looked "phenomenal" while completing the entire session. His conditioning was also better than expected.
If Griffin began serving his suspension Sunday, he could return April 3 against the Washington Wizards and play in seven games before the Clippers open the playoffs.
"I don't care if it's zero, to be honest, now, as long as he's playing to start the playoffs," Rivers said when asked how many games he wanted Griffin to play before the end of the regular season.
The NBA is not expected to independently verify that Griffin has sufficiently recovered to play, but if it has any concerns it can step in and have him examined by a doctor of its choosing.
Rivers said Griffin had received clearance from his hand and quadriceps injuries "for a while" but needed to build strength and endurance before being allowed to practice. Griffin's partially torn left quadriceps tendon, which has sidelined him since Christmas, was bothersome as recently as a few weeks ago, forcing Griffin to briefly scale back his workouts.
The Clippers held only a light practice Saturday and it was not clear whether they would need to see Griffin participate in more rigorous activities before clearing him to play. Griffin was not made available to speak with reporters.
"I don't know if one practice is enough to activate him," Rivers said. "We've got to activate him when we think he's ready to play."
Griffin was in the midst of possibly his best season before being injured, averaging 23.2 points, 8.7 rebounds and 5.0 assists while making 50.8% of his shots. The Clippers have gone 27-14 since Griffin last played but have struggled in recent weeks.
"Listen, we're still in survival mode until Blake comes back," said Rivers, whose team has lost seven of its last 11 games. "I just think as it's gone on, it's gotten harder and harder, because it takes a lot of energy to win games."
Rivers said Griffin's ability to shift momentum was among the many things the Clippers missed.
"Someone's making a run and Chris [Paul] has played 10 straight minutes and you're looking for someone else to make a play for you," Rivers said, "it's nice having another guy."
The Clippers have had success re-integrating Griffin into their lineup late in the season. They won 14 of their final 16 regular-season games last season after Griffin had missed the previous 15 games because of a staph infection in his right elbow.
The schedule could work against the Clippers, however. Their final 11 regular-season games include four sets of back to backs, allowing for limited practice time before the playoffs. Rivers said his team could change the way it handles time between games, holding practices on days off and eliminating shootarounds to implement its playoff preparations more effectively.
Get the latest in sports with our free newsletter >>
Griffin's return could mean reduced playing time for fellow forwards Paul Pierce, Jeff Green, Luc Mbah a Moute and Wesley Johnson, depending on how Rivers decides to shuffle his lineup. The team has used smaller lineups in Griffin's absence but now has the option to revert to a more traditional format.
"We can go a lot of ways now," Rivers said, "which makes us better."
The status quo will remain in effect for a bit longer. Rivers said he wouldn't get excited until he heard a public-address announcer make Griffin's return official, proclaiming, "And at power forward …"
NEXT UP
VS. DENVER
When: 12:30 p.m.
Where: Staples Center.
On the air: TV: Prime; Radio: 570.
Records: Nuggets 31-42; Clippers 44-27.
Record vs. Nuggets: 1-1.
Update: Denver entered Saturday 4 1/2 games out of a playoff spot in the Western Conference standings, a deficit that will be hard to make up with only nine games left on its schedule. The Nuggets looked playoff-worthy while beating the Clippers, 87-81, last month at Staples Center, but forward Danilo Gallinari has since been lost for the season because of torn ankle ligaments and forward Kenneth Faried is questionable to play Sunday because of a back injury that has sidelined him for five games.
Follow Ben Bolch on Twitter: @latbbolch
MORE SPORTS NEWS
Clippers hope win over Portland has them back on track
Lakers guard D'Angelo Russell sprains right ankle in loss to Nuggets
Kobe Bryant, Julius Randle give fans something to cheer about in loss to Nuggets
---
Get our high school sports newsletter
Prep Rally is devoted to the SoCal high school sports experience, bringing you scores, stories and a behind-the-scenes look at what makes prep sports so popular.
You may occasionally receive promotional content from the Los Angeles Times.