Clippers get big road win with late rally to beat the Nets
NEW YORK —
During the final minute of Saturday's first quarter in Brooklyn, the coach who didn't expect to be the Clippers' acting leader turned to a lineup no one expected to see.
Three of the five Clippers on the floor at that moment inside Barclays Center — guard Xavier Moon, wing James Ennis III and forward Wenyen Gabriel — had not been on the roster as recently as Christmas. In fact, by virtue of their previous 10-day contracts with Brooklyn, Ennis and Gabriel had spent more time with Saturday's opponent than their new team.
But what was Brian Shaw, the acting coach, to do? A roster ravaged by the NBA's COVID-19 protocols and injuries was missing 10 players, multiple coaches, and relying on an exhausted core that had played heavy minutes only 24 hours earlier in Toronto before reaching their Midtown Manhattan hotel a little before 2 a.m.
This is the state of the Clippers, where in recent days the most anticipated results feel less related to wins and losses than COVID tests.
They are patched together. But not pushed over.
With coach Tyronn Lue in COVID-19 protocols and eight players unavailable, the Clippers fight to the finish but fall 116-108 to the Raptors in Toronto.
Facing a Nets team featuring a healthy All-Star duo of Kevin Durant and James Harden, and trailing by 13 with 5 minutes 57 seconds to play, the Clippers raised hell instead of a white flag, sparking the season's most unexpected 10-0 run. With the right shots and timely stops, they made up for the late-game mistakes that cost a victory the previous night in Toronto and in the process claimed a 120-116 win that is their up-and-down season's biggest and most improbable.
"It just goes to show in this league," Shaw said, "anything can happen on any given night."
The victory was all but sealed with 23 seconds left by a player whose shot felt like fate.
Twenty-five years after he was born at Brooklyn Hospital, less than a mile from where he stood in the court's corner late Saturday night, Terance Mann sensed the Nets would pressure point guard Reggie Jackson and eventually leave him open. When it became reality and Amir Coffey drove into the lane, Mann caught his pass and confidently sank a three-pointer for a four-point lead as at least a dozen family and friends in the stands danced in their seats.
"Hitting that big shot in front of a big-time team, it's just nice," Mann said.
The big shot came only minutes after Mann had missed the entire rim with an earlier three-point attempt. It echoed how Justise Winslow made two free throws with two minutes to play to forge a 112-all tie, only two weeks after he missed a pair of critical free throws late in a loss at Oklahoma City. Such moments typified the resolve of the Clippers (19-18), who displayed more energy and depth on a night when neither should have been strengths considering they were playing their fifth game in seven nights with a severely short-handed roster.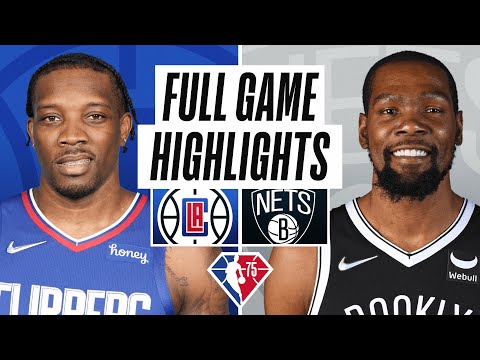 "The big thing was our guys didn't hang their heads and just give in," Shaw said. "We felt bad about last night because we were in control of that game for a good part of it. We didn't make the plays down the stretch that it took to win last night's game. But tonight was the absolute opposite of that."
Eric Bledsoe, whose 27 points led the Clippers, said: "We fought."
Mann and Jackson each added 19, even though the latter appeared so exhausted that he bent over and grabbed his shorts with his hands — with more than a quarter still to go. He played more than 30 minutes on a second consecutive night after being cleared from an eight-day stay in health and safety protocols. Coffey, too, appeared to favor a leg late in the final quarter, but he stayed in and scored 14 points, continuing a run that has seen his value rise as attrition has taken its toll.
Though starting forward Marcus Morris Sr. was in uniform, he didn't play a second as the team sought to rest him as a precaution after a string of heavy minutes.
Durant finished with 28 points and Harden 34, but the Nets (23-11), who had handily beaten the Clippers five days earlier without Durant, appeared as if going through the motions.
Defensive rebounding is the Clippers' most obvious weakness, but despite closing the game with a lineup without a true center they allowed the Nets just two fourth-quarter offensive rebounds.
With coach Tyronn Lue in COVID-19 protocols and eight players unavailable, the Clippers fight to the finish but fall 116-108 to the Raptors in Toronto.
"Never really had the care factor," coach Steve Nash said. "Got what we deserved, really."
At least one Clipper has been sidelined due to the NBA's health and safety protocols before eight of their last nine games. Guard Luke Kennard is the latest, entering Saturday afternoon. Making matters more complex is that their coach, Tyronn Lue, apparently remains in Canada after entering protocols while across the border Friday. The situation has left the team "working on the safest way to get him back home," it said in a statement.
Mann ran into the locker room after tossing his headband in the stands and waving to family. Ennis, Gabriel and Moon all leaped off the bench at the final buzzer, having contributed 25 combined points. The Clippers would have savored a road win over this Nets team bearing the Eastern Conference's best record under any circumstance, but especially so Saturday, if for no other reason than they have learned they must live in the moment.
"We got to test now [for COVID] after the game so we don't know what is going to happen based on the results of our test," Shaw said. "We are just going to enjoy it."
Get our high school sports newsletter
Prep Rally is devoted to the SoCal high school sports experience, bringing you scores, stories and a behind-the-scenes look at what makes prep sports so popular.
You may occasionally receive promotional content from the Los Angeles Times.