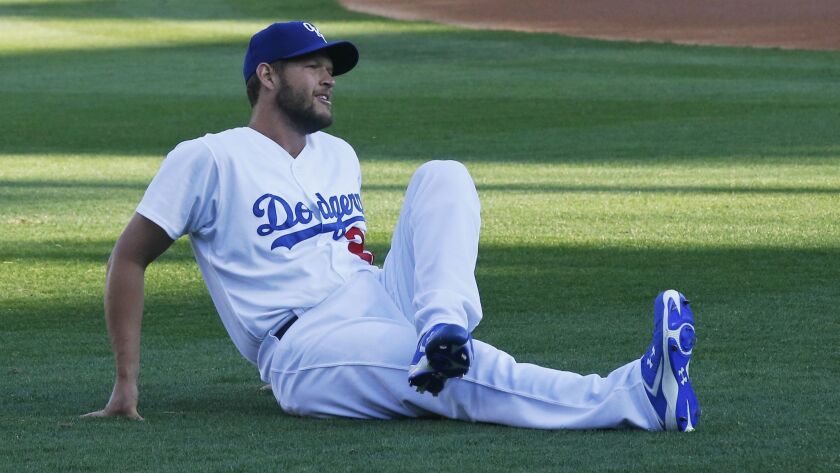 Reporting from Denver —
Clayton Kershaw strolled into the visiting clubhouse at Coors Field just after 11 a.m. Friday. A group of teammates gathered at a table welcomed him. He walked to his locker in the opposite corner to begin his day after logging 4 1/3 innings in a rehab start a few hundred miles away in Oklahoma City on Thursday night.
Kershaw could officially join the Dodgers during their current trip, possibly next week in St. Louis, but said he will probably make a second rehab start in the minors before coming off the 10-day injured list after a bout with shoulder inflammation. Manager Dave Roberts confirmed that was a likely scenario. He said where that second outing will occur hasn't been determined, but that a return by Kershaw to Oklahoma City was likely. Before that, the star left-hander is to throw a bullpen session Saturday in Denver.
"I think the biggest thing is, just the way the season started, you can't really have shorter outings just because our bullpen's going to be taxed with guys going shorter already," Kershaw said. "So definitely don't want to do that. I'd love to be able to throw 100 pitches when I come back, so we'll see what happens."
On Thursday, Kershaw allowed two runs on four hits in Oklahoma City's opening day game against the San Antonio Missions. He struck out six and walked two. He gave up a home run on his first pitch of the second inning but said he "felt better" starting in the third.
Roberts reported that Kershaw's fastball touched 91 mph and sat between 88 and 91 for the entire outing. He said it was "a tick up" from his velocity in spring training, which was limited to bullpen and live batting-practice sessions. Kershaw insisted that he wasn't worried about the readings.
"The main thing for Clayton, for me, isn't his velocity," Roberts said. "It's his execution."
Sign up for our Dodgers newsletter »
Kershaw maintained that Thursday's game was about confirming he is healthy. He said he emerged believing he is. The next step is building up the pitch count before taking his spot in the Dodgers' rotation.
"Felt good about it and now I kind of hone in on the stuff, make sure everything is where I want it to be and be ready to go," Kershaw said.
Jansen to be used as normal in Denver
Kenley Jansen is back in Denver for the first time since he was rushed to the hospital with atrial fibrillation last August. He was cleared to make the trip to the high altitude after undergoing a procedure to remedy the condition as long as he stayed hydrated.
Roberts said Friday that he would use the closer as usual in the three-game series this weekend, in save situations.
"There have been issues at times," Roberts said. "We feel that the heart thing, we've got it at bay with the surgery. So right now I'm approaching at it as he's our closer and when the time comes we'll use him."
Jansen didn't pitch in Friday's 10-6 win, but was forced to begin warming up in the ninth inning as the Dodgers bullpen struggled to complete the victory.
Pederson sits again versus left-hander
Roberts has been straightforward about Joc Pederson's role. The left-handed hitting outfielder will start in left field against right-handed pitchers and sit against lefties. Chris Taylor will start in left field against lefties. It is the Dodgers' only strict platoon.
The Dodgers have firmly stuck with that strategy to start the season. As a result, Pederson wasn't in the Dodgers' lineup for the fourth straight game Friday with Colorado Rockies left-hander Tyler Anderson on the mound. Pederson didn't start any of the Dodgers' three games against the San Francisco Giants and hasn't started since Sunday against the Arizona Diamondbacks — the last time the Dodgers faced a right-handed starting pitcher.
He will return to the starting lineup Saturday when right-hander Jon Gray starts for Colorado.
"The way the starters have been thrown at us, it's not ideal," Roberts said. "So you have to adapt. So, ideally, I would've liked to have distributed the at-bats better for every single player, but that's impossible. Somebody has to be compromised and, right now, it's Joc."
Pederson entered Friday 7 for 17 with three home runs, four walks and two strikeouts before pinch-hitting for Taylor in the fifth inning. Pederson got three at-bats, including one against left-hander Mike Dunn, and went 0 for 3 with two strikeouts.
Brewers claim Hart
The Milwaukee Brewers claimed Donnie Hart off waivers from the Dodgers on Thursday, ending the left-handed reliever's brief tenure with the organization.
The Dodgers had claimed Hart, 28, off waivers from the Baltimore Orioles last month. He was optioned to the minor leagues days later and appeared in two Cactus League games for the Dodgers.
Twitter: @jorgecastillo
---