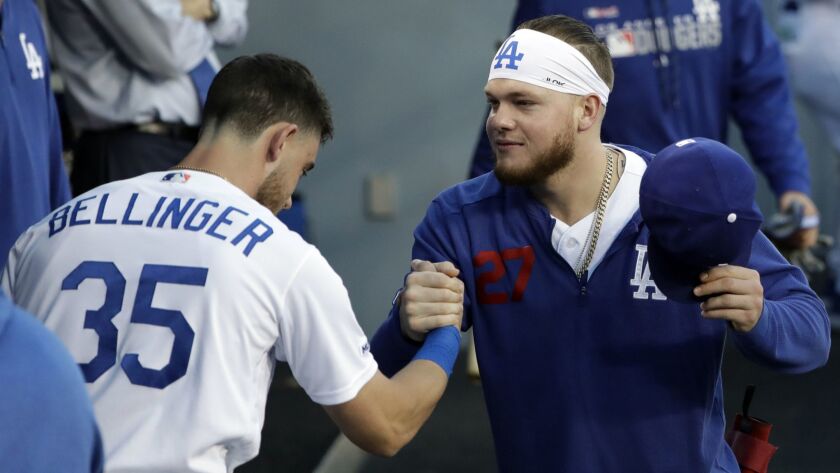 Alex Verdugo says his best position is center field. He started in center field for the Dodgers on Saturday, but only for the day.
Of the 137 National League players with at least 50 at-bats entering play Saturday, Dodgers right fielder Cody Bellinger ranked first in slugging percentage. Verdugo ranked fourth. Joc Pederson, the Dodgers' left fielder, ranked seventh.
A.J. Pollock, the Dodgers' starting center fielder, did not rank in the top 100. Pollock got the day off Saturday, but manager Dave Roberts said Pollock would return to center field Sunday.
Pollock was the Dodgers' grand catch in free agency. They signed him to a four-year, $55-million contract last winter, and they will not blow up their plans based on one bad month.
"He's a guy we see in there all the time," Roberts said.
Pollock is batting .345 with an .855 OPS against left-handers, .186 with a .553 OPS against right-handers. That could appear to make Pollock a candidate for a platoon with Verdugo.
"I think it's way too small of a sample," Roberts said.
Pollock's splits last year were better against right-handers than left-handers. His career splits are fairly even. And he has a track record; he is in his eighth full season in the major leagues, with Verdugo in his first.
For his part, Verdugo said he believed Pollock would be just fine.
"It's a long season," Verdugo said. "I think everybody will be just fine. It's baseball, man. You have a couple months that are good, a couple months that are bad, whatever. Everybody's numbers all trickle in."
The Dodgers told Verdugo he would be a fourth outfielder this season. Roberts wouldn't say that he could hit his way into a platoon or starting role. But, as with all players, plans can change.
"As long as they continue to capitalize, they're going to get more at-bats," Roberts said.
For now, Verdugo is left to abide by the clubhouse mantra of not worrying about matters he cannot control.
"I'm pretty smart with looking around and knowing how things go," he said. "I knew I wasn't going to be a starter, so I just wanted to take advantage of any time I get.
"It's been a little sporadic at times. But, if I keep going out there and just play the way I play, having good quality at-bats, I can try to force their hand."
Sign up for our daily sports newsletter »
Short hops
The Dodgers activated catcher Russell Martin and returned catcher Rocky Gale to triple-A Oklahoma City. … Shortstop Corey Seager turned 25 on Saturday. Seager is in his fourth full season, and yet the only players in Saturday's starting lineup that were younger were Verdugo (22) and Bellinger (23). … The Pittsburgh Pirates put right-hander Chris Archer on the injured list because of an inflamed left thumb, one day after the Dodgers roughed him up for six runs in four innings. … The Dodgers honored late pitcher Don Newcombe as the inaugural member of the Legends of Dodgers Baseball. Steve Garvey and Fernando Valenzuela will be honored this season. The induction plaques will be on display at Dodger Stadium.
Follow Bill Shaikin on Twitter @BillShaikin
---