Column: Dodgers are championship material once the bullpen is bolstered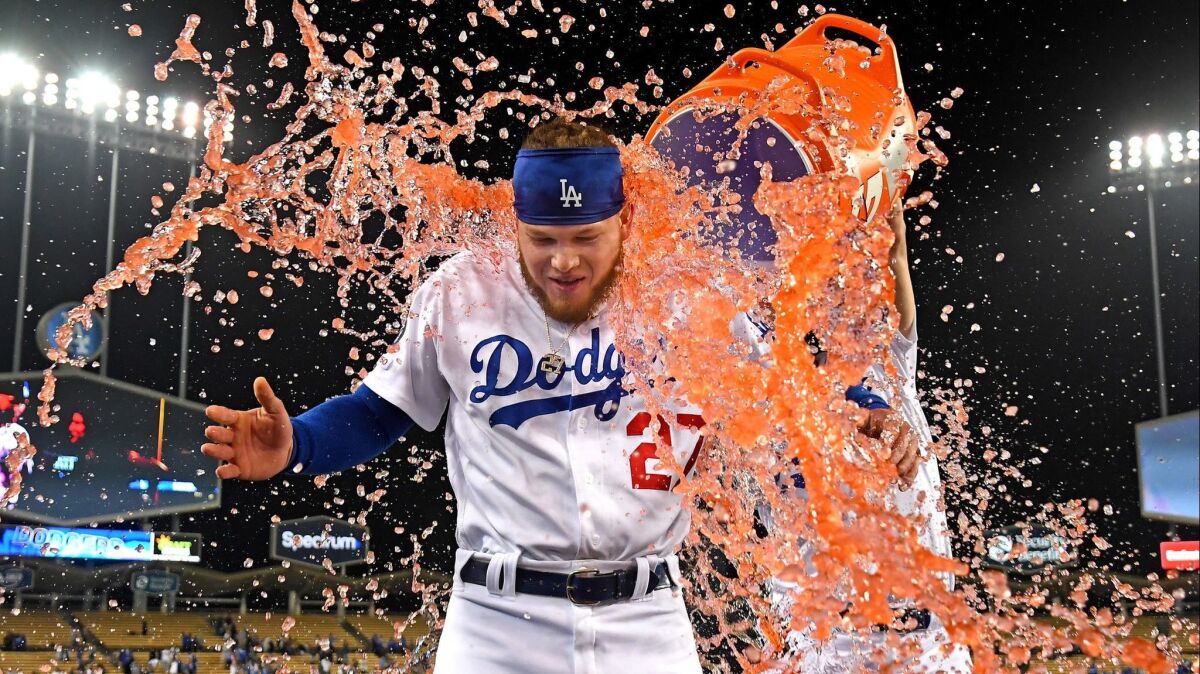 It was felt last week at the neighborhood bar.
The Dodgers were playing against the Philadelphia Phillies on the television high above a row of tequila bottles, but the sound was down and nobody seemed to be watching. Bruno Mars was crooning from the jukebox. The several dozen patrons were deep in conversations.
Then Joc Pederson hit a fifth-inning, tiebreaking home run and the place went bonkers. Seemingly out of nowhere, folks jumped out of their seats and cheered and slapped hands as if Pederson had just won a game in October, and when is the last time people have been this excited this early?
It was felt again last week at the neighborhood ballpark.
In the ninth inning of a tie score against the Phillies, rookie catcher Will Smith walked to Dodger Stadium's home plate accompanied by, of course, the theme from "The Fresh Prince of Bel-Air.'' Giggles became gasps when he turned on a Hector Neris fastball and send it soaring into the left-field stands, his first home run amazingly a walk-off job.
Suddenly it showed up again, October, nearly 50,000 folks standing and screaming like this kid had just hit the ball into a chilly postseason victory, everyone cherishing a great moment even so early in a season already full of them.
"I have a good feeling that there's going to be more of those to come,'' manager Dave Roberts said.
It was a bold statement, but I agree. This Dodgers season feels different than their previous six division championship seasons. This team feels different than the ones that stumbled in the previous two World Series.
This feels real. This feels championship real. This feels like they've built something that will give them their best shot yet at ending the 30-year drought. The last two years they came close, but this feels like they are finally there.
They were one game from the title two years ago, but the moment was too big and Yu Darvish was too small. They were one series from the title last year, but they spent that summer battling a World Series hangover and wound up empty and exasperated.
This season, with a 42-19 record that marks a better 61-game start than in any of those six division championship years, no moment has been too big. No drama has been too distracting. No hangover is in sight.
"This is the best we've ever been,'' reliever Kenley Jansen said last weekend.
Just look at the offense. The Dodgers have failed in late October partially because of their inability to manufacture runs with anything other than a home run, but this dynamic has drastically changed. They not only lead the National League in runs, but they're also in the top three in runs with runners on base and runners in scoring position.
Sign up for our daily sports newsletter »
They grind. They exasperate. They work pitchers to the bone, then break them in half. Alex Verdugo one day, David Freese the next day, Max Muncy almost every day. All this, and they finally have the one superstar bat they've been lacking. Cody Bellinger has become that guy. When he steps to the plate with new walk-up song "Hotel California,''Chavez Ravine feels like a giant party with an audible buzz, an expectant rumble, every swing an event.
Now, look at their starting pitching. Hyun-Jin Ryu has become a Bellinger-like superstar, Clayton Kershaw has steadied, Rich Hill is seemingly getting younger, Walker Buehler is maturing and Kenta Maeda could be an ace on many other teams.
The Dodgers starting pitchers' ERA of 2.88 is nearly a full run lower than anyone else in the league. They're so deep, Kershaw's ERA of 3.20 is only third-best in the rotation.
Finally, check out the Dodgers clubhouse. It's the best atmosphere in six years. The room is filled with a calm and quiet confidence. There are no distractions. There appear to be no agendas. Before one recent game, a soft reggae tune played over the sound system while players quietly and briefly stopped by their lockers before hurrying back into their pregame routines.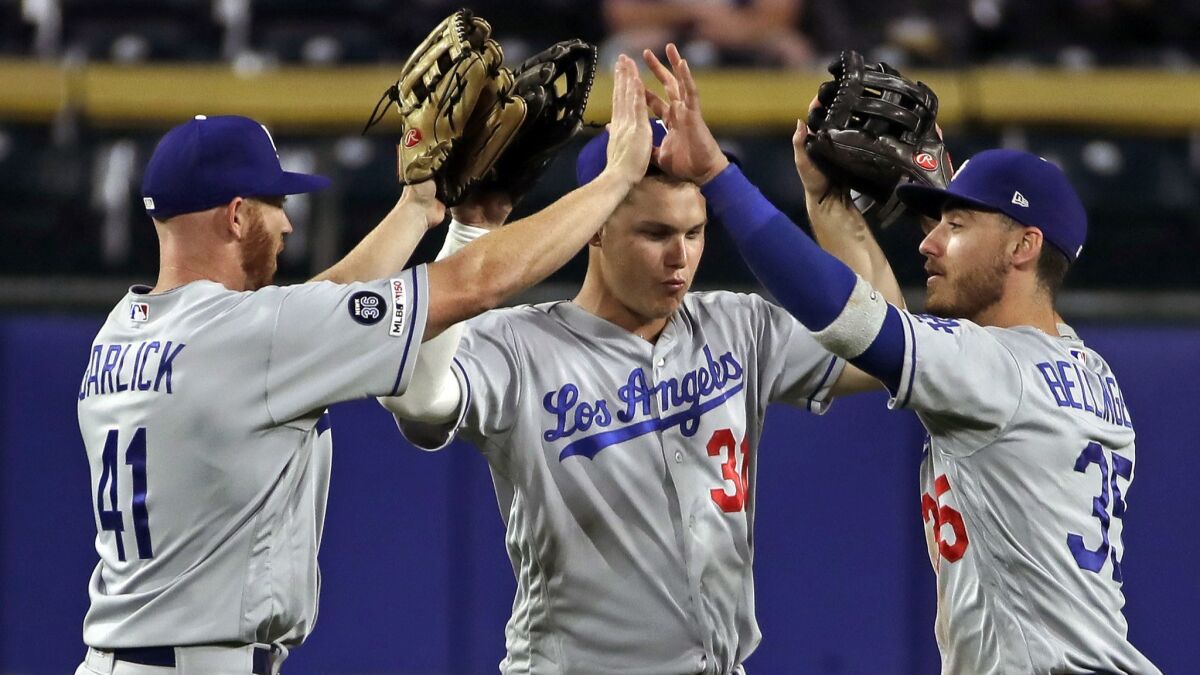 "There's no drama here, man, there's nothing, it's the most boring place ever, if you want to call it boring,'' Jansen said. "I think it's awesome. We love it.''
When the players do talk, one thing that seems to be missing is last year's regret. There's no more open remorse about losing a seventh game of a World Series. There are no more vows for revenge. This team tried that attitude, it didn't work, so now they're acting like the last two years almost didn't occur.
"There is a different feel in this clubhouse,'' Muncy said. "As for why that is, I don't really know … but the biggest thing I can attribute it to is, we're moving forward."
Muncy then explained, saying, "We're focused on what's ahead of us, and we're not talking about what happened last year, what happened two years ago, we're talking about what's happening today, what's happening tomorrow, we're not talking about anything behind us … and everybody is buying into it."
The new clubhouse atmosphere can be seen nightly on the field in the constant unselfish adjustments made by players who have tempered their swings and reined in their egos. There is a real sense that any Dodger can be the hero on any night, and he can do it from any position on the field or batting order or bench.
"It's the culture we created here,'' Muncy said. "We're here to win, that's it, there are no side objectives for anyone on this team, no personal objectives, it's just show up every day and do whatever you have to do to help the team win."
There's one thing this team still needs to win it all, and everyone who has sweated through the late innings knows it. They need help for a bullpen that is ranked 11th in the league with a 4.56 ERA. Craig Kimbrel wouldn't be a fit because he wants to close, but there are several other perfectly suited arms out there, and here's where Andrew Friedman needs to add one more brush stroke to his potential masterpiece.
Every year, it seems, Friedman makes a big deadline deal. Unlike past years, where he has been focused on acquiring the likes of Manny Machado or Darvish or Hill, this year's depth in those areas should allow him to ship out some of his great prospects for bullpen help.
This should happen. Here's guessing this will happen. After that, October can't get here quick enough.
"We definitely have a chance to win a championship,'' Jansen said.
More definite than ever.
Get more of Bill Plaschke's work and follow him on Twitter @BillPlaschke
---
Get our Dodgers Dugout newsletter for insights, news and much more.
You may occasionally receive promotional content from the Los Angeles Times.