Dodgers aren't dwelling on World Series loss and it shows on opening day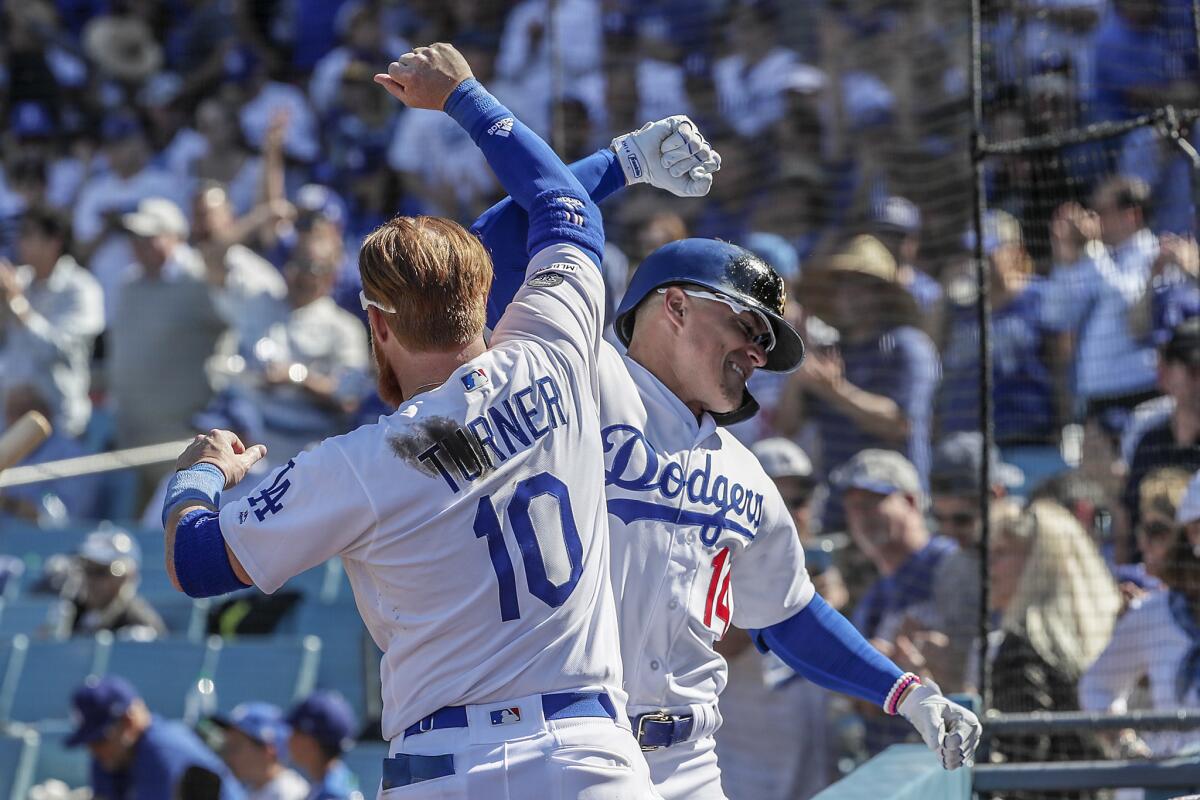 Dave Roberts was asked what adjective came to mind to describe the Dodgers' 12-5 opening-day thrashing of Arizona on Thursday, a game in which the Dodgers tied a franchise record by slugging eight home runs.
"I don't know if it's an adjective or adverb, but it was focus," the Dodgers manager said. "It was relentless."
Roberts was referring to his players' discipline at the plate, where hitters refused to expand the strike zone, worked favorable counts and pounced on the mistakes of Arizona starter Zack Greinke and reliever Matt Koch all afternoon.
Enrique Hernandez and Joc Pederson each hit two homers and Austin Barnes, Corey Seager, Max Muncy and Cody Bellinger went deep in a power barrage that matched an eight-homer game in which Shawn Green went deep four times against Milwaukee in 2002.
But Roberts could just as easily be describing the attitude and approach of a team that has won six straight National League West titles but has lost the last two World Series, to the Houston Astros in seven games in 2017 and to the Boston Red Sox in five games in 2018.
When the Dodgers reported to spring training in 2018 they were still dwelling on their World Series loss to the Astros. Some thought that "hangover effect" contributed to a slow start and first-half struggle that forced the heavy division favorites to eventually play Colorado in a one-game playoff for the NL West title.
Hernandez, who is transitioning from a super utility role to a regular second baseman, said he noticed a different intensity level this spring compared with last.
"I think last year we spent a lot of time, not only with you guys, but within the clubhouse, talking about what had happened in October [of 2017]," Hernandez said. "This year, we didn't really do much of that, if any at all. We were really focused from day one on this year and taking care of the business."
Why did players spend less time dwelling on their second World Series loss?
"Because we had it happen before — it was the first one, and it hurt," Hernandez said. "We moved on. We learned that [dwelling on the past] didn't help. It was just bad, negative energy. We focus on the positive now."
Bellinger's performance over the last two years mirrored that of the Dodgers. After winning NL rookie-of-the-year honors by hitting .267 with a .933 on-base-plus-slugging percentage, 39 homers and 97 RBIs in 2017, he slipped to .260 with an .814 OPS, 25 homers and 76 RBIs in 2018.
Sign up for our Dodgers newsletter »
After spending the winter refining his setup and the mechanics of his swing, the right fielder opened 2019 with a sharp single to center field in the fourth inning, a solo homer to center in the seventh and a renewed sense of determination that has permeated through the Dodgers clubhouse.
"I think everyone was able to put that [2018 World Series loss] behind them," Bellinger said. "Now it's on to 2019 and what can we do this year. I don't think anyone is thinking about what happened last year anymore. It's all full-steam ahead, and what can we do this year to improve and keep winning games."
Hitting eight home runs in a game is a good start. The record-tying performance put the Dodgers on pace for 1,296 homers.
"Um . . . that's gonna be tough," Bellinger said, when asked if the Dodgers could maintain that pace. "But hitting is contagious," and when balls are flying over the walls, "you want to get in on the party."
The Dodgers don't have to turn every game into a home run derby, but it is important to get off to a better start. They lost the first two games of the 2018 season to San Francisco by identical 1-0 scores. They went 12-16 in April and were 17-26 on May 17 before turning their season around.
"A big thing for us is how we get out of the gates," Hernandez said. "All four years I've been here, we haven't gotten off to the greatest of starts in April. So if we can get off to a good start, we know we're a really good team in the summer. If we can start the right way, then I think down the road it's gonna be good for us."
Get our Dodgers Dugout newsletter for insights, news and much more.
You may occasionally receive promotional content from the Los Angeles Times.