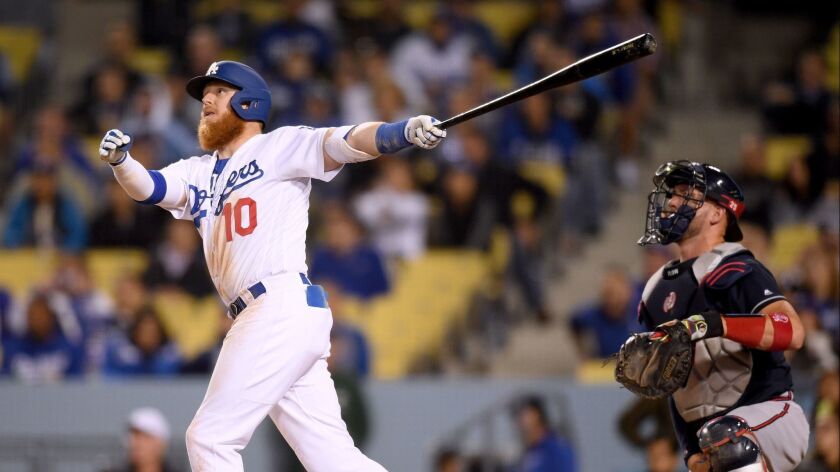 Justin Turner clubbed three home runs in a game for the first time in his career in the Dodgers' 9-0 win Tuesday over the Atlanta Braves. In related news, it isn't April anymore.
For reasons he says he cannot explain, Turner becomes a different hitter when the calendar flips to May. In 480 career plate appearances between March and April, Turner has hit just three of his 97 career home runs. He clubbed the third one on April 30 this season against the San Francisco Giants, in his 123rd plate appearance. On Tuesday, he quadrupled his home run total for the season, continuing the perplexing slugging pattern another year.
"I don't know what the deal is," Turner said. "Andrew [Friedman], I think, told me a couple weeks ago that I only have two or three career homers in April so not sure what that's about but definitely glad that month's over."
On cue, the 34-year-old Turner is scorching at the plate. Over his last 10 games, the third baseman is batting .414 with the four home runs, eight runs batted in and a 1.211 on-base-plus-slugging percentage. He credits adjustments he's made from constant tinkering in getting his timing down — a crucial component given Turner's exaggerated leg kick — for the surge.
Disciplined routine key to Dodgers ace Clayton Kershaw's consistency »
"I wish we had an answer so we could turn it a little sooner," Roberts said when asked if he knew why Turner flips the switch in May. "But I think, with Justin, it's still the quality of at-bat every time he steps into the batter's box. Winning pitches, running counts, taking a walk, driving in a run when he needs to. He does that and now the three homers get him back on track."
Turner's emergence and Chris Taylor's recent strong play are encouraging for a club that was stifled at times against left-handed starting pitchers during the season's first month. Before Tuesday, eight right-handed batters, including pitcher Walker Buehler, combined for 20 home runs. Enrique Hernandez's six homers lead the group. Meanwhile, five Dodgers left-handed hitters have combined for 37 homers this season — topped by Cody Bellinger's 14.
With Tuesday's win, the Dodgers climbed to 10 games over .500. A typical Turner turnaround makes them all the more dangerous.
"I think everybody knows the kind of player Justin is and what he means to this team," Dodgers infielder Max Muncy said. "What we've been able to do with him not at his best has been great and now that he's going to be at his best, it seems like, it's pretty exciting looking forward."
---