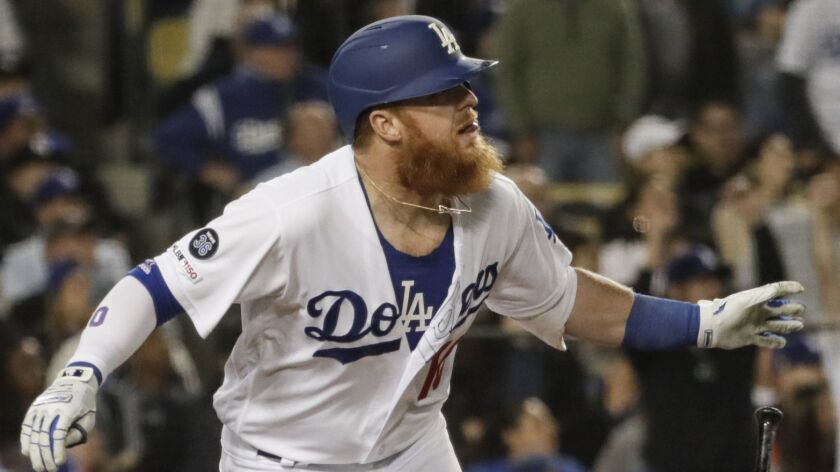 It was approaching 10 p.m. and Hyun-Jin Ryu was still on the mound at Dodger Stadium on Tuesday, attempting to complete a game for the first time since his rookie season of 2013 when he arrived in Los Angeles from South Korea. His parents, wife and a group of friends were in attendance. Suga, a K-Pop star, was looking on in Ryu's No. 99 jersey.
They were among the few thousand people remaining who roared when Ryu got two strikes on Atlanta's Freddie Freeman with a runner on second. They roared louder when Freeman flailed at a fastball up out of the zone for strike three, sealing the Dodgers' 9-0 win over the Braves.
Justin Turner fueled Ryu's run support, slugging three home runs — two solo shots and a three-run blast — in a game for the first time in his career. The effort quadrupled Turner's home runs this season — he entered the night with one in 146 plate appearances. He added an RBI single and finished with a career-high six runs batted in, hiking his season total from 11 to 17.
Now that April's over, Dodgers' Justin Turner is hitting home runs again »
"I have felt better the last couple weeks," Turner said. "I feel like I've been hitting some balls hard and tonight I finally got a couple up in the air."
Ryu recorded his third career complete game and second shutout with 93 pitches, a ruthless efficiency the Braves (18-18) could not derail. It was the Dodgers' first complete game since Rich Hill's performance in a 10-inning loss to Pittsburgh in August 2017, and the first shutout by a Dodgers pitcher not named Clayton Kershaw since Josh Beckett accomplished the feat in May 2014.
Ryu maintained a perfect game until Tyler Flowers poked a single through the left side to lead off the sixth inning. He gave up three more hits and struck out six. His earned-run average dropped to 2.03. He hasn't walked a batter at Dodger Stadium since Aug. 26 — a span of 63 innings and nine starts. He contributed a bloop single to top it off.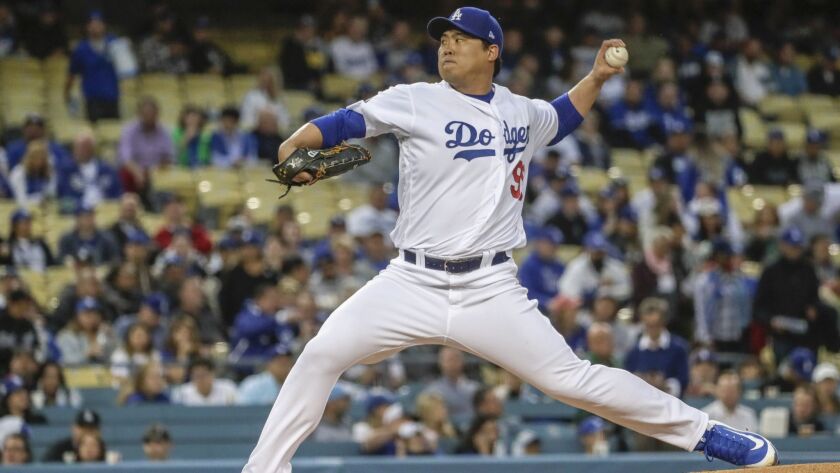 "Today's actually my mom's birthday," Ryu said through an interpreter, "so I think I was able to provide a good gift."
The combination extended the Dodgers' home winning streak to nine games. At 24-14, they're 10 games over .500 for the first time. They weren't 10 games over .500 last season until their 94th game on July 13.
Sign up for our Dodgers newsletter »
Tuesday's pitching matchup was a duel between left-handers with two of the stingiest walk rates in baseball. Ryu entered tops in that department, having issued two walks en route to posting a 2.55 ERA in 35-1/3 innings. On the other side, Max Fried ranked tied for ninth, having walked seven batters in 38-1/3 innings, and none in his previous two starts, while recording a 2.11 ERA.
While Ryu was able to sustain his excellence, Fried, a Los Angeles native and Studio City Harvard-Westlake graduate, endured a forgettable debut at Dodger Stadium.
The 25-year-old battled command trouble from the outset. First, he allowed a home run to the second batter he faced, Turner. After Cody Bellinger singled and Chris Taylor worked a two-out walk, Max Muncy knocked a two-run single to give Los Angeles a quick 3-0 lead.
Fried tossed 31 pitches in that rough first inning. His 35th pitch was a 94-mph fastball that Alex Verdugo lined back at him to lead off the bottom of the second. The ball bounced off Fried's hand and Verdugo sprinted for an infield single. Fried tested the hand with two pitches before he walked off the mound, ending his brief homecoming in disappointment and leaving the Braves bullpen to cover at least seven innings. X-rays on Fried's hand were negative, the Braves announced. He was diagnosed with a bruise.
Ryu, meanwhile, was dominant and got some help. Second baseman Muncy aided his effort in the fifth inning with a diving stop on Nick Markakis' groundball in shallow right field. His throw reached a rumbling Ryu in stride as the pitcher stepped on first just ahead of Markakis for the second out.
Ryu emerged from the inning having thrown 54 pitches. He was perfect for two more before Flowers spoiled his pursuit of perfection.
The baserunner was erased with a double play to end the inning, leaving Ryu with the minimum faced through six.
The Dodgers' defense assisted Ryu again in the seventh inning when Bellinger, who missed two games last weekend after separating his right shoulder, stumbled and tumbled to the ground on the shoulder making a catch for the third out.
"Cody made a play," Dodgers manager Dave Roberts said, "that I don't think anyone else in baseball can make."
While the effort unnerved Roberts for a moment, it also saved a run and kept the shutout intact. Ryu was at 71 pitches by then. A complete game was within reach and Ryu didn't slow down.
Twitter: @jorgecastillo
---