Dodgers had no directive to stay under luxury tax, Chairman Mark Walter says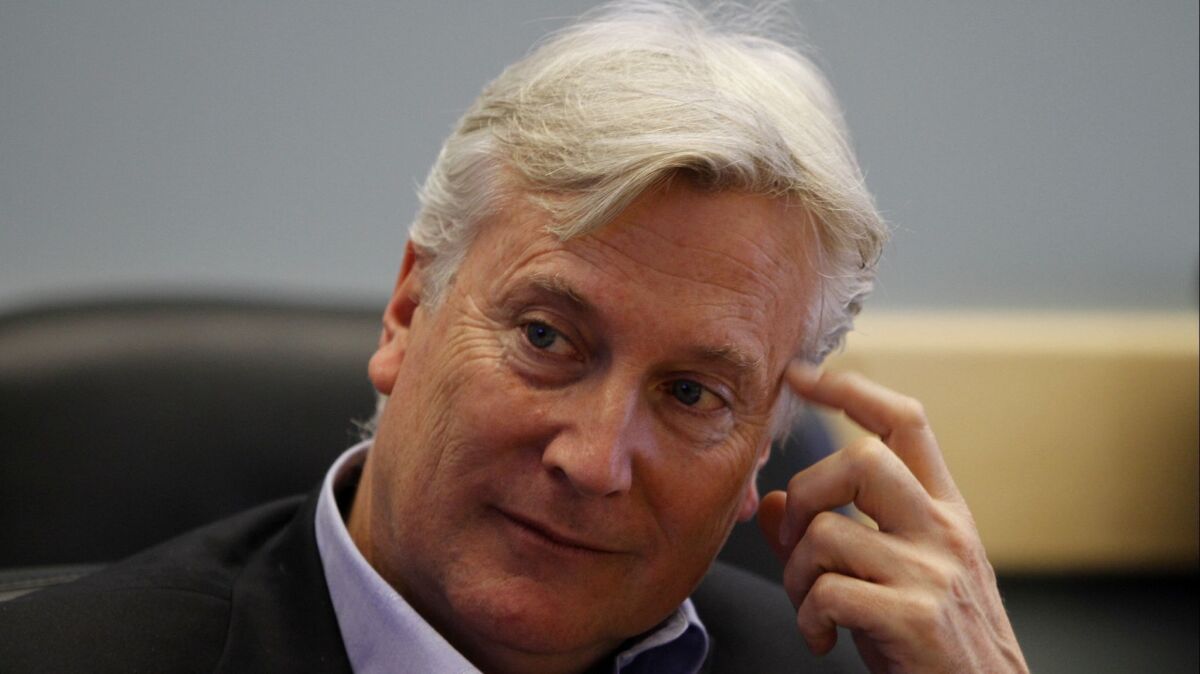 Reporting from Phoenix —
The Dodgers are the heavy favorites to win their seventh straight National League West title this season. Humans believe it. Computers calculate it. The two-time defending NL champions are deep and talented, and their competition in the division is slim.
It is with this context that the Dodgers' front office, led by team president Stan Kasten and president of baseball operations Andrew Friedman, made roster decisions during the offseason. But the big-money free-agent acquisition — namely, Bryce Harper — that some thought could materialize when the Dodgers reduced their payroll the previous winter hasn't happened.
So, was there a directive from the top to not exceed the luxury tax threshold again?
"No," Dodgers Chairman Mark Walter said Saturday at Camelback Ranch. "Stan and Andrew run all that and they do what they think is best for the team, period, and to win."
The Dodgers were one of the most active teams this offseason, making moves that both added and shed salary. On one end, they traded Yasiel Puig, Matt Kemp, and Alex Wood to the Cincinnati Reds days before Christmas — a blockbuster deal that saved them about $14 million.
On the other, they agreed to a three-year, $93-million contract with Clayton Kershaw, signed Hyun-Jin Ryu to the $17.9-million qualifying offer, and gave David Freese $5-million to stay another season. They signed free agents A.J. Pollock and Joe Kelly to contracts worth a combined $80 million. They also acquired Russell Martin, whom they will pay $3.6 million this season, to fill a hole at catcher.
The result is a roster that PECOTA, Baseball Prospectus' prognostication tool, projects will win 93 games – four more than any other team in the National League. The activity also produced a payroll that sits under the $206-million tax threshold, according to Cot's Baseball Contracts and RosterResource.com, which estimate the Dodgers' payroll at between $198 million and $201 million.
So far, it's an approach similar to last season, when the Dodgers began with a $187.3-million payroll, according to Cot's, more than $9 million below last year's $197-million tax threshold. They ended the season with the fourth-highest payroll in baseball at more than $195-million after acquiring Manny Machado and others.
As currently constructed, the Dodgers could have the flexibility to bolster their roster this summer without entering tax territory, and have significant money coming off the books after the season.
Last month Kasten, speaking at the team's annual FanFest, pointed out the Dodgers rank near the top in baseball in spending in other areas, including scouting and player development, and that there are advantages to staying under the threshold beyond not paying the 20% tax. They include not having to forfeit their second- and fifth-highest draft picks, and $1 million in international bonus pool money for signing a free agent who declined a qualifying offer. The Dodgers had just signed Pollock, who declined the Arizona Diamondbacks' qualifying offer in November.
It was a choice the Dodgers front office, constructing a roster in the country's second-biggest market, has made on its own, Walter said.
"Friedman and Kasten make all of the decisions," Walter said, "and they do what they think is the smartest thing to win."
Sign up for our daily sports newsletter »
Twitter: @jorgecastillo
---
Get our Dodgers Dugout newsletter for insights, news and much more.
You may occasionally receive promotional content from the Los Angeles Times.