Column: Roz Wyman, L.A.'s secret weapon in luring Dodgers west, is still cheering
If Los Angeles has a grande dame of sports, it is Roz Wyman — the Sultan of City Hall, the Wizard of Roz.
At 85, she still sits in her Dodgers season seat near the umpires tunnel, cheering on players young enough to be her great-grandsons.
Wyman was about their age when she helped bring the Dodgers to Los Angeles almost 60 years ago, when she was a nervy city councilwoman fresh out of USC who didn't think it was so remarkable to uproot one of baseball's bejeweled franchises.
Still in her 20s, she also took a call from a senator from Minnesota, Hubert H. Humphrey, to see if she thought L.A. might welcome an NBA franchise from his home state.
"I was very, very close to Humphrey, and he knew I loved sports," she says. "And he knew I was proud of the Dodgers."
Two years after the Dodgers arrived in 1958, so did the Lakers. And though Wyman didn't play as significant a role in the Lakers' move, her vision, confidence and poise made her the unlikely rainmaker at a time when City Hall was still run by a bunch cigar-chomping men.
"It all reflects Roz's courage, brilliance and tenacity," says former Dodgers owner Peter O'Malley, whose father, Walter, was charmed and cajoled by Wyman into making the milestone leap to the Left Coast.
These days, L.A. could use a few more movers and shakers like the Wizard of Roz.
"Walter had only been out here twice before," Peter recalls.
Imagine the audacity of what Wyman set out to do. She was only 23. At the time, baseball's far-western foul pole was St. Louis. The Brooklyn Dodgers were stacked and poised to win their first World Series, in 1955. If they moved, the league suggested Walter O'Malley cover some of their opponents' cross-country travel costs.
Odds never mattered much to Wyman.
The Dodgers' patron saint had just finished at USC when in 1953 she became the youngest person, and only the second woman, elected to the L.A. City Council, on a campaign platform that included, of all things, acquiring a major league team.
Even before that, she'd been a bundle of trouble for the administrators at Los Angeles High, organizing this and suggesting that. "In high school, I was in the middle of everything," she says.
When Stanford refused her, she talked her way into USC after the deadline, then created stirs by lining up controversial speakers.
"I almost got thrown out of USC, [which] wasn't easy," she says with a smile.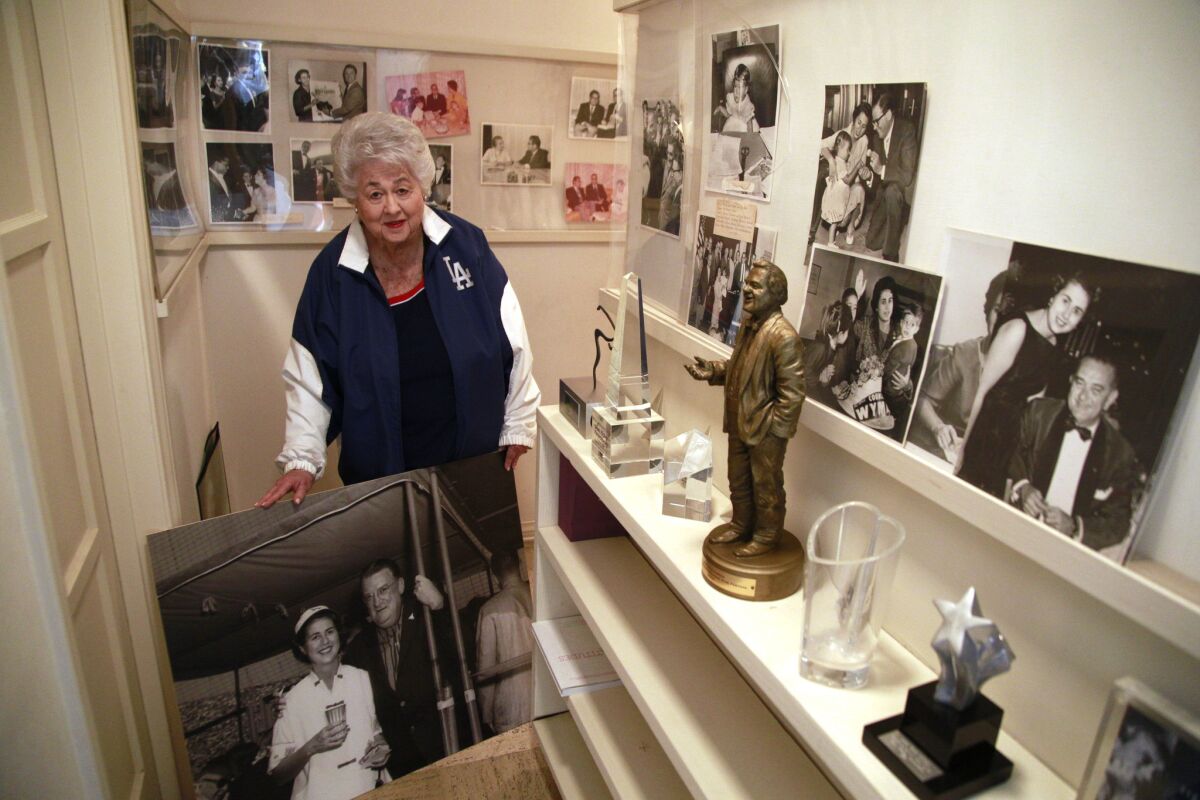 Once she graduated, Wyman ran her longshot City Hall campaign out of her parents' mom-and-pop drugstore at Ninth and Western.
"I walked seven hours a day; I wore out 13 pairs of shoes," she recalls of her grass-roots race for the Fifth District seat.
Talk about your Cinderella stories. Life magazine published a photo of all her worn-out slippers. "IT'S A GIRL!" crowed a condescending newspaper headline when she won.
Then, as promised, she went after baseball.
Wyman lights up when she talks about it now. The skeptics she faced at City Hall must've wondered: Just who is this dark-haired kid with the Betty Grable smile?
Knowing the Braves had just left Boston for Milwaukee, she sent old man O'Malley a telegram.
"At first, he said he'd rather stay in New York," she says of her initial overtures.
She followed with a letter. O'Malley replied that he thought it was all a publicity stunt.
"Los Angeles at present has two teams in organized baseball," he wrote, citing the city's minor league franchises. "We would not want to be a party to any publicity which might be construed as detrimental to their franchises."
Over time, she wore O'Malley down, with assists from New York politicians who refused to budge on his pleas for a new stadium. Dodgers brass told her they had a deal.
Before a key City Council vote, Mayor Norris Poulson asked Wyman whether she had O'Malley's personal assurance. She did not. The mayor called O'Malley and thrust the phone at Wyman.
Over a scratchy long-distance line, they chatted politely, the pharmacist's daughter and the irascible team owner. O'Malley hemmed and hawed over a commitment. Finally, Wyman told him the lack of rainouts alone would be enough reason to come west.
"It was the only thing I could think of," she says.
"She trusted my dad, they trusted each other," Peter O'Malley recalls.
In 1957, the Dodgers owner made his famous Chavez Ravine flyover in a two-person helicopter without doors. He was both frightened and thrilled: Location, location, location. With Wyman's help, he knew he could build his Taj O'Malley amid the rustic hills 10 minutes from the city's core.
A lot of elected officials "raised their hands and said they did it," Peter O'Malley says. "But Roz did it. . . . Roz deserves all the credit."
Eventually, 340 workers moved 8 million cubic yards of dirt to build O'Malley's dream house. On the eve of its 1962 opening, the owner invited Wyman to dinner at the ballpark.
"Roz, I cannot thank you enough," she says he told her as they gazed out over his glimmering new stadium.
He tried. Back then, there were two master keys that opened every door in Dodger Stadium. Walter kept both of them in his desk.
When he died, one of them went to Roz.
chris.erskine@latimes.com
Twitter: @erskinetimes
---
Get our Dodgers Dugout newsletter for insights, news and much more.
You may occasionally receive promotional content from the Los Angeles Times.