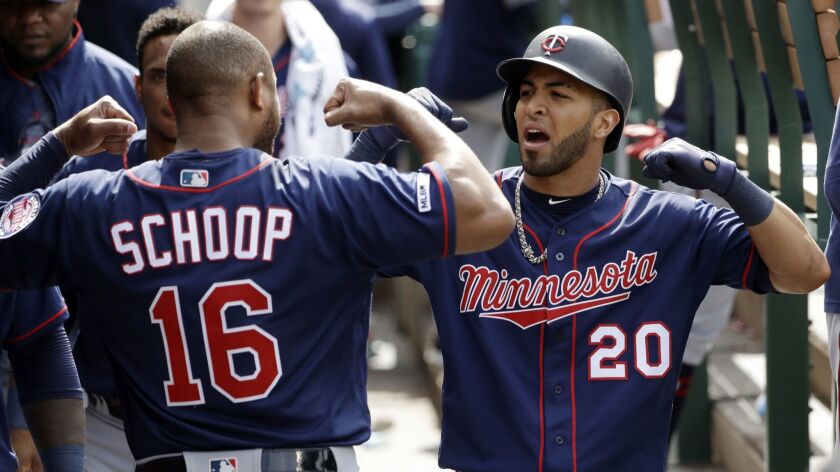 The question was condescending, but Derek Falvey mustered a chuckle. Falvey and his lieutenants in the Minnesota Twins baseball operations department had spent the last two months pondering the question as their team surged to first place in the American League Central. When you haven't won a division title in a decade, self-reflection is required, because any dazzling montage could be a mirage.
So, the question must be asked: Are the Twins for real?
Their record says they are. Advanced metrics say they are. The words emanating from their clubhouse say they are. But Falvey, the Twins' chief baseball officer, understands that the industry might not yet believe.
"I get it," Falvey said while sitting in the visitor's dugout at Angel Stadium this week. "That's fair."
So much of the season's first two months has gone as expected. The Dodgers own a comfortable division lead; the Angels induce insomnia and ennui. The Chicago Cubs are dueling with the Milwaukee Brewers for the National League Central, while the New York Yankees, Tampa Bay Rays and Boston Red Sox are brawling in the American League East. The Baltimore Orioles and the Miami Marlins are tanking.
But Minnesota qualifies as the revelation of the spring. FanGraphs projected the Twins to win 85 games this season; Baseball Prospectus pegged them for 81. After sweeping the Angels this week, the team returned to Target Field this weekend on pace for 109, with a league-leading .674 winning percentage. With the Cleveland Indians reeling from injuries and the refusal of their front office to spend, the Twins appear poised to rule the Central.
To get to this point, the team has done plenty more than pile up one-run victories. The Twins capped the Angels series by booming eight home runs in a 16-7 romp. They make bludgeoning a habit.
"We have one of the best offenses in the league," utility man Marwin Gonzalez said. "We never quit. We can change the game in one inning."
The Twins entered Friday tied with the Houston Astros for the best run differential in the sport, having scored 90 more runs than they've allowed. The depth of their lineup has provided cover for an undistinguished starting rotation and an unproven bullpen. The hitters punish mistakes in a fashion that could be devastating in October.
Despite playing games in the climes of Detroit, Kansas City and their own frigid setting in the North Star State, Minnesota entered Friday leading baseball in home runs. The offense featured four hitters with at least 10 and nine with at least five. The lineup has not slowed, even with catcher Mitch Garver (nine homers) and designated hitter Nelson Cruz (seven) on the injured list.
"We have a lot of guys who can leave the yard at just about any point in time," Twins starting pitcher Jake Odorizzi said. "To have guys up there with that potential, that's the difference between good and great teams."
A great team?
The Twins?
Really?
"Absolutely," Odorizzi said. "I think we've showcased a lot of what we can do early on this season. We've scored a lot of runs, pitched really well, won the close games. When you can establish that early in the season, it starts becoming a habit where you can expect to win every game you're in. We're on a really good path."
The path has not followed a straight line. Minnesota plucked Falvey out of Cleveland's front office in October 2016 and tabbed him to run their operation. The Twins had lost 103 games that season, and hadn't reached the playoffs since 2010. Falvey reshaped a roster that sneaked into the 2017 Wild Card game with 85 victories.
Falvey came to understand that progress is not linear. Thinned by injuries, Minnesota regressed to a losing season in 2018. Falvey opted to fire manager Paul Molitor, the 62-year-old Hall of Famer and native of St. Paul. He was replaced by Rocco Baldelli, who was 25 years younger and had no managerial experience.
As a rule, Minnesota spends modestly on free agents. They had never fielded a team with a more expensive opening day payroll than their $128-million club in 2018. Searching for bargains, Falvey made a series of low-risk acquisitions this winter. The Twins signed free agents Cruz ($14.3 million), second baseman Jonathan Schoop ($7.5 million) and pitcher Martin Perez ($4 million) to one-year deals. They claimed former Angels first baseman C.J. Cron off waivers. They waited out the market on Gonzalez before luring him with a two-year, $21-million contract.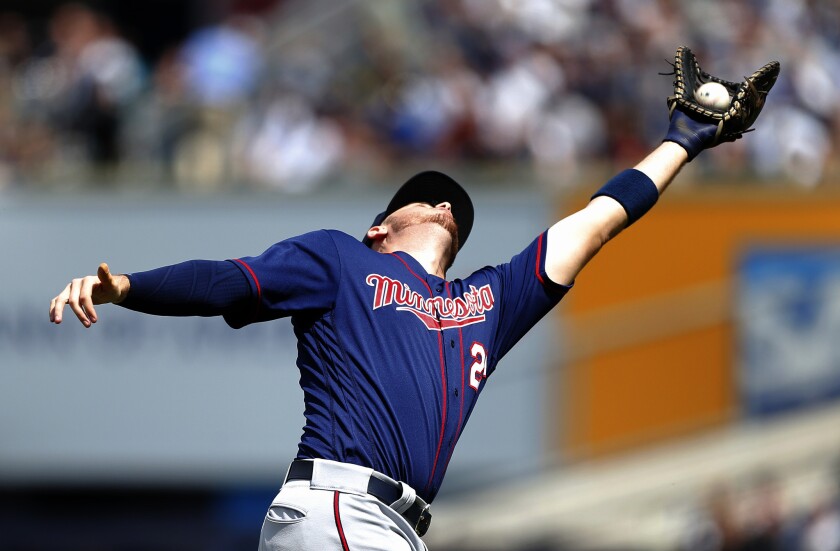 The acquisition of Gonzalez deepened the daily options for Baldelli. Gonzalez handled third base while former All-Star Miguel Sano recovered from an Achilles injury. When Sano returned earlier this month, Gonzalez shifted into the outfield. He is one of several multipurpose players on the roster, along with Ehire Adrianza and Willians Astudillo.
"We don't have many roads that are closed off because we don't have versatility," Baldelli said. "Versatility is one thing we have plenty of."
The veterans provide ballast around a homegrown core. Suspended for 80 games last season for violating the performance-enhancing drug policy, shortstop Jorge Polanco entered Friday with a 1.030 on-base plus slugging percentage. Byron Buxton, at one time the No. 1 prospect in baseball, has stayed healthy while playing superlative defense in center field. Outfielder Eddie Rosario leads the team with 14 homers, although Cron, a castoff from the Angels and Tampa Bay Rays, nips at his heels with 13.
"There's nights watching our offense where I'm like 'Wow, if we just keep these guys to nine, we might have a chance,'" cracked pitching coach Wes Johnson, who was hired from the University of Arkansas this winter.
Johnson, working in tandem with assistant pitching coach Jeremy Hefner, has already made an impact. Johnson counseled 25-year-old starting pitcher Jose Berrios, the most promising member of the staff, to hound hitters with strikes. Berrios has cut down his walks and produced a career-best 3.39 earned-run average in 10 starts.
The work with Perez has been even more collaborative. He came at a discount after producing a 6.22 ERA with the Texas Rangers last season. Johnson chiseled away at Perez's mechanics. The front office encouraged Perez to stow his two-seam fastball and implement a cutter. Odorizzi provided tips on how to grip the pitch. Perez responded with a 2.95 ERA in 11 outings.
The trio of Berrios, Odorizzi and a reformatted Perez gives the rotation credibility. The bullpen is more suspect. Former Angel Blake Parker, another low-budget free agent signing, leads the team in saves. The Twins could bolster the group by pursuing free-agent closer Craig Kimbrel, who is considered unlikely to sign before the draft June 5.
Falvey noted his team's self-imposed payroll constraints. But he expected to improve the roster as the summer continued.
"I would say this: Our ownership has been really supportive every time we bring them something we think is a really good baseball move," Falvey said. "But ultimately, I have to make the recommendation around 'Is this the right years, amount of dollars,' all those things.
"If we continue to do what we're doing here — and we fully expect we will — we're going to be looking for opportunities to add."
Sign up for our daily sports newsletter »
Falvey spoke with a smile. He had reasons for optimism. His team was about to demolish the Angels. The Twins' run differential would increase. The homers would fly. They would look for real.
"We feel like our record is borne out of good, underlying peripherals," Falvey said. "So up to this point, I feel like it's been what you should expect, in terms of wins and losses, relative to how we've played. Now what happens going forward? If we remain healthy, I don't see any reason why this team can't sustain the production."
Twitter: @McCulloughTimes
---