Alex Wood decries 'totally broke' system with Bryce Harper, Manny Machado unsigned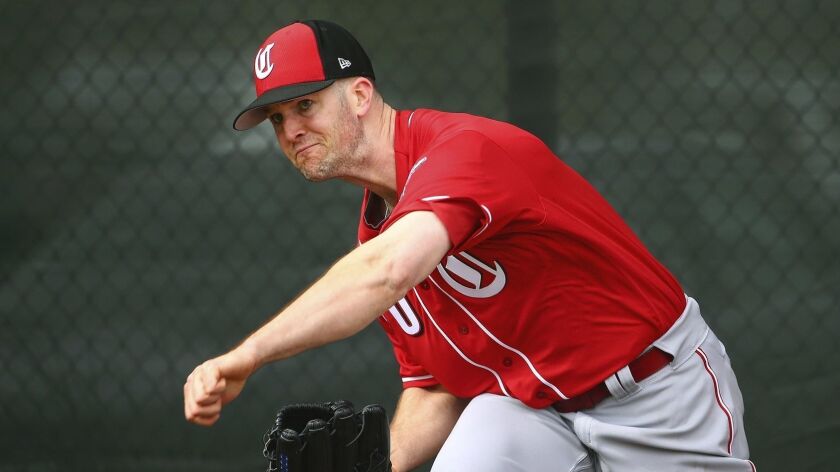 Reporting from goodyear, ariz. —
On his way to his first spring training as a Cincinnati Red, Alex Wood took a detour to Tampa. Before he could set foot on the mound, he needed to attend an arbitration hearing with his new club.
A year away from free agency, and a year removed from an All-Star campaign in 2017, Wood requested a salary of $9.65 million. The Reds countered with an $8.7-million offer. Unable to split the difference, the sides went before an arbitrator earlier this week. The ruling went in Wood's favor, locking in his salary for 2019.
Two players who have yet to experience any kind of certainty this spring are Bryce Harper and Manny Machado, the biggest names on the free-agent market. Their unemployment has sparked a wave of outrage throughout the sport, as the players gear up for a labor battle with the owners when the current agreement expires in 2021. Wood suggested a positive from the outcry: More awareness has been raised about the flaws in baseball's compensation system.
"The system is just totally broke," Wood said. "It was a system that worked for a long time, but the way these guys that are behind front offices, the way that they and MLB are moving the game, it's just become apparent that the system isn't working the way it's supposed to be."
Yasiel Puig is free from Dodgers' platoon, ready to thrive in Cincinnati »
Wood outlined a sharp critique of the current arrangement, which allows teams to retain control of players for six seasons. During the first three, players generally earn the big-league minimum — about $555,000 this year. During the next three, players can enter arbitration to decide a salary, as Wood did this week. After that, players earn the right to sign with any of MLB's 30 teams.
"If you don't want to pay guys after age 30, then you certainly need to start paying guys on the front end," Wood said. "Because you're essentially saving money twice. You're not having to pay guys near what they're worth their first three years. And really, you're not paying them what they're worth their first six years. And then they don't want to pay them on the end."
The chorus of players speaking out against the lack of spending from teams grows as more and more teams report to camp. Over the weekend, a trio of former MVPs — Buster Posey, Justin Verlander and Christian Yelich — all voiced their objections. Clayton Kershaw chimed in on Tuesday when he said "It's not great. It's not great for the game by any means."
Sign up for our daily sports newsletter »
Matt Kemp, who nearly won the MVP in 2011 and made an All-Star team for the Dodgers in 2018, hit similar notes on Wednesday.
"I think it's pretty ridiculous," Kemp said. "You've got two of the best players in baseball still not having a job, on top of some more pretty good players who really don't have jobs. There's so many. … That's bad."
He added, "I don't think it's good for baseball. But hopefully some things change."
Twitter: @McCulloughTimes
---
Get our Dodgers Dugout newsletter for insights, news and much more.
You may occasionally receive promotional content from the Los Angeles Times.