Rich Hill on track to rejoin Dodgers soon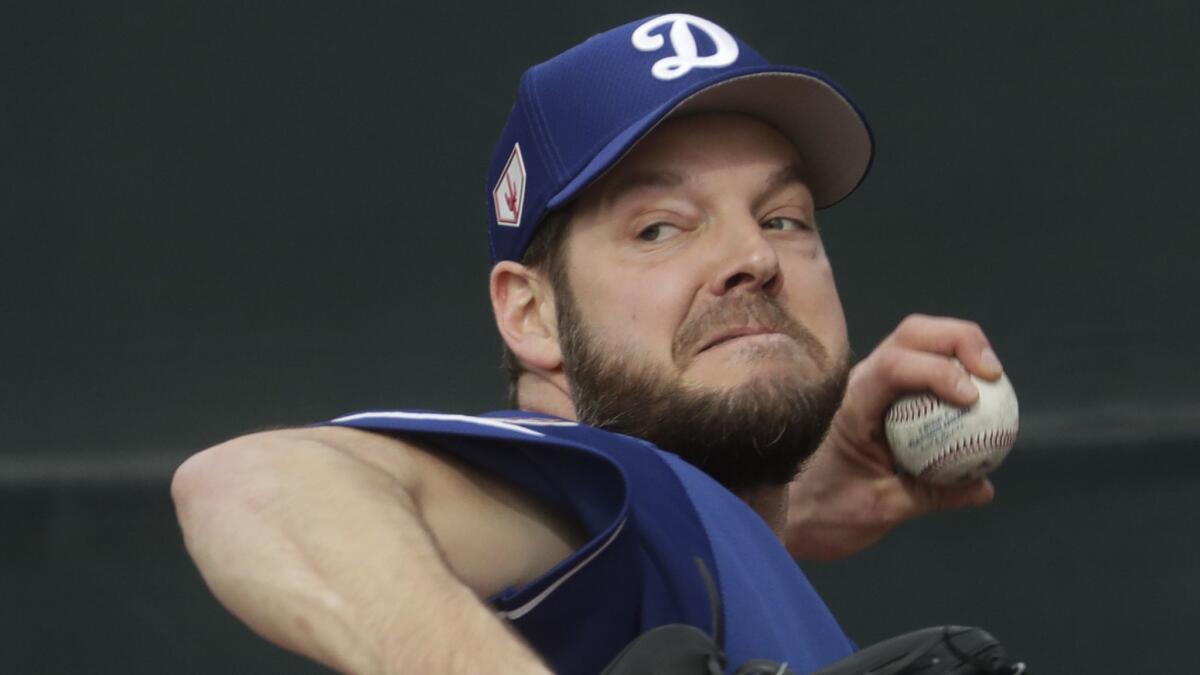 The serenity of a sun-splashed Friday afternoon in an empty stadium was pierced by the primal screams, loud grunts and curse words emanating from the middle of the diamond.
Rich Hill was back on the mound.
The Dodgers left-hander threw a three-inning, 46-pitch simulated game and an additional 15 pitches in the bullpen with the intensity, effort — and volume and vulgarity — of a regular-season start and said everything felt "great," a significant step in his recovery from a left knee injury.
Manager Dave Roberts said Hill, sidelined since suffering a Grade I strain of the medial collateral ligament in mid-March, will make a minor league rehabilitation start Wednesday or Thursday with the target of throwing four to five innings and about 75 pitches.
Barring setback, Hill, 39, could return to the rotation during a three-game series against the Cubs in Chicago on April 23-25.
"It went well," Roberts said of Friday workout. "I thought the ball was coming out well, and he kept his intensity."
Hill didn't have any issues with a knee brace that he said felt "pretty constricting" and was sliding around during an April 6 bullpen session in Colorado — his first time on a mound since his injury. He plans to wear the brace when he returns to game action.
"I don't think I have a choice," Hill said. "They want me to wear it, and I haven't really thrown too much with it off. It's kind of there, and then in extreme circumstances, when you have extreme stress, it prevents it from [buckling]."
Hill liked the way his fastball came out of his hand and the shape of his breaking ball Friday. He also noticed a potential benefit to his injury — it has forced him to make an adjustment to his delivery on his sidearm curve that he thinks has improved the quality of the pitch.
Instead of falling off to his left during his windup, Hill is remaining more upright and only dropping his arm. The pitch is less loopy and has more of a sharp break, which could make it more deceptive.
"The ball gets to a certain point and takes a right-hand turn as opposed to it breaking the entire way," Hill said. "This one kind of goes straight and then it breaks. It's much better than it was before, so … silver lining."
Injury report
Shortstop Corey Seager, who left Thursday's game in St. Louis in the fourth inning after being hit in the left hamstring by a pitch, was in Friday night's lineup.
Sign up for our daily sports newsletter »
"It was something that, in the heat of the game, he gets hit, doesn't feel well, it stiffened up on him, and we essentially have two minutes to make a decision," Roberts said Friday. "Right there, he didn't feel well, but with treatment and rest, he feels good."
Infielder Max Muncy was not in Friday night's lineup because of a right-index-finger injury he sustained while making an error on a Kolten Wong grounder Thursday. The finger was cut and swollen, and a blood blister formed, but Roberts said Muncy would be available off the bench.
Left-hander Hyun-Jin Ryu, on the injured list because of a mild left-groin strain, threw off flat ground Friday and will repeat the workout Saturday. Roberts said Ryu should throw off a mound "in the next few days."
Roberts said the symptoms that led to Russell Martin being placed on the injured list because of lower-back inflammation Wednesday have subsided, but the catcher has not resumed baseball activities. There is no timetable for his return.
Short hops
As of Friday afternoon, the Dodgers still hadn't decided on a starter for Saturday night's game. Roberts said his options are "a bullpen game or a minor league call-up," but he did not want to commit to a specific reliever until he sees how much of his bullpen he uses Friday night.
Get our Dodgers Dugout newsletter for insights, news and much more.
You may occasionally receive promotional content from the Los Angeles Times.