Column: If the year in L.A. sports had a name, it'd be Yu Darvish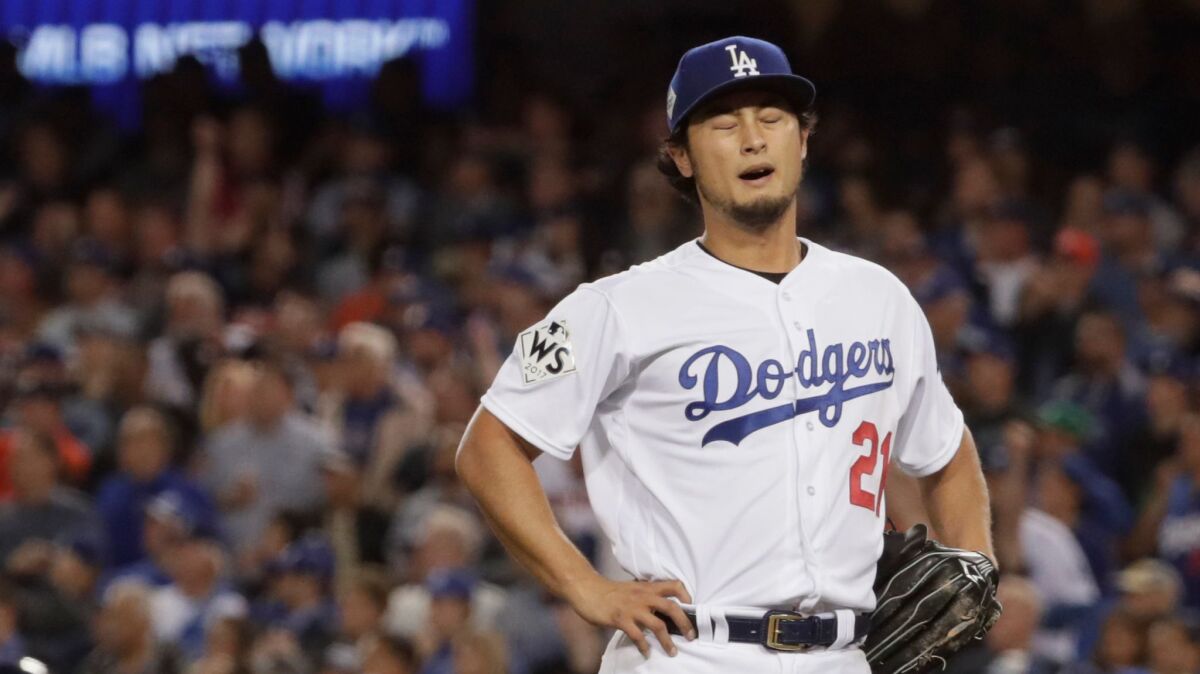 The jagged 2017 Los Angeles sports landscape can best be painted by an early November evening at Dodger Stadium.
For one brilliant moment, as a city breathlessly awaited the first pitch of Game 7 of the World Series between the Dodgers and Houston Astros, this was the greatest sporting spot on the planet.
Less than four hours later, it was the most devastated.
The Dodgers' thrilling run through the baseball postseason ended with a thud, a 5-1 loss to the Astros in the deciding game that extended the locals' championship drought to 29 years while epitomizing the last 12 months in Los Angeles sports.
Every time we thought we won, we lost. With every glorious promise, there was sobering puncture. Plenty of titillating championship moments, zero major championship trophies. Lots of greatness drowned out by reams of groans.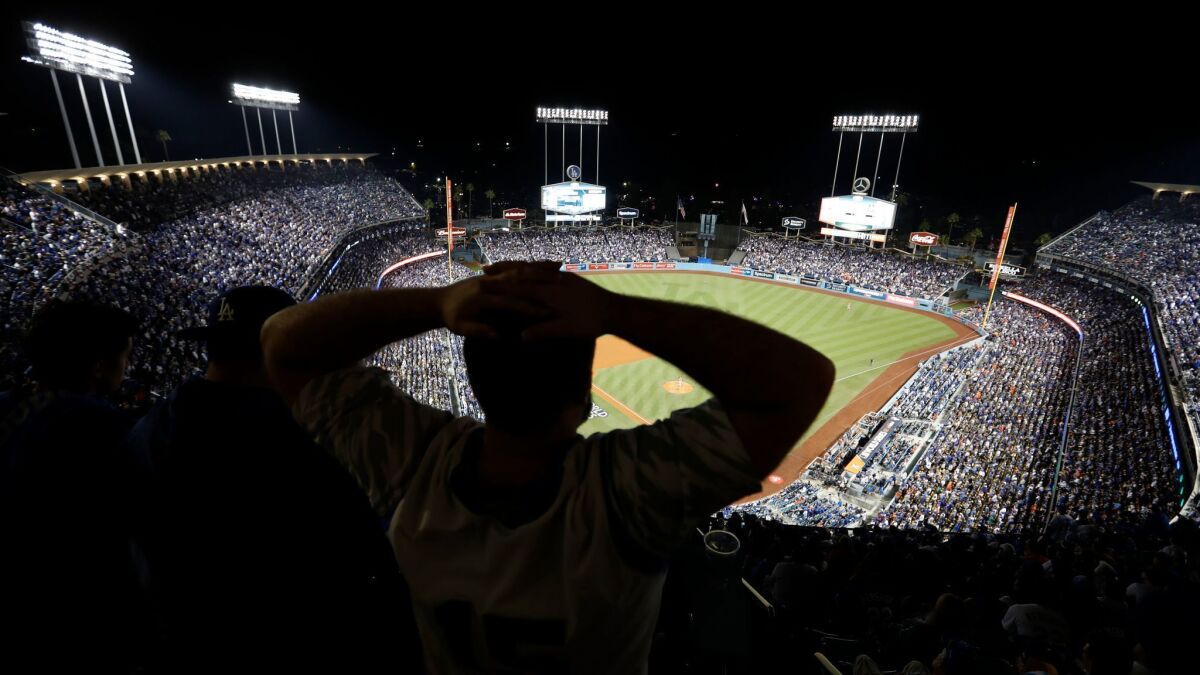 How disillusioning was it? The Dodgers' Game 7 loss was the city's second title-deciding-game defeat in the span of a month, as the Sparks had earlier lost to the Minnesota Lynx, 85-76, in the deciding Game 5 of the WNBA Finals.
If the 2017 Los Angeles sports year had a face, it would be slightly reddened.
If it had an expression, it would be somewhat contorted.
If it had a name, it would be Yu Darvish.
After collapsing in two World Series starts, including giving up all five runs in that awful Game 7, Darvish became a town villain who at least had the decency to make his mess in his own backyard.
If the 2017 Los Angeles sports year had an address, it would be Hangzhou, China.
Less than a week after the Dodgers' last loss, three UCLA basketball players admitted to shoplifting from three Chinese stores during the Bruins' season-opening visit. LiAngelo Ball, Cody Riley and Jalen Hill required the intervention of two presidents to leave the country, and wound up with season suspensions, although one of them was suspended permanently by … his father?
If the 2017 Los Angeles sports year had a voice, it would be the carnival barking of LaVar Ball.
If the 2017 Los Angeles sports year had a voice, it would be the carnival barking of LaVar Ball.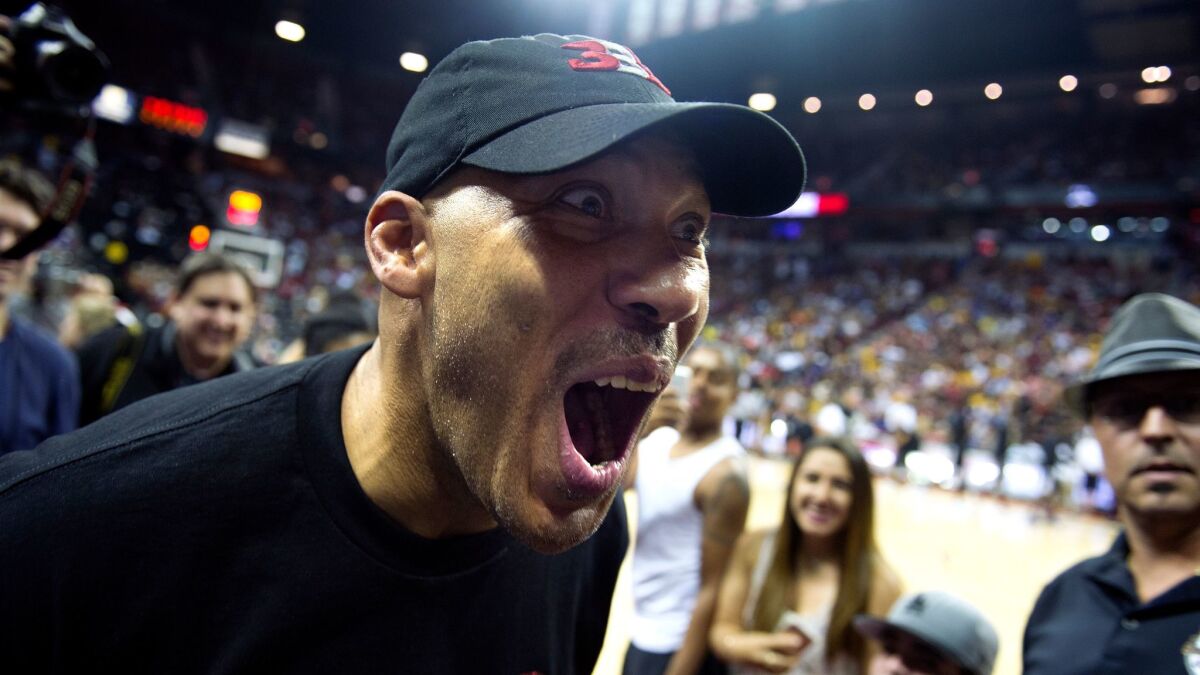 Ball, who was the city's 2017 sports jester by crudely attempting to sell shoes and T-shirts off the backs of his three basketball-playing sons, pulled LiAngelo out of UCLA because he thought his son was being treated too harshly. He also pulled youngest son LaMelo out of Chino Hills High because he thought school would interfere with basketball.
A year that began with the Ball family at the center of the basketball world ended with it being the butt of basketball jokes, as only oldest son Lonzo, a Laker first-round pick, was still actually playing on an organized team. Even then, because of his father's outlandish bragging, the overmatched point guard was playing with little joy and loads of pressure.
The Ball children have not yet fired their father. But in disjointed 2017, plenty of other sports axes fell.
UCLA fired football coach Jim Mora after he engineered a "Bruin Revolution." The Kings fired coach Darryl Sutter after he led them to two Stanley Cup championships. Chris Paul fired the Clipper organization by forcing a trade to the Houston Rockets.
And, of course, the Chargers fired the entire city of San Diego by suddenly and stunningly moving to Los Angeles, where their debut season in the StubHub Center was initially filled with boos and apathy.
One person who was not fired, and should not be fired, was USC Coach Clay Helton, who continued to overcome fan skepticism by leading the Trojans to an 11-2 record and their first Pac-12 championship in nine years.
Of course, this being 2017, the Trojans' success had to come with a footnote: In a year when one College Football Playoff semifinal game was at the Rose Bowl, the Trojan losses to Washington State and Notre Dame knocked them out of the Rose Bowl.
There did seem to be one bit of truly great news in town this year when Los Angeles was awarded the Summer Olympics. Oh, wait, you say they won't light that torch until 2028? Sigh.
If nothing else, in 11 more years maybe the Dodgers will have finally won a championship. Better yet, by then maybe everyone will be able to watch their games on television.
Twitter: @billplaschke
---
Get our Dodgers Dugout newsletter for insights, news and much more.
You may occasionally receive promotional content from the Los Angeles Times.