Dodgers' Joe Kelly unable to shed light on his 'overall body' ailment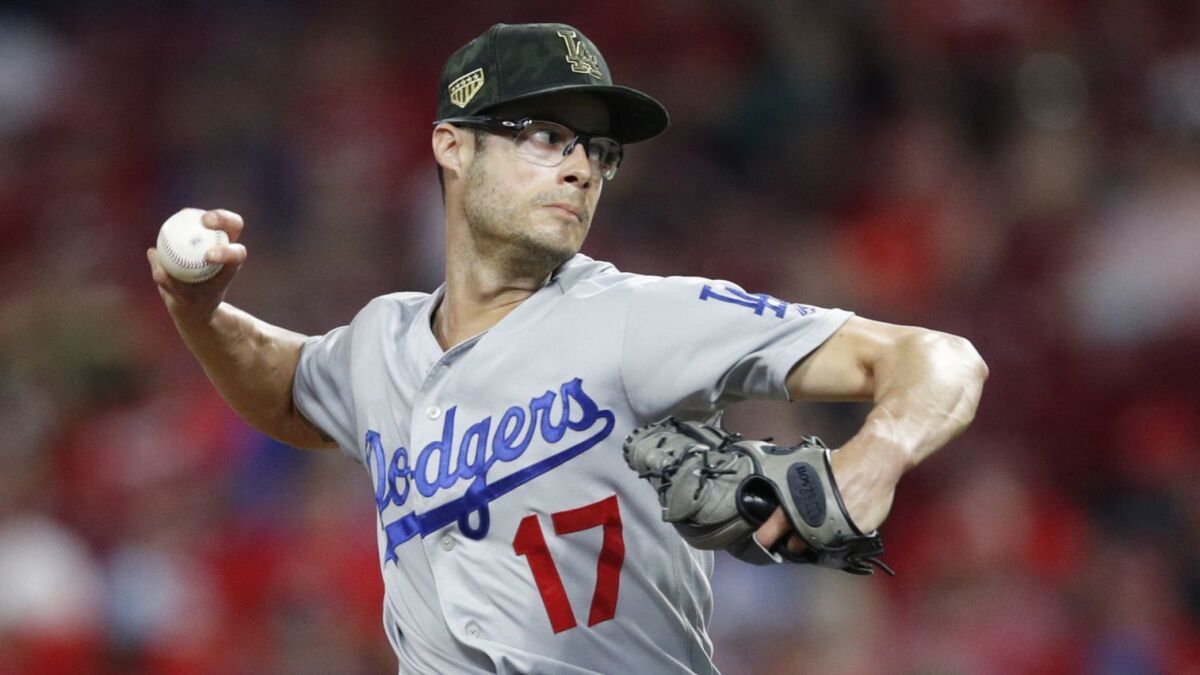 SAN DIEGO —
Joe Kelly hasn't pitched since Sept. 18 and he won't again until at least Sunday. The reason for the prolonged absence remains inexplicably unclear. Dodgers manager Dave Roberts initially resorted to hockey vernacular last week, citing "a lower-body" problem for Kelly. That has since evolved to an "overall body" situation.
Asked Thursday morning if something in particular was hindering him, Kelly followed suit.
"Not really, I guess," Kelly said. "Just body's not where I want it to be."
Kelly said he is "a little tired" and is hampered "on certain movements that are related to pitching."
The right-hander will test himself in a bullpen session Friday in San Francisco. The hope is he will pitch in a game before the regular season ends. That will probably come in Sunday's finale.
While he insisted he will be ready for the playoffs, which begin Thursday, Kelly hinted he won't be 100%.
"[It's] one of those things I'll just have to stay on top of every single day because I know [that although the playoffs are close], it's not going to be like magically cured," Kelly said. "It's just one of those things that I kind of just have to battle through."
Kelly, 31, said he has dealt with whatever is ailing him before, but not last season, which he concluded with a dominant postseason to help the Boston Red Sox win the World Series. In those instances, he pitched through whatever it is or had his starts skipped (he was a starter then).
It's a bizarre conclusion to a weird regular season for Kelly. Signed to bolster the bridge to Kenley Jansen, Kelly's first two-and-a-half months as a Dodger were agonizing.
The struggles peaked June 10 against the Angels when he recorded three strikeouts, two unintentional walks, an intentional walk, two wild pitches, another pitch to the backstop, and a throwing error. He also struck out three. He emerged from the performance with a 7.59 earned-run average in 22 outings.
Kelly was given the next seven days off to reset. After that, he became the pitcher the Dodgers expected when they signed him to a three-year, $25 million contract last winter. He has since posted a 2.45 ERA with 36 strikeouts in 29 1/3 innings across 32 games. He was, most nights, utterly dominant. That's the Kelly the Dodgers need in the playoffs. But it might not be the one they get for reasons that remain hazy.
"It's just one of those things," Kelly said. "I have to battle and just go and compete."
Rios makes an impression
Edwin Rios returned to his locker Wednesday night to a buzzing phone. Minutes earlier he had belted a 473-foot go-ahead, pinch-hit home run in the Dodgers' win over the San Diego Padres. The fourth home run of his big league career was the second-longest blast in Petco Park history and people were blowing him up about it.
"Still not used to it," Rios said. "Obviously."
Rios hasn't had much time to become accustomed to the spotlight. He's a 25-year-old rookie. He's appeared in just 24 major league games. On top of that, Rios originally wasn't supposed to rejoin the Dodgers as a September call-up. Instead, he traveled to Arizona to continue working out at the Dodgers' facility after triple-A Oklahoma City's season ended Sept. 2.
"It's frustrating," said Rios, who hit 31 home runs with a .915 on-base-plus-slugging percentage in 104 games for Oklahoma City. "You want to be up here. It's what you work your whole life for and being on the 40-man [roster], being a call-up year, a lot of things factor in. But you can't let it affect you."
His status changed only after Alex Verdugo suffered a setback at the beginning of the month that rendered him unavailable for the remainder of the regular season. Rios was called up Sept. 10 and has continued producing in a limited role off the bench.
"His at-bat quality off the bench has been really good," Roberts said. "Even if it's resulted in a strikeout, he's been seeing six, seven pitches. He's still getting good swings, so for him to be able to handle this role as a young player has been eye-opening to me."
Rios, who is three for nine and hasn't started a game since getting called up, spent Thursday morning taking groundballs at third base, a position he may play this weekend as Justin Turner deals with a balky back. Chances are he won't make the postseason roster, but he's seized on the unexpected chance.
"The more I'm around him, the more you really appreciate him as a person and his baseball hunger to learn, to work," Roberts said. "And he's just a great, great young man."
Get our Dodgers Dugout newsletter for insights, news and much more.
You may occasionally receive promotional content from the Los Angeles Times.