Dodgers Hall of Fame ironman pitcher Don Sutton dies at 75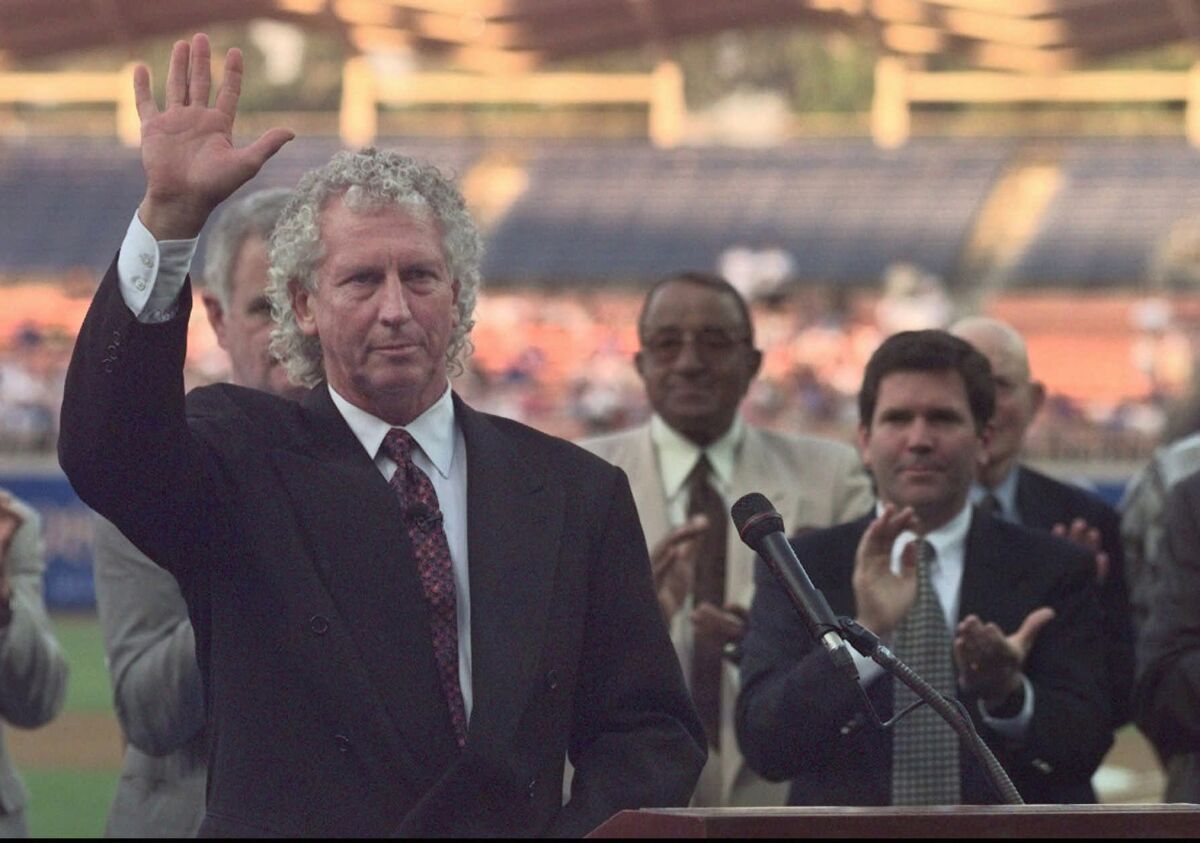 When Don Sutton joined the Dodgers in 1966, he was the new arm in town. Sandy Koufax was known as the left arm of God. Don Drysdale was known for his menacing fastball, high and tight, if you please.
Sutton took the ball every fourth day.
In the '70s, the Dodgers were as colorful as their new manager, Tommy Lasorda. They had a Penguin at third base (Ron Cey), the people's choice at first base (Steve Garvey), a center fielder who had rescued the American flag (Rick Monday), and wise souls at the outfield corners (Dusty Baker and Reggie Smith).
Sutton took the ball every fifth day.
In the '80s, pitching behind a star-studded Angels lineup that featured iconic slugger Reggie Jackson and rookie sensation Wally Joyner, Sutton notched his 300th victory.
He took the ball when it was his turn, for three decades, and more often than all but two other pitchers in major league history. There are Hall of Famers immortalized for their prodigious slugging and for the lightning in their arms, and there are plenty celebrated for their popularity, but perhaps none are more relatable to fans than Sutton: He showed up for work, and he did his job well.
Sutton, the Hall of Fame pitcher whose uniform number was the last one retired by the Dodgers, died at his Rancho Mirage home Tuesday after what a Hall of Fame statement said was "a long battle with cancer." He was 75.
Sutton's death was announced by his son, Daron, a former broadcaster for the Angels.
"He worked as hard as anyone I've ever known," his son wrote on Twitter, "and he treated those he encountered with great respect ... and he took me to work a lot. For all these things, I am very grateful. Rest In Peace."
The Dodgers have retired 10 uniform numbers, most recently Sutton's No. 20 in 1998. With the deaths of Sutton and Lasorda this month, Koufax is the only living honoree among the men whose numbers the team has retired.
"I am 100% convinced that if I had spent most of my career anywhere but with the Dodgers, I would not have the record, not have the Hall of Fame, not have the life I enjoyed," Sutton told Times columnist Bill Plaschke in 2017. "All those Dodger people gave me all of that. It's my alma mater, and all the good I had in baseball came from them.
Tommy Lasorda, who won two World Series championships in 20 years as Dodgers manager, died Thursday night of a heart attack after a long illness.
"I don't have any fantasy or thought of being the best pitcher in Dodger history. But I would like to think I got everything I could get out of what I was gifted with."
Sutton, a four-time All-Star, was so treasured for his reliability that Commissioner Rob Manfred saluted him Tuesday as "a model of durability." Sutton described himself as an "unspectacular grinder," yet he won the most games for a franchise that has employed Koufax, Drysdale, Don Newcombe, Fernando Valenzuela, Orel Hershiser and Clayton Kershaw.
He won 324 in all, tied with Nolan Ryan for 14th on the all-time list. Yet, in an era when star pitchers were measured by their 20-win seasons, Sutton won 20 games once in 23 seasons.
He made the Dodgers as a rookie in 1966 and pitched at least 200 innings in 20 of his first 21 seasons, with the strike-shortened 1981 season the only exception. Sutton never missed a start because of an injury for 22 consecutive seasons.
On Tuesday, former Dodgers general manager Fred Claire remembered a time early in Sutton's career, when manager Walter Alston laid out his plan to a press corps skeptical of how long the team could stick with the struggling young pitcher.
"I'm going to pitch him in four more days," Alston said, "and four more days after that, and four more days after that, and four more days after that."
On the all-time lists, he ranks third in games started with 756 — trailing only Cy Young and Ryan — and seventh in innings pitched with 5,282 1/3, seventh in strikeouts with 3,574 and 10th in shutouts with 58.
He pitched for the Dodgers through 1980, including World Series appearances in 1974, 1977 and 1978. He was reserved yet brutally honest, and his time in Los Angeles was not unblemished: He told Sports Illustrated in 1982 that he would have preferred Jeff Torborg to Lasorda as the replacement for Alston, and in 1978, he and Garvey got into a clubhouse brawl, triggered by comments Sutton had made to the Washington Post.
"All you hear about on our team is Steve Garvey, the All-American boy," Sutton had said. "Well, the best player on this team for the last two years — and we all know it — is Reggie Smith. Reggie doesn't go out and publicize himself. ... Reggie's not a façade or a Madison Avenue image. He's a real person."
After the Dodgers let him go in free agency, Sutton pitched for Houston, Milwaukee and Oakland before joining the Angels, with whom he won his 300th game in 1986. Hall of Fame President Tim Mead, then an Angels publicist, remembered Sutton and teammate Bob Boone as the first wine connoisseurs he met among baseball players.
"He was excellent at anything he tried to do," Mead said of Sutton.
Sutton is the ninth Hall of Famer to die since April: Al Kaline, Tom Seaver, Lou Brock, Bob Gibson, Joe Morgan, Whitey Ford and Phil Niekro died in 2020. In addition, Lasorda died Jan. 7.
Sutton joined the Atlanta Braves' broadcast crew in 1989, the first year after his playing career ended. He called Braves games for 28 years; the Braves inducted him into their hall of fame in 2015.
In the previous year, he had taken his last shot at winning the World Series championship he had coveted for so long.
"A world championship," he said in 1978, "is the last of my childhood dreams."
Sutton had not pitched well for the Angels in 1987, but Claire brought him back to the Dodgers for a farewell season at age 43 in 1988.
"For one reason," Claire said Tuesday. "I knew to have Don come into our camp, he would show our young pitchers how you prepare for a season. He was the ultimate professional."
On the mound, Sutton had battled a sprained elbow, the first injury to force him onto the disabled list. On Aug. 9, he pitched seven innings and gave up six runs, in what turned out to be his ninth consecutive winless start. The Dodgers released him the next day, in favor of 20-year-old Ramon Martinez.
Two months later, the Dodgers won the World Series. Claire said he was delighted to invite Sutton to join the Dodgers in visiting the White House.
In a Rose Garden ceremony, President Reagan joked about hurrying the ceremony along so Lasorda could cook lasagna for the entourage. Behind Reagan's left shoulder stood Sutton, a champion at last.

---
Get our Dodgers Dugout newsletter for insights, news and much more.
You may occasionally receive promotional content from the Los Angeles Times.