Dodgers cut ties with Trevor Bauer rather than keep him for 2023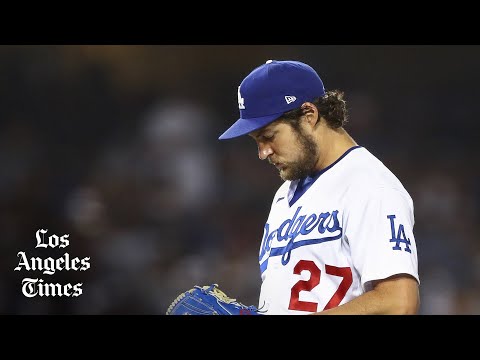 Two years after the Dodgers welcomed Trevor Bauer with a splashy televised news conference in the Dodger Stadium outfield, they discarded him with a one-paragraph statement.
Two weeks after Bauer completed the longest suspension served by a player in violation of baseball's sexual assault and domestic violence policy, the Dodgers severed ties with him Friday, preferring to pay him to go away rather than to pay him to pitch for their team.
"He will no longer be part of our organization," the Dodgers said in the statement.
Bauer was eligible to rejoin the Dodgers for the third and final year of his three-year, $102-million contract. Instead, the Dodgers designated him for assignment, giving them seven days to trade or release him.
They are liable for the remaining $22.5 million on the contract. If Bauer pitches for another major league team this season, the Dodgers would be liable for all but the minimum $720,000, or a prorated amount if he pitches for a portion of the season, unless another team agrees to pay more as part of a trade. With the Dodgers cutting ties now, Bauer can choose to meet with other teams, which likely would be a condition for any team exploring whether to acquire him. He has not pitched competitively in 19 months. The Dodgers did not receive significant trade interest in advance of Friday's deadline to decide whether to return him to their roster.
In a statement, Bauer said he had met with "Dodgers leadership" Thursday in Arizona and said he was told "they wanted me to return and pitch for the team this year." A spokesperson for Bauer declined to identify the team officials with whom Bauer said he had met.
Bauer also said: "While I am disappointed by the organization's decision today, I appreciate the wealth of support I've received from the Dodgers clubhouse. I wish the players all the best and look forward to competing elsewhere." The Times previously had reported that some players told the Dodgers front office that Bauer would be welcome back in the clubhouse.
A Dodgers spokesperson declined comment on Bauer's claims. However, according to people familiar with the situation but not authorized to comment publicly, the team's actions Friday spoke for themselves and no such indications were provided in Thursday's meeting.
The Dodgers did not make team officials available for comment Friday. The Times reached out to five players for comment this week; representatives for all five players declined comment. When the Dodgers shared their announcement Friday on Instagram, pitcher Brusdar Graterol liked the post almost immediately.
Bauer has denied allegations of sexual assault levied by three women, and he has not been charged with a crime. Commissioner Rob Manfred is empowered to suspend players for violating the policy, even in the absence of criminal charges. An independent arbitrator ruled Dec. 22 that the league had met the burden of proof in showing Bauer violated the policy.
The arbitrator reinstated Bauer — reducing the suspension from 324 to 194 games — forcing the Dodgers to decide whether to keep him or cut him. Neither the league's evidence nor the arbitrator's explanation has been made public, although two of his accusers reportedly testified against him during an appeal process that took seven months.
David Cone, the former Cy Young Award winner and five-time World Series champion, called the situation a "P.R. nightmare." Cone, the analyst on ESPN's flagship "Sunday Night Baseball" broadcast, explained why this week on his "Toeing the Slab" podcast.
"On the pitching side, he's a savant. He was ahead of the curve in terms of analytics, in terms of how to train," Cone said. "On the off-the-field stuff and what allegedly happened, that is poison right now. I don't know how you get past that."
The Dodgers were right to release Trevor Bauer after his 194-game suspension for violating MLB's policy on domestic violence and sexual assault.
The Dodgers' decision to move past Bauer sent a strong message to both fans and professional athletes, according to Patti Giggins, the executive director of Peace over Violence, a Los Angeles-based sexual assault and domestic violence agency.
"There's been quite a change in the sports world — teams are taking these issues more seriously in the last few years — and that is so important," said Giggins, who has been with the organization for 38 years. "Just because it's not a criminal case does not mean someone was not victimized. There are consequences to these allegations, and now [the Dodgers] are going to drop him.
"So many fans follow their teams, and they root for players and put them on a pedestal, so in a case like this, and I'm not judging guilt or innocence, the message to other players and fans is that how you treat each other, how you treat the people you date, how you treat your wives and husbands, matters."
During a February 2021 introductory news conference, the Dodgers staged a grand homecoming for Bauer, the former Newhall Hart High and UCLA star and reigning National League Cy Young Award winner.
Bauer and Andrew Friedman, the Dodgers' president of baseball operations, both said that day Bauer had learned from what each called "past mistakes" amid allegations of using social media to harass women, spread conspiracy theories and use insensitive language.
Friedman said he hoped that "some trust and credibility has been built up in terms of the research that we do on players and the vetting process we go through."
Said Bauer: "Ultimately I'm here to be a positive impact on anyone that I can be, both in the community, in the clubhouse, on the field, at the stadium, whatever the case is."
Four months later, Bauer had started 17 games for the Dodgers, going 8-5 with a 2.59 earned-run average. On June 28, he was the winning pitcher in the Dodgers' 3-2 victory over the San Francisco Giants. He would not pitch for the Dodgers again.
The next day, a San Diego woman who had met Bauer online requested a permanent restraining order against him, providing medical records that showed she was diagnosed with "assault by manual strangulation" and "acute head injury" after the second of two sexual encounters with him.
Complete coverage from the Los Angeles Times on the Dodgers' decision to cut ties with embattled pitcher Trevor Bauer.
The restraining order was denied by a judge who ruled Bauer posed no future threat to the woman. Bauer maintains the sex was rough but consensual and the woman was not visibly injured when she left his home after the encounter.
The league put him on investigative leave and later suspended him. Bauer has sued six parties for defamation, including the San Diego woman, who responded by suing him back and alleging sexual battery.
On Friday, just before the Dodgers made their announcement, Bauer denied her allegations in a court filing in which he said her suit "was not filed ... in good faith with reasonable cause." He also denied her accounts of sexual misconduct but said "he admits he choked [her] at her request and with her consent."
Bauer's filing Friday met a deadline set by the court, unrelated to the Dodgers' deadline.
The league would continue to include Bauer's salary in determining the Dodgers' payroll for purposes of the luxury tax, which could make the team liable for salary and tax payments for players acquired to fortify the 2023 roster. The Dodgers had hoped to keep their payroll low enough to avoid tax payments this year.
Trevor Bauer is a free agent now that the Dodgers have cut ties with him. One former major leaguer thinks Bauer will pitch for someone this season.
The Dodgers could try to avoid paying Bauer by claiming he violated a provision of standard contract language that requires him to "conform his personal conduct to the standards of good citizenship and good sportsmanship." That likely would trigger a grievance.
In 2004, after pitcher Denny Neagle was cited on suspicion of soliciting a prostitute, the Colorado Rockies terminated his contract, citing that contract language.
Neagle filed a grievance. In 2005, he and the Rockies reached a settlement under which he was paid roughly $16 million of the $19.5 million left on his contract, according to the Denver Post. In 2006, Neagle pleaded guilty to the lesser charge of "patronizing a prostitute" and was sentenced to 40 hours of community service.
Get our Dodgers Dugout newsletter for insights, news and much more.
You may occasionally receive promotional content from the Los Angeles Times.