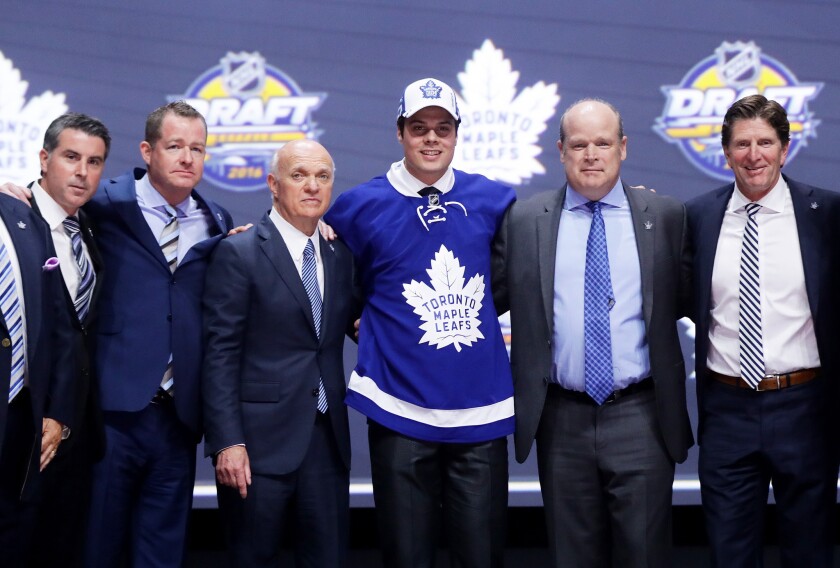 Auston Matthews, who was born and raised in Scottsdale, Ariz., and refined his game by playing against much older competitors in Switzerland last season, on Friday was chosen first overall in the NHL entry draft. He now becomes the hope of the long-downtrodden Toronto Maple Leafs, who next year will mark 50 years since they last won the Stanley Cup.
Considered a rare combination of size, skill, scoring ability and hockey sense, Matthews was a consensus No. 1 pick. He was called to the stage at the First Niagara Center in Buffalo by Mark Hunter, the Maple Leafs' director of player personnel. The crowd — heavily dotted with fans wearing Maple Leaf jerseys — broke out in a mixture of applause and boos.
He was the seventh American-born player chosen first overall in the NHL draft and first since Patrick Kane was selected by Chicago in 2007.
Matthews was the first of what is expected to be a strong representation of American players in the first round.
Shortly after Matthews was chosen, Commissioner Gary Bettman announced two trades. The Chicago Blackhawks sent winger Andrew Shaw to the Montreal Canadiens for two second-round draft picks, and the Canadiens traded forward Lars Eller to Washington for two second-round picks.
Blue Jackets' No. 3 pick elicits gasps
As expected, the Winnipeg Jets chose forward Patrik Laine of Finland with the second pick, but the Columbus Blue Jackets threw in a surprise by taking winger/center Pierre-Luc Dubois with the No. 3 pick instead of calling the name of Finnish standout Jesse Puljujarvi. That choice triggered a gasp from the crowd and undoubtedly sent some club executives back to their phones to revise their respective strategies.
The Edmonton Oilers, perpetually rebuilding despite a series of early draft picks the last decade, went fourth and chose Puljujarvi, who stands 6-foot-4 and possesses remarkable puckhandling skills and great speed. The Oilers reportedly had been seeking defensemen in trade talks to fill a huge hole there, but Puljujarvi was too good a talent to pass up. Their stockpile of forwards gives them assets to trade for an established defenseman.
The Vancouver Canucks used the No. 5 pick to take defenseman Olli Juolevi, a Finn who last season played for the London Knights of the Ontario Hockey League.
Hockey bloodlines showcased in top 10
The next five picks featured some familiar names.
Chosen sixth by Calgary was Matthew Tkachuk, whose father, Keith, scored 538 goals in a fine NHL career. Tkachuk was born in Scottsdale, Ariz., but grew up in the St. Louis area. He might not have his father's scoring ability, but he's considered gritty and smart. The Arizona Coyotes, picking seventh, took center Clayton Keller of the U.S. National Team Development Program, a small (5 feet 10) but determined player.
The Buffalo Sabres, picking eighth, chose Alex Nylander, son of former NHL player Michael Nylander and brother of 2014 Toronto pick William Nylander. If bloodlines count, Alex should give the young Sabres more skill and will give their fans hope for better things soon.
Montreal chose Russian-born defenseman Mikhail Sergachev with the ninth pick. Sergachev, who will be 18 on Saturday, last played for Windsor of the Ontario Hockey League.
The Colorado Avalanche had the 10th pick and used it to select center Tyson Jost, who has been compared to Chicago's Jonathan Toews for his determination and seriousness. Jost plans to attend college where Toews went, the University of North Dakota.
Flames trade for goalie Brian Elliott
Before the 10th pick was made, Commissioner Gary Bettman announced that the Calgary Flames had acquired goaltender Brian Elliott from St. Louis for a second-round pick this year, 35th overall, and a conditional third-round pick in 2018.
The Flames had been seeking to upgrade their goaltending. The Blues were able to give up Elliott and make Jake Allen the undisputed No. 1.
Senators move up to take Brown
Ottawa targeted six-foot-six center Logan Brown (son of former NHL player Jeff Brown). They traded the No. 12 pick and a third-round pick to New Jersey to move up to No. 11. Brown was born in Raleigh, N.C., but grew up in the St. Louis area. His father coaches the junior level Ottawa 67s, so he will have family nearby.
With the 12th pick, the New Jersey Devils chose center Michael McLeod of Mississauga of the Ontario Hockey League. Carolina chose offense-oriented defenseman Jake Bean at No. 13. The Boston Bruins selected New York native Charlie McAvoy, a defenseman, at 14, making him the fifth American-born player to be chosen. The Minnesota Wild followed by also taking an American, forward Luke Kunin of Chesterfield, Mo., and the University of Wisconsin, at No. 15.
Red Wings make money-saving trade
The Detroit Red Wings had the 16th pick but traded it to Arizona in a strategic move. The Red Wings wanted to get rid of the $7.5-million salary cap hit for next season for the remaining year on the contract of Pavel Datsyuk, who previously announced he won't play in the NHL next season and will return home to his native Russia.
The Coyotes wanted defenseman Jakob Chychrun, who was born and grew up in Florida and is the son of former NHL player Jeff Chychrun. So Detroit traded the 16th pick and Datsyuk's contract to Arizona for Joe Vitale and the 20th and 53rd picks in this year's draft.
Besides getting Chychrun, who's 6-foot-2 and 205 pounds and played last season for Sarnia of the OHL, the benefit for Arizona is that Datsyuk's contract will help lift the club to the salary floor of $54 million next season. The Coyotes don't have to pay him a salary but are obligated to take on the salary cap hit.
At No. 17 the Nashville Predators chose defenseman Dante Fabbro, who plans to play at Boston University. Defenseman Logan Stanley, who stands a towering 6 feet 7 but is considered in need of improvement to his skating, was chosen 18th by Winnipeg.
Another son of an NHL player — and American — was chosen at 19th when the New York Islanders claimed left wing Kieffer Bellows from the U.S. National Team Development Program. His father, Brian, was the No. 2 pick in 1982 and won the Stanley Cup with the 1993 Montreal Canadiens.
Detroit used that 20th pick to select defenseman Dennis Cholowski, who is expected to attend St. Cloud State University in Minnesota.
helene.elliott@latimes.com
Twitter: @helenenothelen
---