Column: These kids have smarts: High school athletes recognized for their performance in the classroom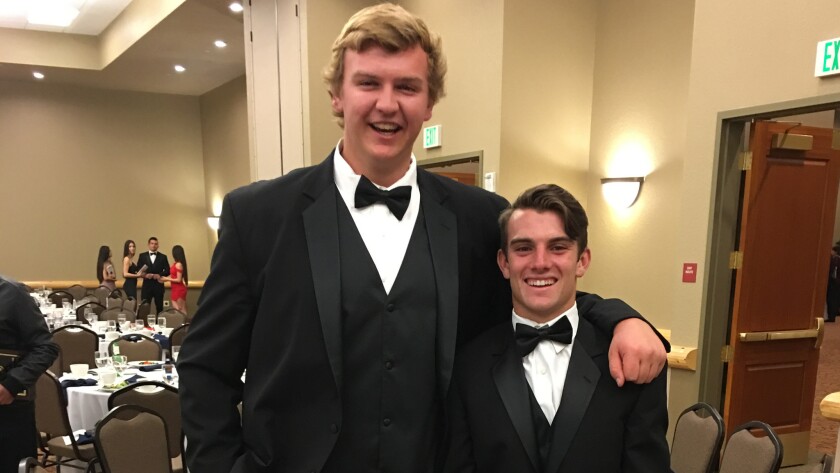 A picture is worth a thousand words, and to see 6-foot-7, 330-pound lineman Tommy Brown of Santa Ana Mater Dei dressed in a tuxedo with his left arm wrapped around 5-7, 150-pound Justin Simpson of Orange El Modena offers a glimpse at the competitive spirit of Simpson.
"Not an ounce over 150 pounds," Simpson deadpanned. "It's been that way my whole life. It's crazy someone with my size can hang with people three times my size."
The photo, taken at the scholar athlete awards banquet for the Orange County chapter of the National Football Foundation and College Hall of Fame, showed both smiling.
Brown is headed to Alabama. Simpson, who caught 69 passes and was the defensive MVP of the North Hills League in football, is now involved in baseball. As El Modena's starting shortstop, he's batting .407 with 33 hits and has one error in 24 games. He also has a 4.0 grade-point average and is pretty smart in knowledge about sports.
"I guess I used my speed to try not to get hit and stay away from the big guys," he said.
He said he's looking for a college to give him a chance to play baseball. It's a good year for players with high grade-point averages. Mission Viejo Capistrano Valley was honored at Angel Stadium for having the highest team grade-point average for a baseball team. There are so many 4.0 students playing for the Cougars that they could start their own SAT tutorial service.
At Oak Park, pitcher Jonah Scott announced that he's headed to MIT after compiling a 4.58 GPA.
"I've always enjoyed building stuff," he said. "I want to learn how to make an impact. I see kids coming out of there and doing amazing stuff. There's something there because they're turning out great thinkers, and I want to become one those people."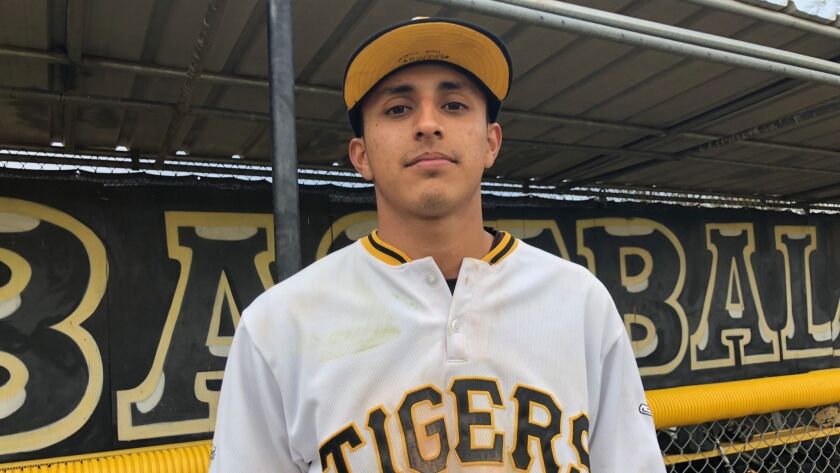 At San Fernando, pitcher/center fielder Steven Villagran is a four-year starter with a 4.3 grade-point average and A's in AP calculus and AP chemistry. His pitching, hitting and fielding have the Tigers on the verge of locking up the Valley Mission League title. He's batting .565 with 39 hits and has 63 strikeouts in 46 2/3 innings.
At Crescenta Valley, pitcher Trevor Beer has a 4.4 GPA and is headed to UC Santa Barbara. He's 8-2 with an 0.81 ERA going into a showdown game against unbeaten Arcadia (23-0) on Tuesday night.
At Studio City Harvard-Westlake, standout outfielder R.J. Schreck will announce his college decision this week. He's down to Duke and MIT. His mother and an older brother went to Duke. Another brother went to MIT. He has a 4.43 GPA and both of his parents are doctors. Baseball is easy compared with trying to have the highest GPA in this family.
"It's a lot of late nights and my teachers and friends helped me with time management," he said.
He said he wants to study computer science and engineering. Duke will be the school if he wants to focus on baseball, but don't count out MIT. He got a perfect score of 36 on the ACT. Of the 1.8 million who take the test each year, about 1,000 earn a perfect score. He's got the kind of brain power to thrive at MIT.
These are the kind of student athletes coaches seek at any level. As Simpson has proved, don't assume anything until you see their competitiveness on and off the field.
Twitter: @latsondheimer
---
Get the latest on L.A.'s teams in the daily Sports Report newsletter.
You may occasionally receive promotional content from the Los Angeles Times.