Column: St. John Bosco's Matt Katnik shows he's an athlete with class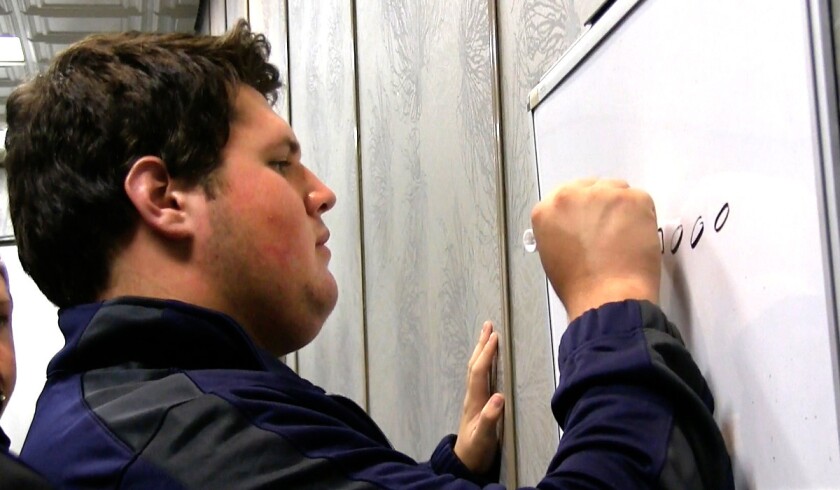 It's one of those wonderful sports moments captured on video that makes everyone laugh. Matt Katnik, the 6-foot-4, 305-pound St. John Bosco lineman, was trying to celebrate a touchdown with 165-pound sophomore receiver Kristian Gilbert. A chest bump sent Gilbert tumbling to the ground in a true sports blooper moment.
"He's really skinny. That's where the problem is," Katnik explained.
Katnik enjoys having fun. It's one of the reasons he's still playing football even though he's the top shot putter in California, with scholarship offers from Stanford, UCLA and USC.
He announced he was giving up football last summer to focus on track, then changed his mind.
"I went through the first two weeks, and I missed it," he said. "I thought, I'm going to miss my friends, I'm going to miss Friday nights. I could not live with myself if I didn't have that experience one more time."
Katnik will exchange his uniform for a suit and tie on Monday night in Long Beach to be one of 14 high school athletes being honored with a Jim Staunton Champions for Character Award at the Queen Mary Hotel. Coaches and administrators also will be recognized.
At a time of seemingly weekly reports of NFL and college athletes getting arrested, charged or ridiculed for bad behavior, it's good to single out individuals in high school sports who are displaying the pillars of character _ trustworthiness, responsibility, respect, fairness, caring and citizenship.
Katnik, who has a 4.4 grade-point average, understands how to play the game the right way. Last spring, he appeared to throw the shot put more than 67 feet in what would have been a career-best effort. People who recorded the throw on their cellphones said it was a legal throw. The official decided otherwise, ruling Katnik had fouled.
"It was such a great throw," Katnik said. "I went, 'No.' "
Then he moved on, even though others were upset.
"I don't like to be the center of attention," he said. "I don't throw a tantrum."
Katnik's parents, John and Michelle, both USC grads, might be candidates for an award themselves.
Two of their sons, John Jr. and Andrew, are attending USC. John was a lineman at Palos Verdes. Andrew was the backup quarterback at St. John Bosco. The youngest, Michelle, is a freshman cheerleader at Palos Verdes.
"Character definitely runs through our family in the way we play our sports," Katnik said.
Everyone could see that last season. Andrew stayed at St. John Bosco even though he knew he'd never start ahead of future All-American quarterback Josh Rosen. But when Rosen went down with an injury in the third game, Katnik came off the bench to rally the team. Then he got to start in a win over Loyola. St. John Bosco doesn't go 16-0 without Andrew Katnik.
"I admire Andrew," Katnik said. "He made a decision based on his Catholic values. He didn't get to start, but he refused to let it affect his life. He was upset about not starting, but he didn't let it ruin his high school career. I called him the best backup in the United States."
Katnik was an All-CIF lineman last season and is starting at offensive guard for the Braves (3-1) this season. He has learned that playing the game with integrity and heart will leave a lasting legacy.
"Honestly, it's the best way to enjoy the sport you're playing," he said. "They're going to remember the guy who didn't hit after the whistle. They're going to say, 'That's a cool dude. He didn't hit me when no one was looking.' "
Now, if only he can figure out how to do a chest bump without knocking over his receiver.
"We're practicing," he said.
Twitter: LATSondheimer
---
Get our high school sports newsletter
Prep Rally is devoted to the SoCal high school sports experience, bringing you scores, stories and a behind-the-scenes look at what makes prep sports so popular.
You may occasionally receive promotional content from the Los Angeles Times.