Tyler Vaughns helps Bishop Amat topple Servite, 28-10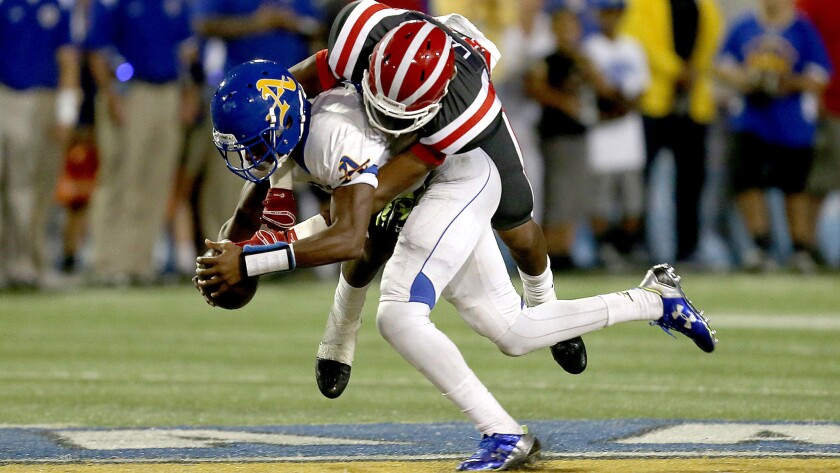 Fans looking to see the dynamic duo of wide receivers Tyler Vaughns and Trevon Sidney of La Puente Bishop Amat got to see only half the show Friday.
But that was still impressive.
Vaughns and Sidney are headed for USC, so every game this season is essentially a showcase for the future Pac-12 Conference players. Sidney sat out with an injury against Anaheim Servite, but Vaughns made up for it with two touchdowns in a 28-10 victory.
"I felt kind of sad, because I love playing with the guy," Vaughns said. "Not playing with him kind of hurt the team. But I know I had to step up today and help out and make sure we came out with a win."
Vaughns had nine catches for 109 yards. His quarterback, Damian Garcia, threw for 214 yards and two touchdowns and ran for 75 as the Lancers got on track after an opening-week loss to another Trinity League opponent, Mater Dei.
Vaughns highlighted a late first-half drive with a leaping catch of a 38-yard pass to set up his 10-yard scoring reception down the left side that give Bishop Amat a 13-7 lead at halftime.
His 20-yard catch began Bishop Amat's first possession of the second half, and Garcia found Vaughns on a quick-step slant for a 15-yard score in the fourth quarter.
Servite has one of the toughest schedules in the state and Friday was a reminder that it has little margin for error. Friars quarterback Tyler Lytle completed only three passes in the second half and threw for 53 yards total. Last week Lytle threw for more than 400 yards.
The Friars pounded out a 15-play drive and took a 7-6 lead on Lytle's 15-yard quarterback keeper. But first-year Servite Coach Scott Meyer said, "It felt like we were just missing a little bit on offense."
Meyer took his first loss as Servite coach, but it might help in the long run.
"That was a good football team, but so are we," Meyer said. "By the time Trinity League comes, we're going to be ready to roll."
---
Get the latest on L.A.'s teams in the daily Sports Report newsletter.
You may occasionally receive promotional content from the Los Angeles Times.