Freshman JD Wyatt of El Camino Real makes 10 threes as father coaches him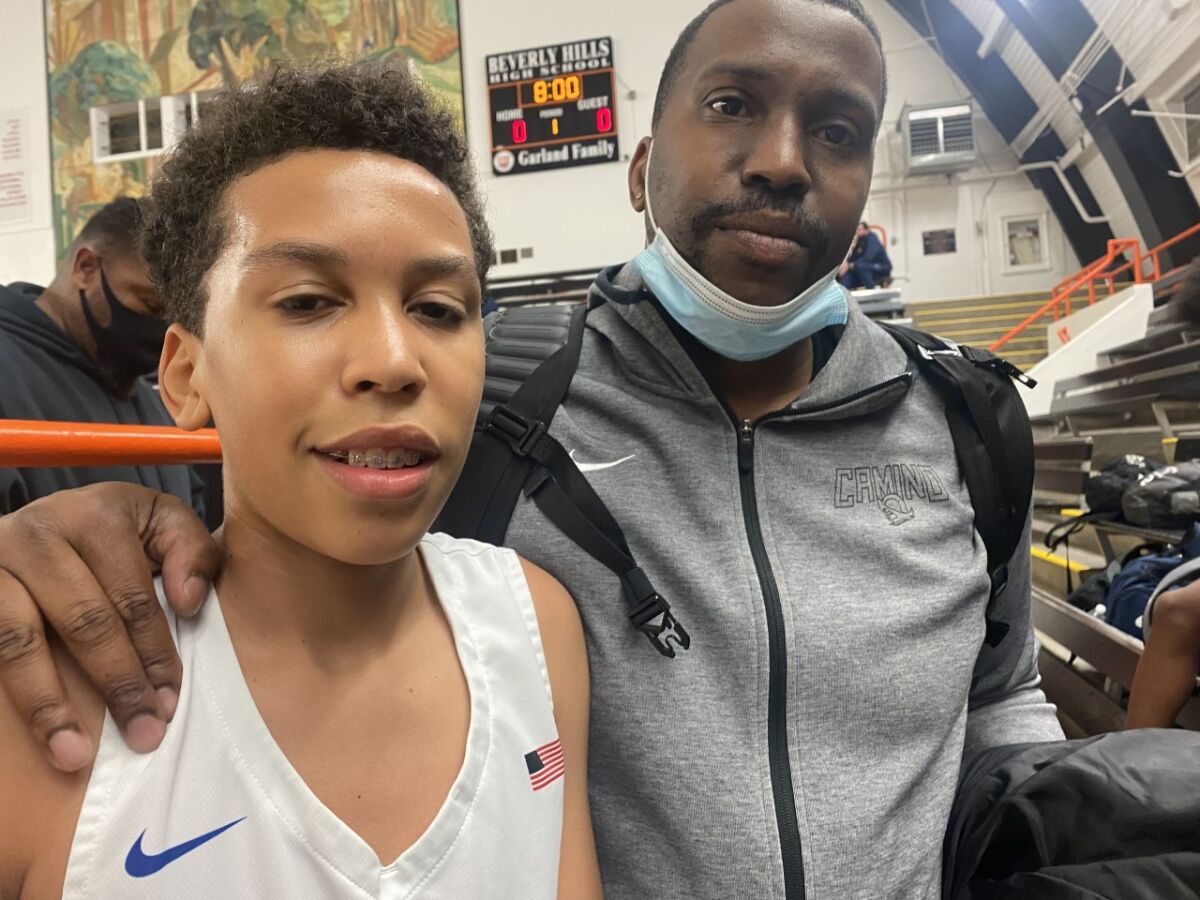 Freshman guard JD Wyatt has been hanging around Woodland Hills El Camino Real basketball teams seemingly since he was old enough to walk. His father, Joe, is the coach and has been training him. What a memorable moment it was for the two Friday at Beverly Hills High.
Brought up from junior varsity because of injuries, JD came off the bench to make 10 three-pointers and finish with 33 points in El Camino Real's 74-69 overtime loss to San Diego High. His 10th three tied the score with 1.5 seconds left in regulation. He made five threes in the fourth quarter to help the Royals rally from an 11-point deficit. He was looking like a 14-year-old LaMelo Ball the way his arching three-point shots were going through the net.
"I've never ever had a game like that," JD said.
Said Joe: "He trains all the time. He's supposed to do that."
Now the father/coach has a dilemma. Does he keep his 5-foot-8 son on junior varsity when his injured players return?
Santa Clarita Christian 93, Beverly Hills 90: Trailing by 19 points going into the fourth quarter of Friday's Beverly Hills tournament semifinal game against the host school, Santa Clarita Christian faced quite a challenge in the swim gym.
"It was crazy," senior guard Jaden Tengan said. "We had been in a slump shooting the ball."
The Cardinals went on 22-3 run to tie the score, then won in double overtime to advance to Saturday's championship game. Tengan scored 34 points and kept delivering clutch baskets and key free throws in both overtimes. Beverly Hills missed on a final three-pointer as the buzzer sounded.
Tengan's brother Max, a junior, also had an important basket in the second overtime. Junior Jameson Caruso scored 29 points for Beverly Hills, which was trying its best to make up for the loss of center Jac Mani, who left in the fourth quarter after injuring an ankle. Mani had 19 points.
The Tengan brothers attended Kennedy High in Sacramento last season, then moved to Santa Clarita after COVID-19 issues disrupted their season. They've been major contributors for 8-3 Santa Clarita Christian.
Brentwood 64, Birmingham 59: MJ Coleman scored 14 points and made three free throws in the final 30 seconds to secure the win for Brentwood. Parker Turner added 13 points. Tyson Jackson led Birmingham with 19 points, and Kory Blunt had 18.
Campbell Hall 62, Crenshaw 52: Aaron Powell scored 13 points for the Vikings.
Los Altos 79, Rancho Christian 50: Jazz Gardner had 23 points and 25 rebounds in the win.
Eastvale Roosevelt 69, Villa Park 56: Trevor Manning scored 25 points to hand Villa Park its first defeat and advance Roosevelt to the championship game of the Riverside tournament.
Harvard-Westlake 62, Utah Pleasant Grove 27: In Arizona, the unbeaten Wolverines rolled to victory. Trent Perry and Brady Dunlap scored 16 points each, and Jacob Huggins added 14.
Saugus 69, Golden Valley 67: Cristian Manzano finished with 18 points. Jaison Tan had the game-winning basket in the final seconds.
Canyon Country Canyon 60, Valencia 48: Matthew Heyne finished with 25 points and 10 rebounds.
JSerra 57, Etiwanda 39: The Lions handed Etiwanda (8-1) its first defeat. Aidan Fowler had 22 points for JSerra.
Fairfax 85, Hamilton 45: The Lions improved to 2-0 in the Western League. Tyler Bey scored 17 points and had 11 rebounds, and David Mack had 10 points and 11 assists.
Westchester 51, Palisades 48: The Comets won in overtime. Jonathan Choyce led Westchester with 18 points.
Windward 67, Warren 61: Freshman Gavin Hightower had 23 points and freshman Jeremiah Hampton added 20 for Windward.
Santa Margarita 73, Costa Mesa 31: The Eagles are 9-0.
Mater Dei 54, Tesoro 29: After 10 straight wins, Tesoro suffered its first defeat. Carson Brown had 13 points for Tesoro. Zack Davidson led Mater Dei with 15 points.
Heritage Christian 54, Crespi 48: Heritage Christian came through in the final minute to pull out the victory. Barrington Hargress scored 23 points. Mason Dorsey led Crespi with 20 points.
St. John Bosco 67, Gardena Serra 54: The Braves advanced to the championship game of their own tournament on Saturday against unbeaten Damien. Freshman Kade Bonam led St. John Bosco with 19 points, and freshman Elzie Harrington had 15. Damien defeated Fairmont Prep 68-52.
Glendora 88, Whittier 63: Luke Jacobson scored 28 points for Glendora.
Riverside Poly 64, Rancho Cucamonga 37: Brayden Burries scored 27 points.
St. Anthony 53, Long Beach Poly 38: Elijah Price and Jaayden Bush each scored 20 points for St. Anthony.
Artesia 69, Santa Monica 65: Aaron Banks had 21 points and Zion Staples 20 for Artesia. Joshua Hecht led Santa Monica with 19 points.
Girls' basketball
Palisades 64, Westchester 61: In a matchup of two City Section title contenders, the Dolphins held off a furious Westchester rally to win the Western League game. Demoni Lagway scored 22 points. Reigne Waugh had 29 points for Westchester.
Chaminade 57, Granada Hills 47: Jessa Thurman led Chaminade with 18 points and 10 rebounds. Carlista Azaga scored 18 points for Granada Hills (9-2).
Boys' soccer
Servite 7, Cypress 1: Cristian Uriostegui scored two goals for the Friars (4-0).

---
Get our high school sports newsletter
Prep Rally is devoted to the SoCal high school sports experience, bringing you scores, stories and a behind-the-scenes look at what makes prep sports so popular.
You may occasionally receive promotional content from the Los Angeles Times.