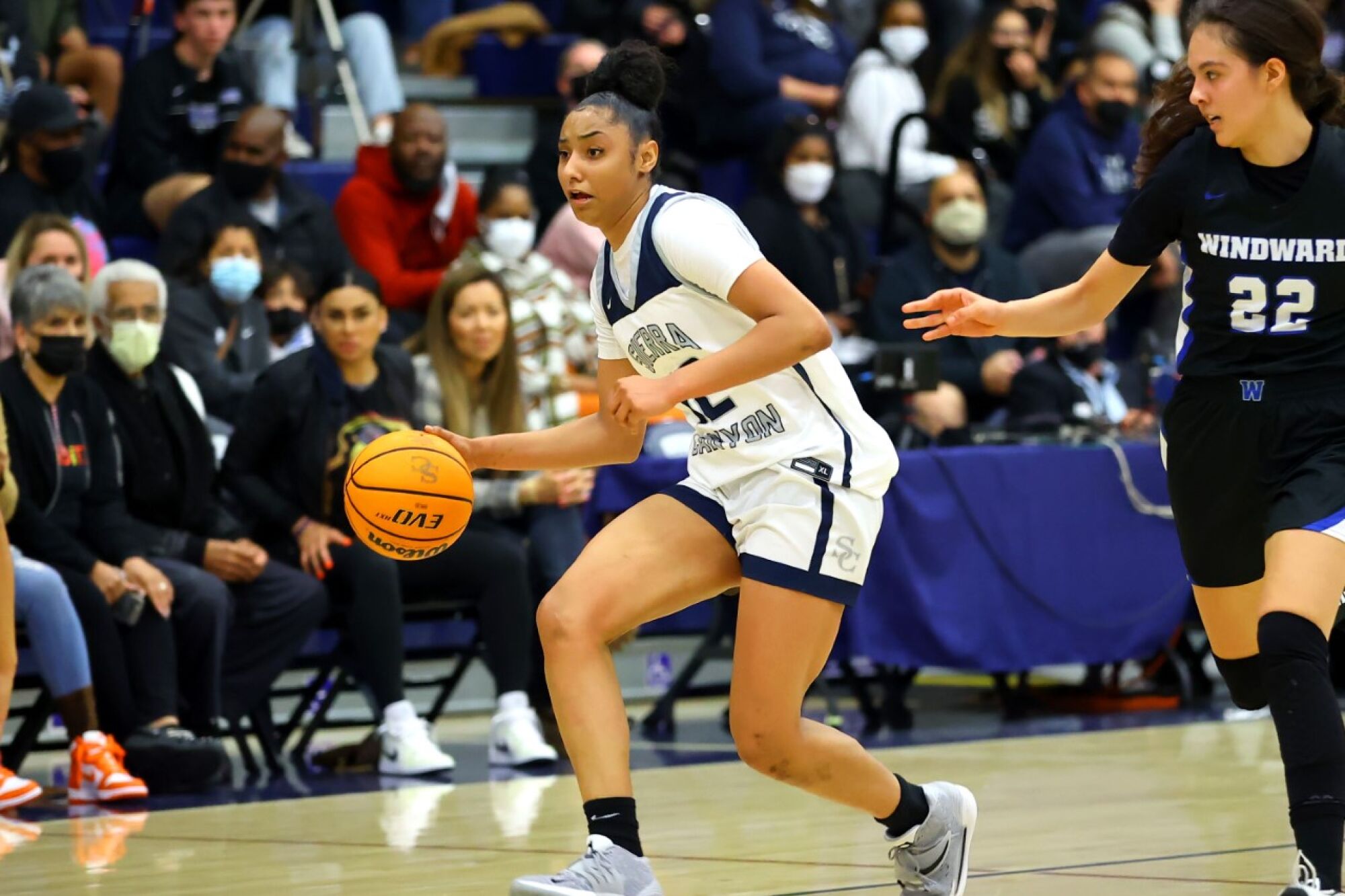 This is like Medusa, the fearsome deity of Greek myth, turning a poor fellow to stone — and he being grateful for the opportunity. This is like Achilles, the mighty hero of the Trojan War, torching a pack of Trojan soldiers in battle — and them reflecting in awe weeks later.
This will be the lasting legend of Chatsworth Sierra Canyon High's Juju Watkins, who's built a buzz so great that some opposing coaches simply feel blessed — direct quote — to just be a part of her tale.
"You can't help but just root for her future success … we're lucky that this player is coming from where all of us come from," said West Hills Chaminade coach Megan Kelso, whose team lost to Sierra Canyon 79-40 in January. "Her future is endless."
There is little Watkins hasn't proved, on one of the most special journeys in California girls' hoops history. In October, the USC commit boldly proclaimed she wanted to go undefeated in her senior year at Sierra Canyon, and through nearly two months of national play the Trailblazers have emerged 29-0. Somehow, after being named the L.A. Times' player of the year for two straight seasons, Watkins has further refined her game as a senior — more poised, more mature, averaging 30 points and 15 rebounds.
"She's forever going to be synonymous with one of the best high school female basketball players to ever play, not just in California, but in the nation," Sierra Canyon coach Alicia Komaki said. "Like, she's one of the best in the nation."
"And that's important to Juju, her resume," Komaki continued.
There is one lone blemish on that resume. One area, under "Awards and Accomplishments," left unfulfilled. Last season, while getting into foul trouble and falling in the Southern Section Open Division final against Etiwanda with tears in her eyes, was the only time the world has seen Watkins fail.
Two streaking ships, Watkins at Sierra Canyon's helm and the dominant Kennedy Smith leading Etiwanda, have plotted a course from the beginning of the season to meet again in the Open Division final on Saturday at Honda Center. It was an inevitability that most everyone in Southern California anticipated.
The stakes are set: two straight Open Division championships for a proud public-school program from the Inland Empire, or a Southern Section title and a final box checked off for Watkins.
To put it simply, Saturday's final is a game that elevates the very game itself.
High school championship schedule: City and Southern Section basketball and soccer championships.
"Going to be one for the ages, I think," Kelso said.
Ahead of Saturday's matchup, the Times spoke with local girls' basketball coaches who've played both Sierra Canyon and Etiwanda across the past two years. Here are their thoughts, predictions and matchups to watch:
Kennedy Smith factor
Watkins' star shines so bright that it often overshadows other local talent. Smith, Etiwanda coach Stan Delus feels, is just as special — a point-center who puts up similarly monstrous numbers, can thrive on the perimeter or bang on the inside, and is so competitive she requests to guard the opposition's best player.
"She's one of a kind … I think Kennedy's a little bit overlooked," Ontario Christian coach Matt Tumambing said.
If Smith gets on the glass and Etiwanda wins the rebound battle, said Newport Beach Sage Hill coach Kerwin Walters, they'll have a solid chance to knock off the Trailblazers.
Here's a tantalizing possibility: Smith and Watkins could end up playing together at USC. Smith, a junior, has an offer from the Trojans.
"They would do amazing together," Delus said earlier in the season. "Because Juju would be like, 'Oh, my God, I actually have an equal.'"
Supporting cast
This is bigger than Watkins against Smith. Both teams, Fullerton Rosary's Richard Yoon said, are loaded with talent at a level above the rest of the crowd in Southern California.
Etiwanda's Aliyahna Morris is one of the best point guards in the area. If she's attacking in transition, making smart decisions and feeling in rhythm with her mid-range jumper, the Eagles are extremely hard to beat.
"She is an absolute monster defensively, on-ball," Tumambing said. "She's probably one of the best defenders in the country."
Sierra Canyon's Mackenly Randolph, daughter of former NBA All-Star Zach Randolph, brings a level of toughness on the interior and a nose for rebounds to match Smith. And junior guard Izela Arenas is a shifty X-factor, capable of quietly affecting the game with smart decision-making and on-ball defense while popping off for 20-plus points.
Predictions
When asked to pick a winner for Saturday's matchup, most coaches leaned toward Sierra Canyon. Ultimately, most felt there were two main factors at play: Sierra Canyon having the best player in Watkins and Etiwanda having more depth and length to throw at the Trailblazers defensively.
"When you take Juju out of the depth," Walters said, "there's no one replacing that type of player."
Regardless of the victor, everyone with an interest in girls' basketball will be watching Saturday, Yoon said.
"The standard is really Juju, and Kennedy is right there with her," Tumambing said. "And I think the standard she's [Watkins] set for women's basketball at the high school level, I mean, that's the bar we want to reach."
Get our high school sports newsletter
Prep Rally is devoted to the SoCal high school sports experience, bringing you scores, stories and a behind-the-scenes look at what makes prep sports so popular.
You may occasionally receive promotional content from the Los Angeles Times.