Column: With attendance falling, high schools need to make games must-see, not must-endure, events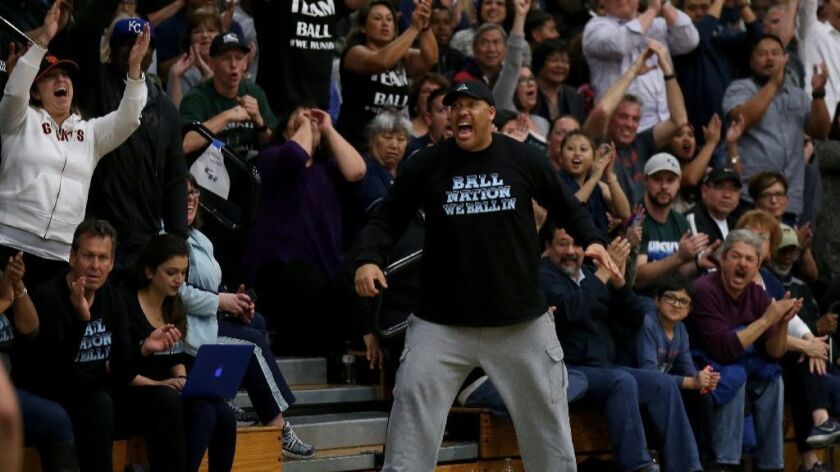 Rob Wigod, the commissioner of the Southern Section, sent out a message informing his membership that since the 2014-15 sports season, "We have seen a significant drop in paid attendance at Southern Section playoff games, specifically a reduction in ticket sales."
And he added, "We are not sure why, as we believe we have the same outstanding product to offer."
Let me offer some observations and warnings.
Showing up to a playoff game or any game in Southern California has become such an ordeal in terms of time commitment and obstacles that it's causing fans to consider other options, such as staying at home and watching from a computer or phone.
Traffic, lack of parking spaces, expense for tickets, matchups that result in running clocks — those are just a few of the reasons why local community members are choosing not to show up.
"Transfers is the other issue," Valencia athletic director Brian Stiman told me.
Yes, the unspoken dirty laundry that everyone knows about but doesn't want to clean up.
There was a record 16,595 transfers statewide last season. The Southern Section had the most at 6,999. And early numbers indicate those numbers are rising for 2017-18. What does it have to do with attendance?
The neighborhood school is dying. Do people really want to show up to root for a high school basketball team with five transfers in the starting lineup who hardly care about the community they represent?
"The Santa Clarita Valley loses kids outside the Valley every year," Stiman said. "It's large numbers. These kids are playing sports all over the place. You lose that community feeling."
The solution has been to create the Open Division — better known as the Shoe Division or the Transfer Division. Throw all the ambitious schools with transfers in the Open Division, let them battle it out and the rest will be fine.
The truth, though, is other playoff divisions are becoming so watered down that fans recognize the competition isn't very good.
Wigod disputes the notion of transfers impacting attendance, saying that the "percentage of student-athletes that transfer schools in our section, and state-wide, is less than 2% of the total number of student-athletes participating in our programs."
Yes, if their school wins, they'll proudly claim on Twitter and Facebook how proud they are winning the Division 12 title, but longtime community members who have grown up near their schools and know history aren't being fooled.
Rather than complain about the negatives, let me offer some solutions. People need to embrace the unusual, the innovative, the entertainers.
Why not put up signs, "Root for our home-grown team!" or, "Support our team that has no transfers!"
Why do you think Chino Hills basketball games were sold out everywhere for two years? Because the Ball brothers and their teammates were great entertainers. They dunked, they took shots no one else did, they were unpredictable. They enraged some people but also made themselves a can't-miss event. How else could you sell out the Galen Center for a semifinal doubleheader?
Schools need to make their events more accessible. The drives can be horrendous. Wigod is recommending more rooter buses. Good idea.
Have discounts on food and different varieties at snack bars. Stop charging for parking. Find a way to make sure fans don't have to worry about where to sit. Have assigned seating. Tell the security people to smile rather than to ask, "What do you want?"
Get the most popular students and athletes in school to support each other. If you come to my game, I'll come to yours. Turn around the dwindling number of athletes coming out to play lower-level football. Fewer players means fewer families at games.
And understand the significance of live-streaming games.
"When we've gotten knocked out of the playoffs, I would always to go to a game if we were not playing," Newhall Hart football coach Mike Herrington said. "But most of the games are on the internet and I can sit and watch in the comfort of my home."
If this attendance drop is a trend and not an aberration, individual schools better start having a discussion on how to make their events must-see in their communities.
Twitter: @latsondheimer
---
Get our high school sports newsletter
Prep Rally is devoted to the SoCal high school sports experience, bringing you scores, stories and a behind-the-scenes look at what makes prep sports so popular.
You may occasionally receive promotional content from the Los Angeles Times.