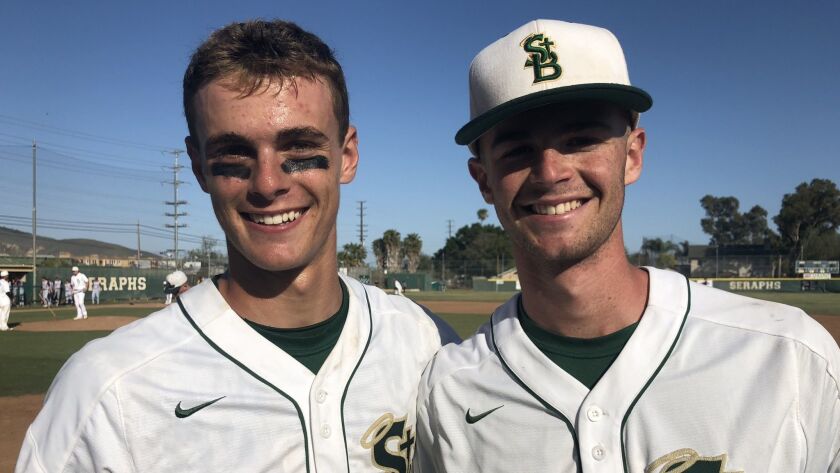 The anticipated pitchers' duel between Jake Saum of St. Bonaventure and Andrew Devine of Simi Valley was better than advertised on Friday in the opening round of the Southern Section Division 2 playoffs.
Saum, headed to UCLA, struck out 11 in 6 1/3 scoreless innings. Devine, headed to Texas Tech, struck out 12 in seven scoreless innings. Neither budged; neither gave in. Unfortunately, pitch count sent both to the sideline. Saum was pulled after 110 pitches; Devine left after 107 pitches.
St. Bonaventure finally came away with a 1-0 victory by getting a walk-off single from Omar Gastelum in the bottom of the eighth inning. It was the second consecutive year Simi Vlaley lost to the Seraphs in the playoffs by the score of 1-0. Each time, it was Saum's pitching that left the Pioneers helpless.
Corey Gear threw 1 2/3 innings of scoreless relief in support of Saum. Devine finished the season with 47 consecutive scoreless innings.
Damien 3, Sierra Canyon 2: Chris Campos had a two-out, two-run double in the bottom of the sixth inning and also got the save for Damien.
Maranatha 6, Trabuco Hills 1: Dawson Netz struck out seven and walked one for Maranatha.
Redondo 10, Santa Barbara 2: Drew Dalquist allowed one hit in six innings. Liam Critchett hit a home run and Theo Forshey had two hits and four RBIs.
Thousand Oaks 3, Glendora 2: Ryan Turner's two-run single in the fifth inning lifted the Lancers to victory.
King 3, Bonita 2: The Wolves scored three runs in the sixth inning, keyed by a two-run home run from Kaden Moeller. Isaac Mendez struck out 12 for Bonita. Marcellus Pearson homered.
Norco 5, Don Lugo 0: Mike Forbes threw a complete game with six strikeouts.
Santa Margarita 7, Tahquitz 1: Milan Tolentino, Connor Bane and Trevor Clift each had two hits for the Eagles. Matt McClure struck out 10 with no walks in six innings.
Oaks Christian 4, Agoura 1: Austin Dudas and Rylan Thomas each contributed two hits and Charlie Adamson had two RBIs to lead the Lions. Max Graves struck out seven in a complete game.
Crescenta Valley 4, Rio Mesa 1: Will Grimm threw a complete game, striking out five. He also had two hits.
Temescal Canyon 5, La Quinta 2: DJ Jones went three for four with two RBIs. Dane Padrnon got the win, giving up five hits in six innings.
Villa Park 2, Corona del Mar 1: A bases loaded walk in the 14th inning ended a game that took more than four hours to complete.
Alhambra 4, San Marino 2: Victor De Leon had a two-run double in the sixth inning.
Quartz Hill 8, Lakewood 4: Nathan Hernandez went three for three and hit a home run to lead the Rebels.
Birmingham 7, Granada Hills 2: Johnny Tincher, Kevin Olmos and Isaiah Arellano each had two hits for the Patriots, who are tied for second place with Cleveland in the West Valley League with two games to play. Gavino Rosales struck out three in six innings.
Cleveland 2, Taft 0: Freshman Braden Lowe threw the shutout with three strikeouts.
El Camino Real 10, Chatsworth 4: The Conquistadores clinched at least a tie for the West Valley League championship behind stellar relief pitching from Jack Whisnant, who struck out six in 5 1/3 innings. Joey Klein, Steven Hernandez and Dominic Carnes each had two hits. Brandon Escobar had a three-run triple.
Sun Valley Poly 13, North Hollywood 4: The East Valley League champion Parrots were led by David Ramirez, who hit a two-run home run.
San Fernando 6, Van Nuys 2: The Tigers won in eight innings to set up a two-game series with Kennedy next week to decide the Valley Mission League championship. Matt Dod hit a two-run home run. Isaiah Dominguez had four hits and two RBIs.
---