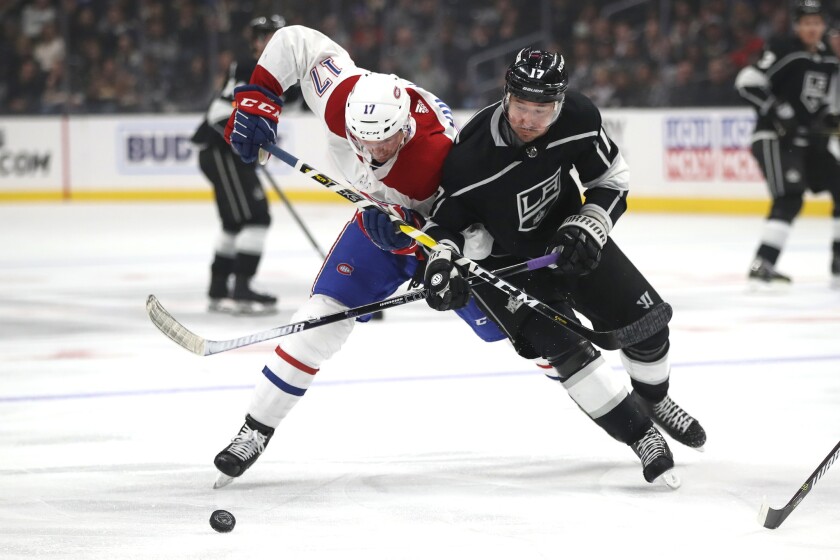 The last time Ilya Kovalchuk played for the Kings, it was still winter. Apparently spring hasn't thawed the relations between the two sides.
Kovalchuk was expected to be benched for a sixth straight game Saturday, interim coach Willie Desjardins said before the Kings played the Chicago Blackhawks at Staples Center. When asked the primary reason for sitting the Russian winger, Desjardins alluded to the Kings' 3-1-1 record in their last five games without him.
"We're a team that, you look at results," Desjardins said. "You find ways to win. We've been winning a few games lately, so that's kind of what we look at."
After participating in practice Saturday morning, Kovalchuk, through a team official, declined to comment. He voiced his displeasure at the situation on March 22, the day after he was a healthy scratch for the second time this season and subsequently did not travel with the team on a three-game trip.
"After Willie came here, I don't have a chance," Kovalchuk said then. "I play five, six minutes a game. A few games I play with [Anze Kopitar]. We did well. We score all five games, but then he [Desjardins] decided to change and I never play again much. That's the way he sees the situation. He's the head coach and he's responsible for results."
Kovalchuk hasn't played since those comments. Desjardins has used the same forward lineup, without Kovalchuk, for the last two games, even after an injury to winger Brendan Leipsic. Desjardins said Kovalchuk has not been shut down and that "there's a good chance we'll see him pretty soon."
Either way, it's an awkward finish to the season. The Kings are sitting a player who makes $6.25 million annually, or at least conceding that they have a better chance of winning without him.
Sign up for our daily sports newsletter »
Asked about the optics of the situation, Desjardins said, "You always look at an organization, but externally, there's lots of things you can't control. I think I focus on the things I can. He's been out. It gives him a chance to skate with the group again. He won't be in tonight, but that doesn't rule him out coming up."
Twitter: @curtiszupke
---