What we learned from the Kings' 4-3 shootout loss to Tampa Bay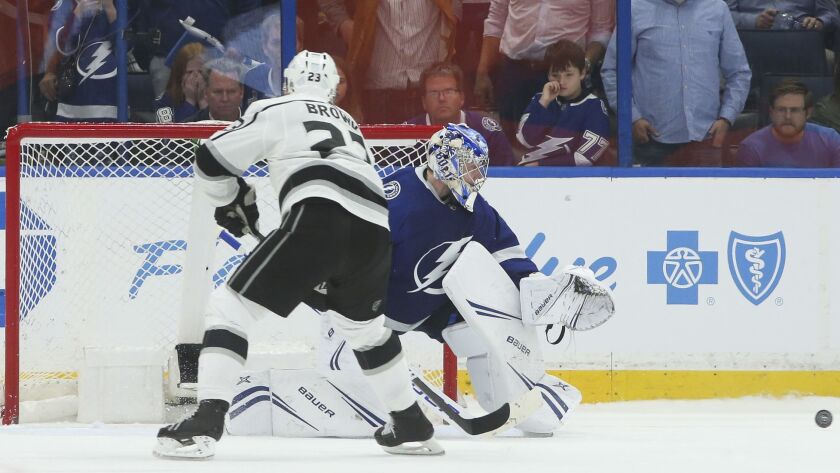 Reporting from TAMPA, Fla. —
It ended up as the eighth straight loss for the Kings, but they were a different team on multiple levels Monday.
They no longer have the threat of the trade deadline hanging above them, and perhaps that correlated to a spirited resolve they showed against the Tampa Bay Lightning in a 4-3 shootout loss at Amalie Arena.
For the last 20 games, it's about prospects and veterans trying to show they can play because changes are coming after the season.
"We're all playing for jobs, here," Jeff Carter said.
Some of them began to make their case, albeit in another loss, but for one night, that urgency melded together in what could have another embarrassing loss.
Here's what we learned:
Welcome back, Jonny Brodzinski. In his first NHL game since April 7, 2018, Brodzinski got on board with a second-period goal. His end-over-end shot, off Brendan Leipsic's steal, tied it, 2-2, and helped bring the Kings back to life.
"The legs felt great," Brodzinski said. "I supposed that's what happens when you're out for five-and-a-half months."
Brodzinski injured his shoulder in a preseason game and was off the ice for three months, the longest idle period of his career.
"It was a pretty long time, especially after working so hard this whole summer, and then, basically, you have another summer," Brodzinski said.
Brodzinski showed promise last season as a natural right wing. He is a free agent this summer, and he'll use the final 20 games to make a case for re-signing with the Kings.
Coach Willie Desjardins likes the first impression.
"When he was trying to get back, I think he got quicker, because when I watched him out there, I thought, 'This guy can help us. This guy's fast and he's got a great shot,'" Desjardins said. "So I don't know where he was before I got there, but I thought he could maybe come back right in and help."
Sign up for our daily sports newsletter »
Austin Wagner is making lemonade out of lemons. It's been an impressive run lately for the rookie Wagner, in a down season for the team. If the losing culture is affecting him, Wagner doesn't let it show on the ice.
Wagner scored his ninth goal of the season Monday, and the smile on his face during the celebrations suggest a 21-year-old playing with genuine enthusiasm and purpose.
Wagner has five goals in February and is on pace for 13 on the season, a good clip for a fourth-line winger. His improved finish, legs and youthful energy will be one of the interesting aspects to watch in the stretch run, especially if the Kings can sling out lob passes to him like they did at least once Monday.
Oscar Fantenberg boosted his stock with the Kings. Fantenberg's career lasted only 73 games with the Kings, but that was enough to attract a suitor, the Calgary Flames, at the trade deadline.
Fantenberg was dubbed a Swiss Army knife-type player for his versatility. He played in every defensive pairing for the Kings this season and handled second-unit power-play duty in the wake of the Jake Muzzin trade and injury to Alec Martinez.
"He had really picked up his game," Desjardins said. "He went from a guy that was not playing much to a guy that we were counting on for lots of minutes… it didn't surprise me that they would target him [at the trade deadline]. We wish him the best, but it was great to see those young guys come in and play."
Twitter: @curtiszupke
---
Get the latest on L.A.'s teams in the daily Sports Report newsletter.
You may occasionally receive promotional content from the Los Angeles Times.