Kings goalie development coach Dusty Imoo has turned Jack Campbell into a top-tier NHL performer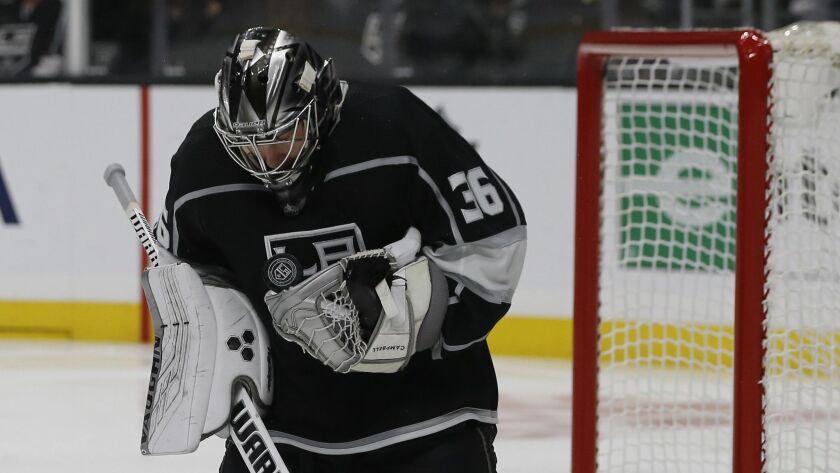 The more Dusty Imoo watched his pupil on television, from his hotel room near the Kings' practice facility, the more he liked it.
His pupil, Jack Campbell, came up with a memorable New Year's Day performance that still wowed a day later. His save on Jonathan Marchessault of the Vegas Golden Knights might have been his best. The Kings tweeted out a video of it, and Imoo re-tweeted it with a fist-bump emoji.
The game was another moment of affirmation for Imoo as he's helped rebuild Campbell's career from the ground up. Even before Campbell's career-best 46-save game Tuesday, Imoo and fellow Kings goalie coach Bill Ranford have seen the former first-round draft pick go from reclamation story to bona fide NHL stopper.
"He's come such a long way," Imoo said. "Like anything, he's worked so hard. Finally, the dream is happening for him. You don't want to lose that, right?"
Imoo remembers a younger Campbell with no identity when he first started working with him. Like a golfer changing his swing, Campbell was stuck between styles and full of confusion.
"When he first came to me, he was a mess," Imoo said. "Different people were telling him to play different ways. Instead of being him, he tried to take things from different guys."
Campbell tried to model his style after Winnipeg Jets goalie Connor Hellebuyck, but Imoo said Campbell was too rigid. At one point, Imoo said he told Campbell, "Dude, just be yourself."
Imoo and Campbell actually did use Boston Bruins goalie Tuukka Rask as an example of a controlled but athletic stance that has given Campbell his base. He didn't miss a beat Tuesday after nearly two months off for knee surgery.
"I just missed it," Campbell said. "I missed the guys a lot and missed being out there. It was nice to be back [Monday] night – get on the bench and watch the boys get a huge win and it kind of got me ready to go [Tuesday]."
Imoo and Ranford's work have resulted in the one facet the Kings have been able to hang their hat, or their glove, on this season. In addition to Campbell's career uptick, rookie Cal Petersen has entered the conversation. Meanwhile, franchise goalie Jonathan Quick's next win will be his 300th and his 301st will tie him with Mike Richter for fourth among American-born goalies.
Campbell's career arc is vastly different, but it's equally impressive in his mentor's eyes.
"He has all the attributes," Imoo said. "Usually goalies play supporting roles, but teams have nights off. He can win hockey games."
Doughty, Gibson All-Stars
Drew Doughty and John Gibson were named to the Pacific Division roster for the All-Star game in San Jose on Jan.26.
Gibson, also selected in 2016, will be the first Ducks goalie to appear in multiple All-Star games. He has garnered Vezina Trophy talk for buoying the Ducks in net and co-leads the NHL in total saves.
It is the fifth straight All-Star selection for Doughty. He leads the NHL in average ice time per game at nearly 27 minutes.
Anze Kopitar and Ryan Getzlaf are the Kings and Ducks representatives eligible to be voted in by fans. Four players from each division will be added through this process.
Another outdoor game?
The Kings are under strong consideration to play the Colorado Avalanche in an outdoor game at Air Force Academy's Falcon Stadium in Colorado Springs, Colo., on Feb.15, 2020, a team source said.
It was first reported by Elliotte Friedman of Sportsnet.
The Kings have played in two outdoor games since the NHL began staging them regularly in 2008. They played the Ducks at Dodger Stadium in 2014 and the San Jose Sharks at Levi's Stadium in 2015.
UP NEXT
VS. TAMPA BAY
When: Thursday, 7:30 p.m.
On the air: TV: FSW; Radio: iHeartRadio (LA Kings Audio Network)
Update: Nikita Kucherov had nine goals and 21 assists in December to become the first player to record 30 points in a month since Jaromir Jagr in March of 2001. Teammate Steven Stamkos had 21 points in that span for Tampa Bay, which is 14-0-1 over its past 15 games.
Twitter: @curtiszupke
---
Get the latest on L.A.'s teams in the daily Sports Report newsletter.
You may occasionally receive promotional content from the Los Angeles Times.