Kings captain Anze Kopitar to cross another milestone in storied career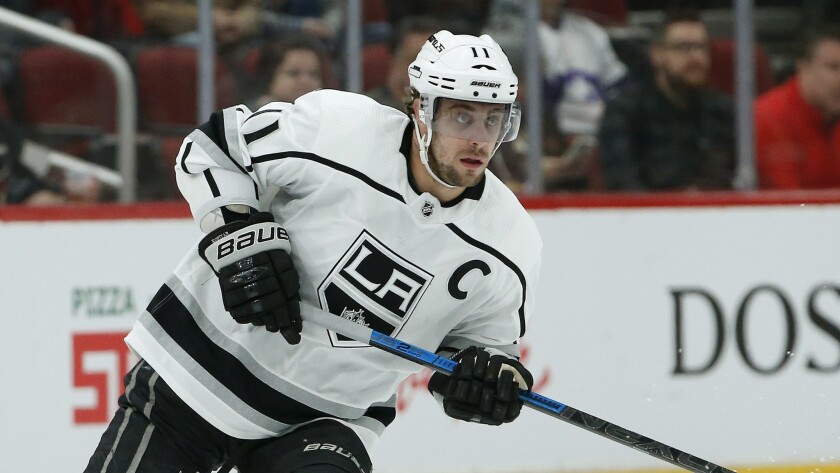 Dave Taylor first got wind of this Anze Kopitar kid in the spring of 2005.
Taylor, then the general manager of the Kings, remembers the report from scout Al Murray after he got back from the world championships in Austria.
"He came and said, 'This kid can really play,'" Taylor said.
Taylor had to see for himself, and it ended up being his first glimpse of the future of the Kings. "He was a 17-year-old playing for Slovenia and he was the best player on their team," Taylor said with a laugh. "That was pretty cool."
Kopitar made that impression while on a Slovenian team that went 0-3 in the tournament and was outscored 18-1. It was the humble first steps to an NHL career that will reach 1,000 games Monday, a journey that Kopitar has always kept in perspective.
"Being a kid from Slovenia, you always dream about playing in the NHL, and to reach 1,000 games, it's pretty special," Kopitar said. "It's something that I'm definitely going to need a little bit of time to sink in and really kind of understand what it means to me."
Sign up for our daily sports newsletter »
Kopitar watched longtime linemate Dustin Brown and former teammate Marian Gaborik reach the mark within a week of each other in December 2017. Then Dion Phaneuf joined the club in November.
"You kind of, almost, lose track of your own [games]," Kopitar said. "And now, this one came by pretty quick."
That's probably because bigger events have defined his career, namely two Stanley Cup championships. Kopitar has also collected two Selke trophies along the way and earned his first Hart Trophy finalist honor last season, when he finished seventh in scoring. But the 1,000th game frames all that Kopitar and the Kings' veteran base have gone through in a decade that has sped by.
"Some days are longer than others, but it does go fast," goalie Jonathan Quick said. "That's how it works. We have a group of guys that, for the past decade or so, we've always kind of tried to enjoy the moment, live in the moment, play in the moment, things like that. That kind of stems from some of the leadership coming from Kopi there, among other guys, but for sure, he has a hand in that."
Quick has the unique perspective of seeing how the tools that Kopitar has — size, strength and an ability to protect the puck — have facilitated his success and stamina.
"He can play 30 minutes as a center and his last shift of the game, he won't look tired," Quick said. "I feel like he has the perfect build for being a No.1 center man. He skates so smooth. He weighs [225] pounds and he makes it look easy. I'm very impressed that he's able to do what he does at his size."
He hasn't been able to do that as much as seasons past. Kopitar is on pace to lead the Kings in scoring for the 11th time in the last 12 seasons, but his 57 points do not rank in the top 70 in the NHL. He has a perplexing zero power-play goals, but he does have 18 power-play assists and two short-handed goals.
Some of that drop-off is representative of the Kings' season. But these milestones — Brown will be recognized Monday as the franchise leader in games played — are refreshing highlights for an organization headed for major transition. Kopitar, 31, plans to go far beyond 1,000 games in that endeavor.
"I sure hope so," he said. "Once you get up there in age, it's obviously a big factor if the body holds up and all that. I've been pretty fortunate. The hockey is something that I absolutely love and I don't see much [in] doing anything else but playing hockey, so I'm going to go for as long as I can."
UP NEXT
VS. CALGARY
When: 7 p.m., Monday
On Air: TV: Prime; Radio: iHeartRadio (LA Kings Audio Network)
Update: Brendan Leipsic (lower-body injury) hasn't skated and interim coach Willie Desjardins cast doubt on the left wing getting back into the lineup before the season ends. Former Kings defenseman Oscar Fantenberg has one assist in his first 12 games with Calgary.
Twitter: @curtiszupke
---
Get the latest on L.A.'s teams in the daily Sports Report newsletter.
You may occasionally receive promotional content from the Los Angeles Times.