What we learned from the Kings' 4-1 win over the Blue Jackets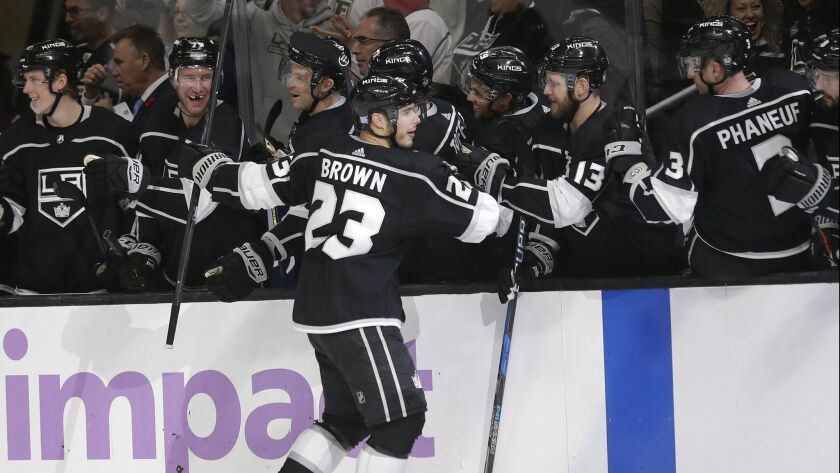 Music blared in the Kings' dressing room. The mood was noticeably relaxed, as if the team collectively exhaled.
This season has taken a deep dive but they steered it in the right direction with a 4-1 win against the Columbus Blue Jackets on Saturday at Staples Center. They held a high-scoring team to one goal, effectively scored two shorthanded goals and generally rediscovered their forechecking game.
Here's what we learned:
Details mattered. Coach John Stevens frequently mentions having a "detailed" game, and his team showed it defensively. They made the little plays that disrupt an attack or a scoring chance, and that often fuels offense.
Columbus was credited with 18 missed shots and another eight blocked, which is representative of sticks in shooting lanes and bodies spread out to alter shots.
"When we did have a breakdown or something, we were in the right position," Jack Campbell said. "They'd have a stick on the puck. Guys were in shot lanes, blocking shots. I think that's huge."
The new defensemen pairings worked. Stevens switched it up and put Drew Doughty with Dion Phaneuf, and Derek Forbort with Oscar Fantenberg, who played 14 minutes with three hits and no giveaways. Phaneuf had two blocked shots and four hits in one of his more noticeable games.
Stevens said he tried the Forbort-Fantenberg pairing because the previous sample size with them showed strong analytics. Overall, he said the adjustments "really helped us."
"It started with them," Stevens said. "I thought their gaps were good and they did a good job of getting back to pucks quickly. But I just thought we checked a lot faster and when we check faster, we had support for the puck."
Alex Iafallo continues to have a strong season. He's probably been the Kings' most consistent forward, so it was appropriate that he got them the game's first goal for the first time since Oct.11.
Iafallo also hit a post and was quite noticeable even though he only played 13 minutes. He's on the second power-play unit and the return of Brown on his line seems to help give the Kings better depth below, with Ilya Kovalchuk starting to get some chemistry with Jeff Carter.
Iafallo's goal was his first since game No.2.
Twitter: @curtiszupke
---
Get the latest on L.A.'s teams in the daily Sports Report newsletter.
You may occasionally receive promotional content from the Los Angeles Times.