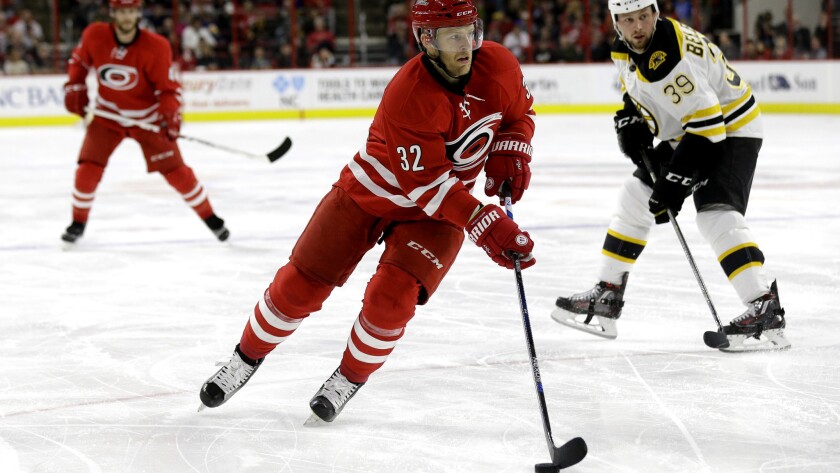 Ever since winger Marian Gaborik went down with a long-term knee injury, the Kings have been looking to fill the scoring void created by his absence.
On Sunday, they turned to the much-traveled winger Kris Versteeg, acquiring him in a trade with the Carolina Hurricanes. They sent prospect Valentin Zykov, who was a second-round draft choice in 2013 (37th overall), and a conditional fifth-round draft choice in 2016 to the Hurricanes.
The deal was made official during the third period of the Kings-Ducks game in Anaheim on Sunday night. Monday is the NHL's trade deadline.
An individual not authorized to comment said the conditions of the future draft choice were based on the Kings' playoff success and number of games played.
Elliotte Friedman of SportsNet first reported that the Kings would be acquiring Versteeg, a two-time Stanley Cup champion with the Chicago Blackhawks in 2010 and 2015. That championship pedigree and his vast postseason experience (84 playoff games) were attractive elements for the Kings.
The Hurricanes were in the midst of a swift remake this weekend, sending their captain Eric Staal to the New York Rangers in a trade earlier Sunday.
It was clear that they had something else developing when they pulled Versteeg out of Sunday's game against the St. Louis Blues.
To make room for Versteeg's $2.2-million cap hit, the Kings were able to absorb that by putting Gaborik on long-term injured reserve, a move they made Friday.
Versteeg had 11 goals and 33 points in 63 games with the Hurricanes this season. In Sunday's game, he was on the third line with Riley Nash and Chris Terry but has been paired, of late, with Staal and Elias Lindholm.
---