Column: Clemson owns the throne after winning second CFP title in three years over Alabama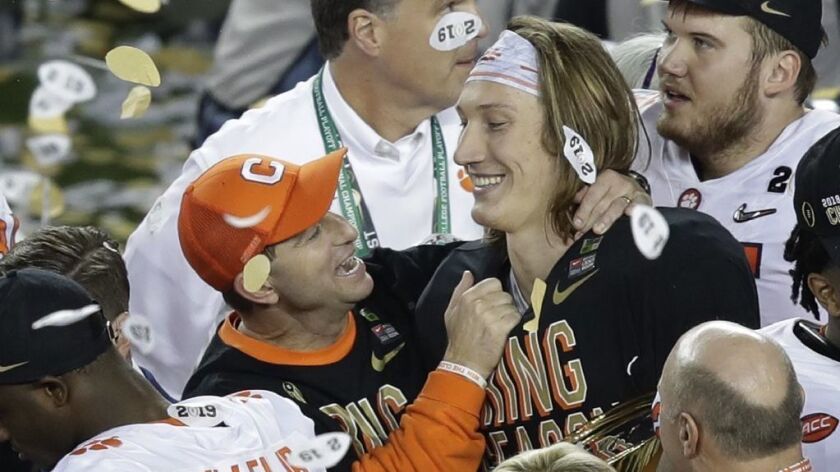 Reporting from Santa Clara —
The coach is Dabo. The quarterback is 19. Their pants are orange. Their helmets are paws.
They are small-town South Carolina, with dripping accents and syrup smiles and a thing for football.
A big thing, really. A championship thing. And, would you believe, a dynasty thing?
In a daring, delightful coup, Clemson danced into Levi's Stadium and stole control of the college football world from tiresome Alabama on Monday night with a 44-16 win in the fifth CFP championship game.
"I know we're not supposed to be here, we're just little old Clemson and I'm not supposed to be here," shouted coach Dabo Swinney afterward on a field filled with shiny confetti and amazed joy. "But we are and I am. How about them Tigers?"
Good question. It was Clemson's second title in three years. It was their second victory in three CFP title games against the defending champion Crimson Tide. It gave them the first 15-0 record in college football history.
On a night in which they gleefully topped a crimson monument in less than four hours, the Tigers not only established themselves as college football's biggest and baddest team, but also its most fun.
When the game ended, they danced across the length of the field in a sweeping celebration filled with youthful amazement and sheer exhilaration. As they partied under a shower of blue and orange confetti, with their band blaring and thousands of orange-clad fans spelling "C-L-E-M-S-O…N," the cool Tigers were finally overcome.
"Oh my God," said backup quarterback Chase Brice, walking aimlessly with a glazed stare. "Oh my God."
In front of the Clemson end zone, giant defensive tackle Jordan Williams turned his championship cap sideways and began weeping, then hugged giant teammate Christian Wilkins, and they cried together.
Near the Clemson sideline, safety K'Von Wallace fell into a pile of confetti, put his hands over his face, and prayed.
"It's just so surreal," said safety Isaiah Simmons. "This is what you grow up dreaming about, everybody dreams of a national championship, to have it happen a second time, it's crazy."
In handing legendary coach Nick Saban the worst loss in his 12 years at Alabama, they played crazy good.
Their kid quarterback Trevor Lawrence flipped aside his long blond locks and let it fly, throwing for 347 yards and three touchdowns. Their lanky wide receivers caught balls on ballet toes and magician fingertips, with Justyn Ross and Tee Higgins combining to catch 234 yards worth of passes with two touchdowns. Their overstuffed defensive linemen wrapped dudes in a giant orange hug, leading to two separate goal-line stands.
And their aw-shucks coach Swinney, who was once a walk-on wide receiver at Alabama, ran up and down the sideline loving everybody.
"Steven Spielberg or whoever one of them producer people are, they couldn't write this script," Swinney said. "They really couldn't."
The Alabama players, meanwhile, trudged from the field with their eyes locked on the ground. Their night was epitomized late in the stadium tunnel, where partying Clemson players and their families separated to make room for a golf cart carrying an Alabama player who was hunched over and hiding his face in his hands.
They were beaten so soundly, afterward Saban actually said he blew it.
"I just have a feeling that I didn't do a very good job for our team," said the usually circumspect coach. "Never really got comfortable with what we needed to do to win this game."
The Tigers set the tone less than two minutes into the game, when safety A.J. Terrell picked off celebrated Alabama quarterback Tua Tagovailoa and returned the interception 44 yards for a touchdown.
The Tide was stunned, and just kept getting rolled, the Tigers picking off Tagovailoa again, mounting a breathtaking goal-line stand, and crossing the goal line after Lawrence's soaring passes and Travis Etienne's barreling runs.
And that was just the first half. "Alabama was the best team ever, all of college football was brainwashed," said defensive end Clelin Farrell "We felt we were the best team and we played like it, a dominant performance."
Clemson dominated, and Alabama dissipated.
The first sign that the famously disciplined Saban team was crumbling occurred at the end of that first half when his offense simply walked off the field with 20 seconds remaining, refusing to run even one more play in the face of a 31-16 deficit.
The second sign occurred on Alabama's first possession of the second half, when it tried a fake field goal on a fourth-and-six from the Clemson 22-yard line. Bad idea. Clemson was waiting for it, and holder-backup quarterback Mac Jones was stuffed in the backfield before he had taken more than a couple of steps.
"We had a clear vision of the way we wanted this to go tonight," said Swinney. "Our guys had the eye of the tiger."
Of course they did. Before the game they watched the Rocky III movie in honor of their third title meeting with Alabama. Is anybody surprised?
The game unofficially ended a few moments after the failed fake when Lawrence tossed a quick pass to Ross, who was wide open after Alabama's Saivion Smith collapsed with a leg injury. Ross darted one way, sprinted another, and wound up racing 60 yards to complete a 74-yard touchdown pass.
"This is crazy," said Ross. "Words can't describe how I feel right now."
How crazy? Ross, who had a couple of breathtakingly acrobatic catches, is also a true freshman like Lawrence, who is the first freshman in 34 years to start and win a national championship game. And, to drive the dagger deeper, Ross hails from Phenix City , Ala., where last year he was the state's highest-rated recruit.
"People just don't get it, how special everybody is," said Wilkins.
In charting how Clemson has taken Alabama's throne, one must look beyond this one dominant game, or this one incredible season. Over the past four seasons, the Tigers are 54-4 and Alabama is 55-4, but the Tigers are 2-1 vs. Alabama in national title games.
"There was a lot of talk about 'best ever' all year long," said Swinney. "We were never in that conversation. But tonight, there's no doubt."
One might argue about the best team ever, but "little old" Clemson can certainly now lay claim to being the ruling class of the CFP era, having used this extraordinary night to earn a trophy marking a special kind of birth.
"We've got a nice spot to put it in our facility, right by that other one," said Swinney beaming like a proud papa. "We got twins!"
Get more of Bill Plaschke's work and follow him on Twitter @BillPlaschke
---
Get our high school sports newsletter
Prep Rally is devoted to the SoCal high school sports experience, bringing you scores, stories and a behind-the-scenes look at what makes prep sports so popular.
You may occasionally receive promotional content from the Los Angeles Times.