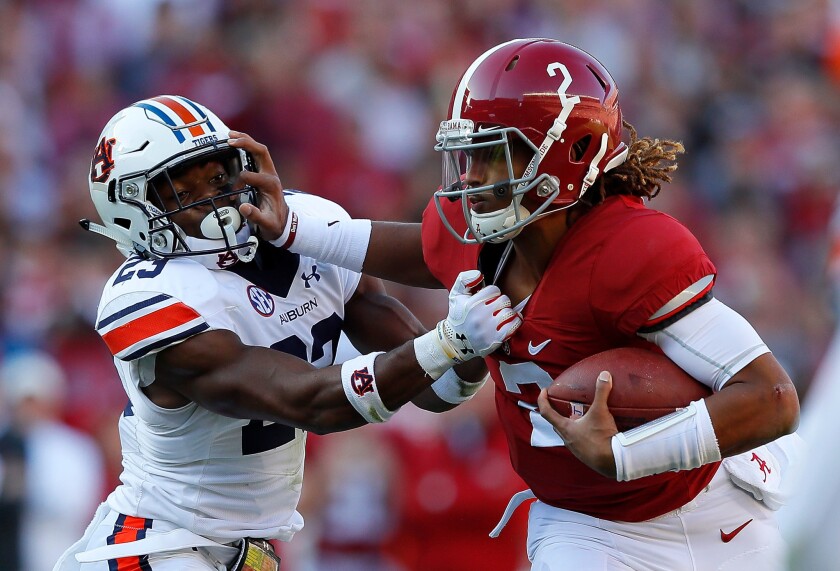 Peach Bowl (CFP semifinal)
No. 1 Alabama (13-0) vs. No. 4 Washington (12-1), at Atlanta, noon, ESPN
Most intriguing story line: While at Boise State, Chris Petersen coached the Broncos to an unexpected win over Oklahoma in the 2007 Fiesta Bowl, the first of several upsets his team would score against brand-name schools. Now, in his third season at Washington, Petersen will be looking to deliver a similar shock to top-ranked Alabama in the College Football Playoff semifinal. Alabama has looked unbeatable this season while extending its winning streak to a nation-leading 25 games. These teams have one common opponent: USC. The Crimson Tide opened its season with a 52-6 demolition of the Trojans. The Huskies' only loss was against a vastly improved USC team later in the season.
::
Alabama pass offense vs. Washington pass defense: Only one true freshman quarterback has led a major college team to a national championship: Jamelle Holloway of Oklahoma, in 1985. Alabama's Jalen Hurts could become the second. A dual-threat, the 18-year-old Hurts has rushed for 841 yards and 12 touchdowns. For the Huskies to have any chance of slowing down the Crimson Tide, they will have to contain Hurts and turn him into a pocket passer. Doing so would force Hurts to challenge Washington's star-studded secondary that includes standout safety Budda Baker. Washington has 19 interceptions and leads the nation in turnover ratio.The size and speed of the Huskies' defensive backfield has prompted the Alabama coaching staff to compare the unit to that of the NFL's Seattle Seahawks. Hurts could be under pressure from Huskies linebacker Psalm Wooching, who leads Washington with six sacks. Edge: Washington.
::
Alabama run offense vs. Washington run defense: Hurts, the Southeastern Conference offensive player of the year, has rushed for more yards in a season than any quarterback in school history. The Crimson Tide has a relentless ground attack, using a three-back rotation of Damien Harris, Joshua Jacobs and bruiser Bo Scarborough to wear down opposing defenses. Left tackle Cam Robinson won the Outland Trophy as the nation's top interior lineman. Alabama led the SEC in scoring at 40.5 points per game. Injuries have depleted Washington's front seven. The team's best linebacker, Joe Mathis, was lost for the season after only seven games because of a foot injury. Leading tackler Azeem Victor is also out for the year because of a fractured leg. But Washington has size up front, including three defensive linemen who weigh more than 300 pounds. No team in the SEC started more than two 300 pounders. Edge: Alabama.
::
Washington pass offense vs. Alabama pass defense: Sophomore quarterback Jake Browning has passed for a school-record 42 touchdowns and is about as good a quarterback as Alabama has faced this season. The Pac-12 Conference offensive player of the year has choice targets in the dynamic John Ross (17 touchdown receptions) and Dante Pettis (14). However, Browning didn't pass particularly well against top opposition. In the loss to USC, he completed a fewer than half of his passes. In the Pac-12 championship game against Colorado, he was only nine for 24. Alabama ranked second in the SEC in pass defense and has 45 sacks, fourth-best in the country. Defensive end Jonathan Allen has 8½ sacks and won the Bronko Nagurski Trophy as the best defensive player in the nation. Alabama's defense has scored a nation-leading 10 touchdowns, including five on interception returns. Considering the Crimson Tide has conceded only three rushing touchdowns, the Huskies will have to do damage by passing if they are to have any hope of winning. Edge: Alabama.
::
Washington run offense vs. Alabama run defense: Alabama's front seven is historically dominant. Alabama has the nation's best run defense, allowing only 63.4 yards per game. Second is Wisconsin at 96.9 yards per game. Opponents have averaged 2.0 yards per carry against Alabama. Florida failed to do even that in the SEC championship game, which it finished with zero rushing yards. All-American linebacker Reuben Foster leads Alabama with 94 tackles, including 12 for losses. While Browning and Ross have headlined the Washington offense, the Huskies have a balanced attack, averaging 210.0 rushing yards per game. Sophomore running back Myles Gaskin has 1,339 yards and 10 touchdowns, while junior backup Lavon Coleman is averaging 7.8 yards per carry. Edge: Alabama.
::
Special teams: Alabama's special teams have contributed four touchdowns, three on punt returns and another on a blocked field-goal attempt. Ross, Washington's electrifying receiver, is a real threat on kickoffs, having returned four for touchdowns. Pettis has returned five punts for touchdowns in his career. Edge: Washington.
::
Dylan Hernandez's pick: Petersen had time to prepare for this game. He probably has a trick play or two up his sleeve. That said, it's hard to imagine Washington winning this game. Alabama should eventually wear the Huskies down and pull away for a relatively comfortable victory. Alabama 27, Washington 9.
Follow Dylan Hernandez on Twitter @dylanohernandez
---