Sights and sounds from Muhammad Ali's funeral
Reporting from Louisville, Ky —
The day began where Muhammad Ali's life began, on the Louisville city streets, a simple black hearse adorned with "A.D. Porter and Sons" giving the champ one last parade for his people.
From his boyhood home at Grand Avenue to his final resting place at the Cave Hill Cemetery, through littered lots and gleaming buildings filled with unconditional love, Ali's funeral procession Friday morning spanned 74 years, 19 miles and countless tears that streaked beneath sweat towels and sunglasses
"A-li, A-li, A-li'' chanted the hundreds of sweltering folks as they crowded the corner of Muhammad Ali Boulevard and Ninth Street, reaching arms toward the unadorned black car as if believing The Greatest was still alive and smiling and dancing inside.
Hours later, the day ended as Muhammad Ali's life was lived, with a raucous and passionate memorial service in a glittering basketball arena on a muddy Ohio River whose bridges he once walked with his dreams.
"I am Muhammad Ali,'' chanted the crowd in the overflow arena at the KFC Yum! Center, answering the urgings of Rabbi Joe Rapport, one of the many speakers of many faiths who turned the service into a pep rally for humanity.
Ali, the former three-time heavyweight champion and world's most impactful athlete who died last week at age 74 after a three-decade battle with Parkinson's disease, rested amid a wonderful absence of quiet on a day he would have loved.
He floated through the city as if on the wings of a butterfly, then he was the focus of a series of both uplifting and challenging tributes that stung like a bee.
"You shook up the world in life, and now you're shaking up the world in death,'' said Rasheda Ali-Walsh, one of Ali's nine children. "Daddy is looking down at us, right? Saying, 'I told you I was the greatest!'''
The procession was indeed the greatest, a morning-long preamble through a crowd of about 100,000 folks who hugged and wept and threw flowers on the hearse after leaving the local funeral home.
"He gave so much to the world, he taught us we could do anything," said Clinton Bacon, a construction worker standing and sweating on the corner of Ali and Ninth.
FULL COVERAGE: The life and career of boxer Muhammad Ali »
The ensuing memorial service, which fittingly started an hour late, much like most Ali championship fights, was also the greatest. There were prayers from representatives of a half-dozen faiths and denominations. There were nine eulogies, including Ali's widow Lonnie, former President Bill Clinton and comedian Billy Crystal. But more than anything, there was a connection, with fans responding to the words with not only standing ovations, but isolated shouts, extended personal monologues, and at least one solitary song.
President Clinton called Ali, "a universal soldier for our common humanity,'' and it was this sort of humanity that Ali embraced on a day that he had been planning for 10 years.
Clinton wasn't the only president whose voice was heard.
"Muhammad Ali was America – brash, defiant, pioneering, joyful, never tired, always game to test the odds,'' wrote President Obama in a letter read by senior White House advisor Valerie Jarrett.
Just as the dignitaries were folks from a variety of backgrounds, so were the fans. The Yum! Center lobby filled with a mix of women in prayer garb, families wearing matching T-shirts adorned with Ali photos, and old guys chomping on burned cigars arguing about Sonny Liston.
He dared to love black people at a time when black people had trouble loving themselves.
— Dr. Kevin Cosby, a local preacher
Tickets for the service were free, snapped up two days earlier by fans who showed up in the middle of the night and still couldn't believe their luck.
Angela Lucear, a local administrative assistant, showed up at 4:30 a.m., reached the box office several hours later, and still remembers the strange words.
"They said, 'You want four tickets? Here's four. Take them. Have a nice day,''' Lucear recalled. "I was like, Yay!''
Lucear, was surprised again when she walked inside and looked for concession stands. Ali had determined that nothing would be sold, so tables around the arena were filled with bottled water and snacks like Flamin' Hot Cheetos to Scooby-Doo! Graham cracker sticks
"I was like, wait a minute, this is all free?'' Lucear said. "But that was Ali, right? There will never be anybody like him."
The inclusion preached by Ali was obvious when looking at the inside of the arena, where the regular seats were filled while luxury suites were empty. The fight waged by Ali then became clear with the first speaker, Dr. Kevin Cosby, a local preacher, who praised Ali for being an African- American icon.
"He dared to love black people at a time when black people had trouble loving themselves'' Cosby said before loudly chided those who once gave up on the champ.
"A lot of people bet on Muhammad Ali when he was in the winner's circle," Cosby said, comparing Ali's life to the Kentucky Derby. "But the masses bet on him when he was still in the mud.''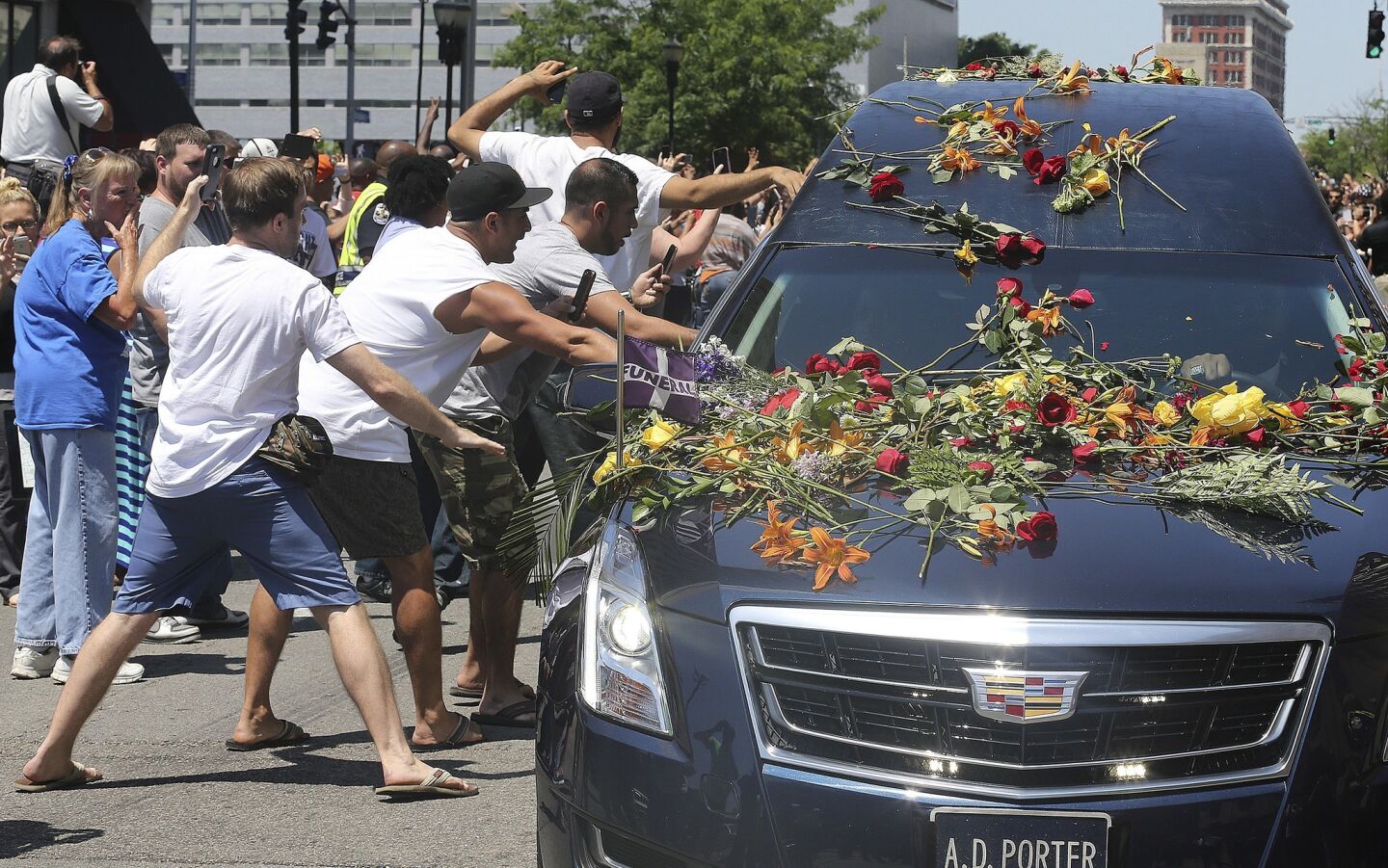 Men reach out to touch the hearse carrying the body of Muhammad Ali as it drives down Broadway toward the Cave Hill Cemetery.
(Michael Clevenger / AP)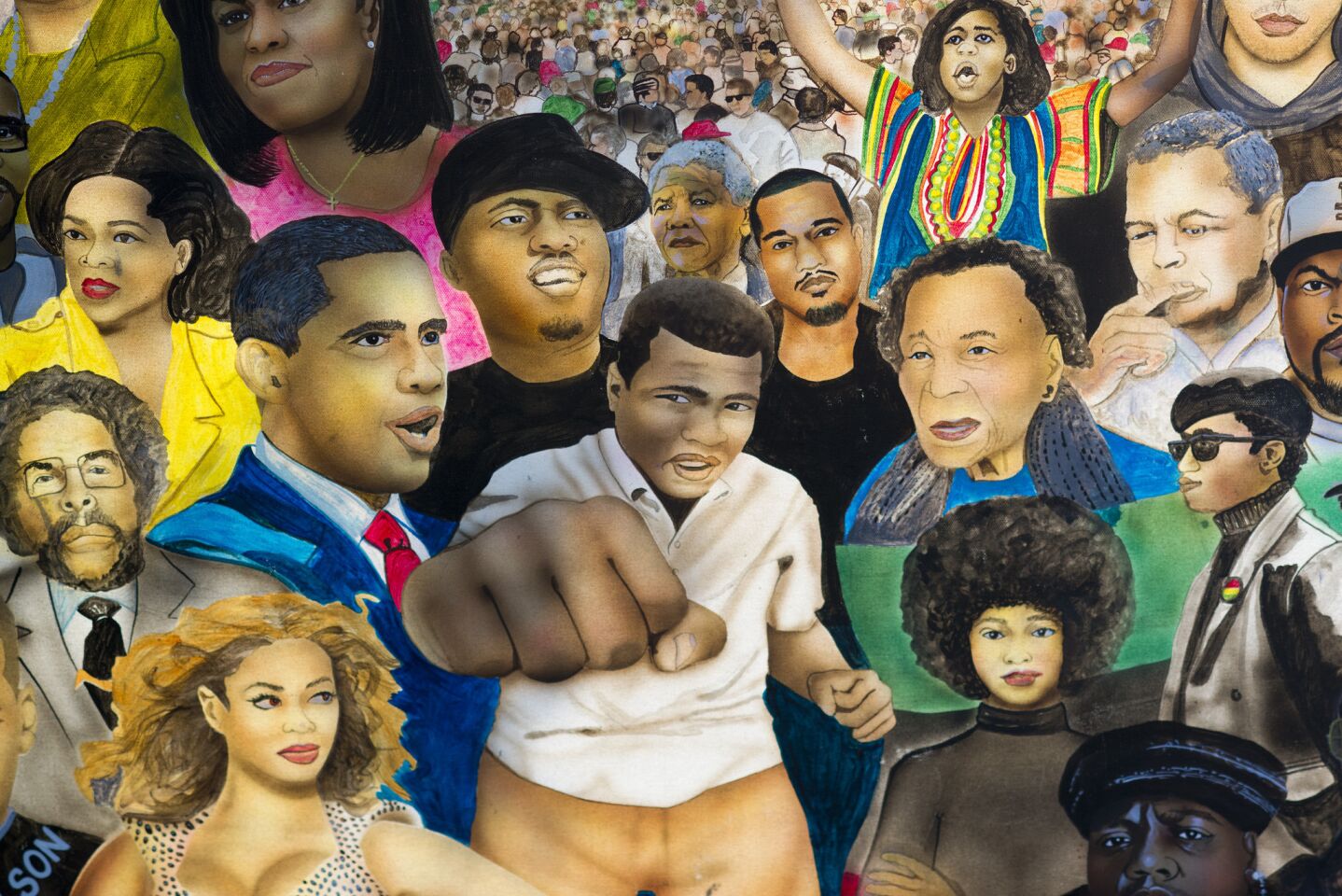 Muhammad Ali appears with other historical figures in a painting for sale on Grand Avenue while a crowd was waiting in front of Ali's childhood home during the funeral procession.
(Ty Wright / Getty Images)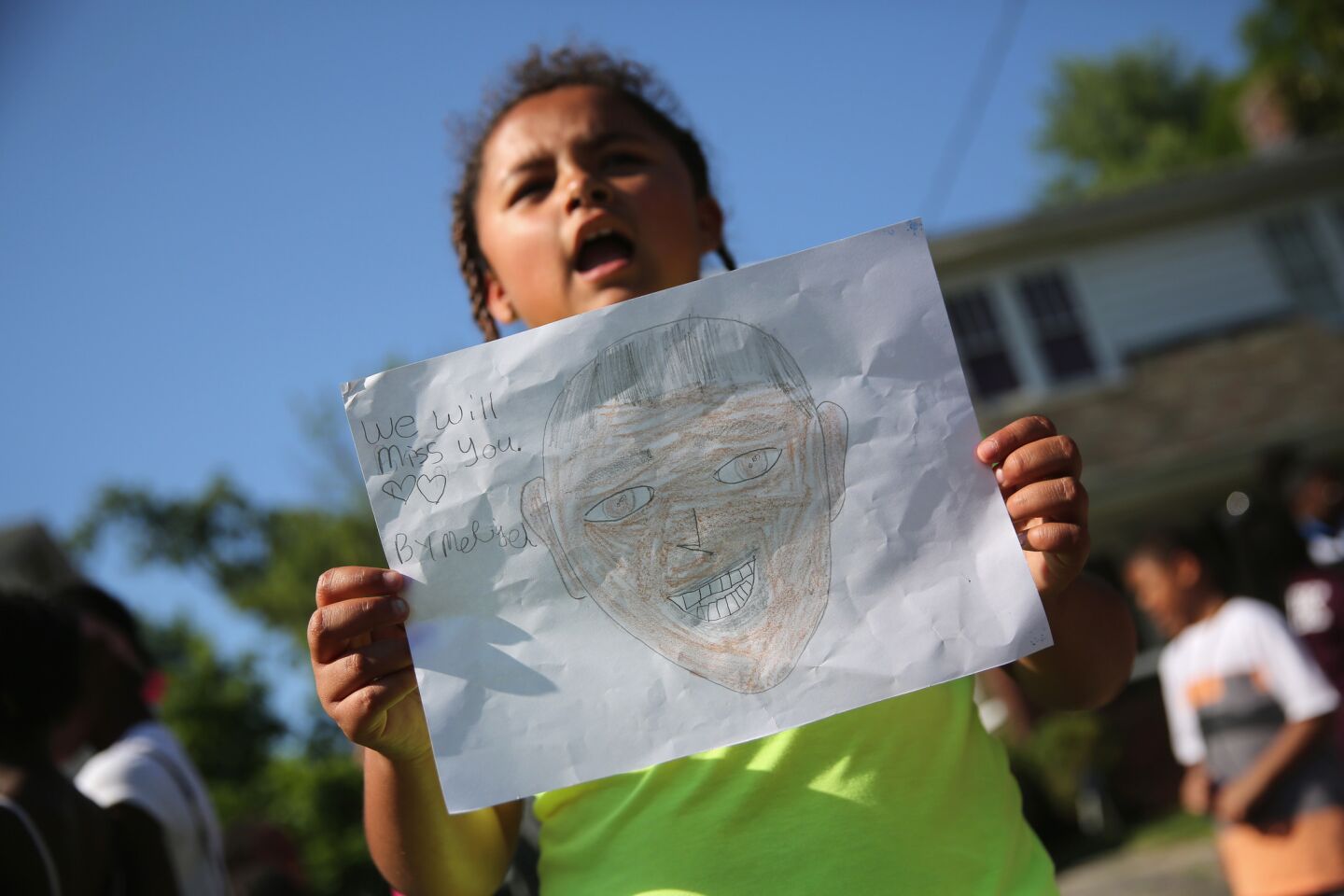 A child shows off a hand-drawn portrait while awaiting the hearse carrying the body of Muhammad Ali to pass by the boxing great's childhood home. The funeral possession wound through Louisville, Ky., preceding a memorial service.
(John Moore / Getty Images)
Pallbearers for Muhammad Ali move into place outside the funeral home to place his casket in a limousine.
(Michael Clevenger / AP)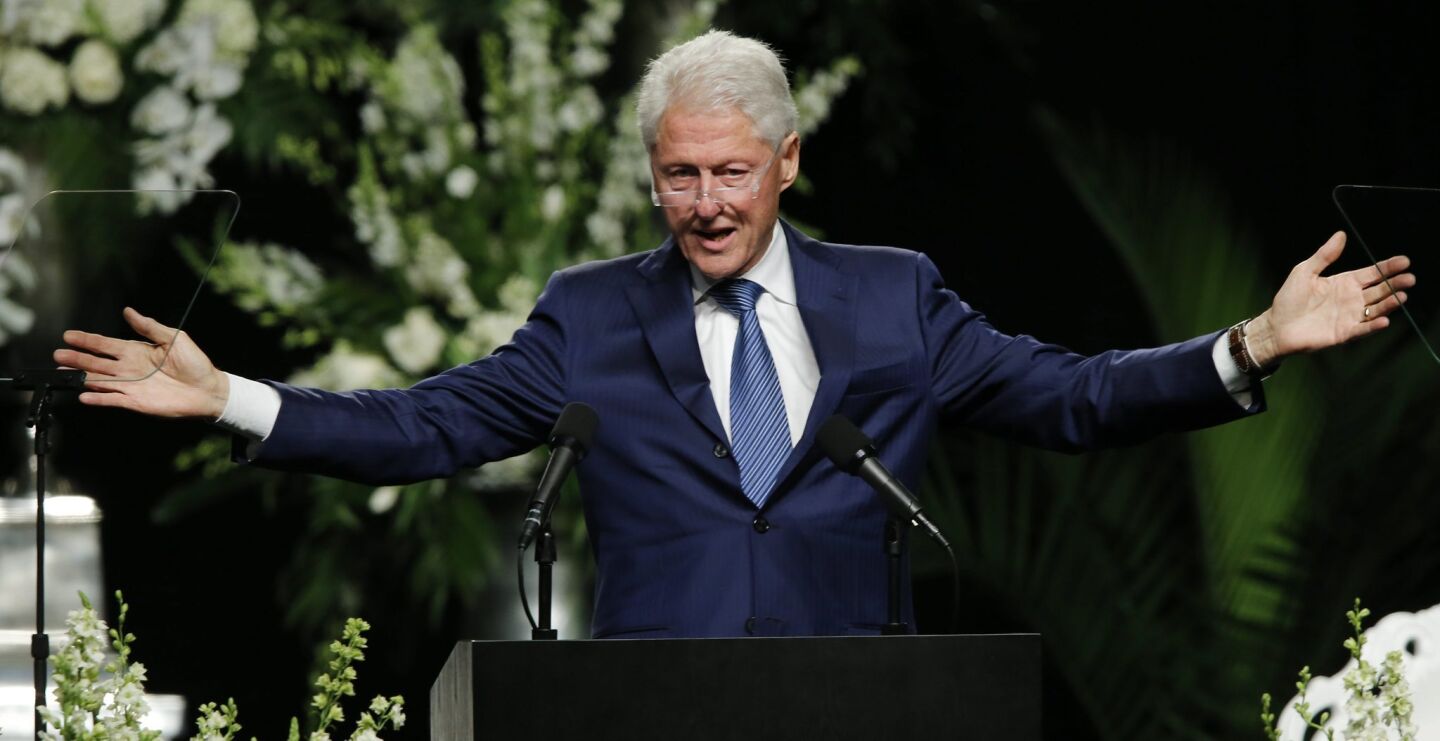 Former U.S. President Bill Clinton delivers a eulogy during the Muhammad Ali funeral service.
(Erik S. Lesser / EPA)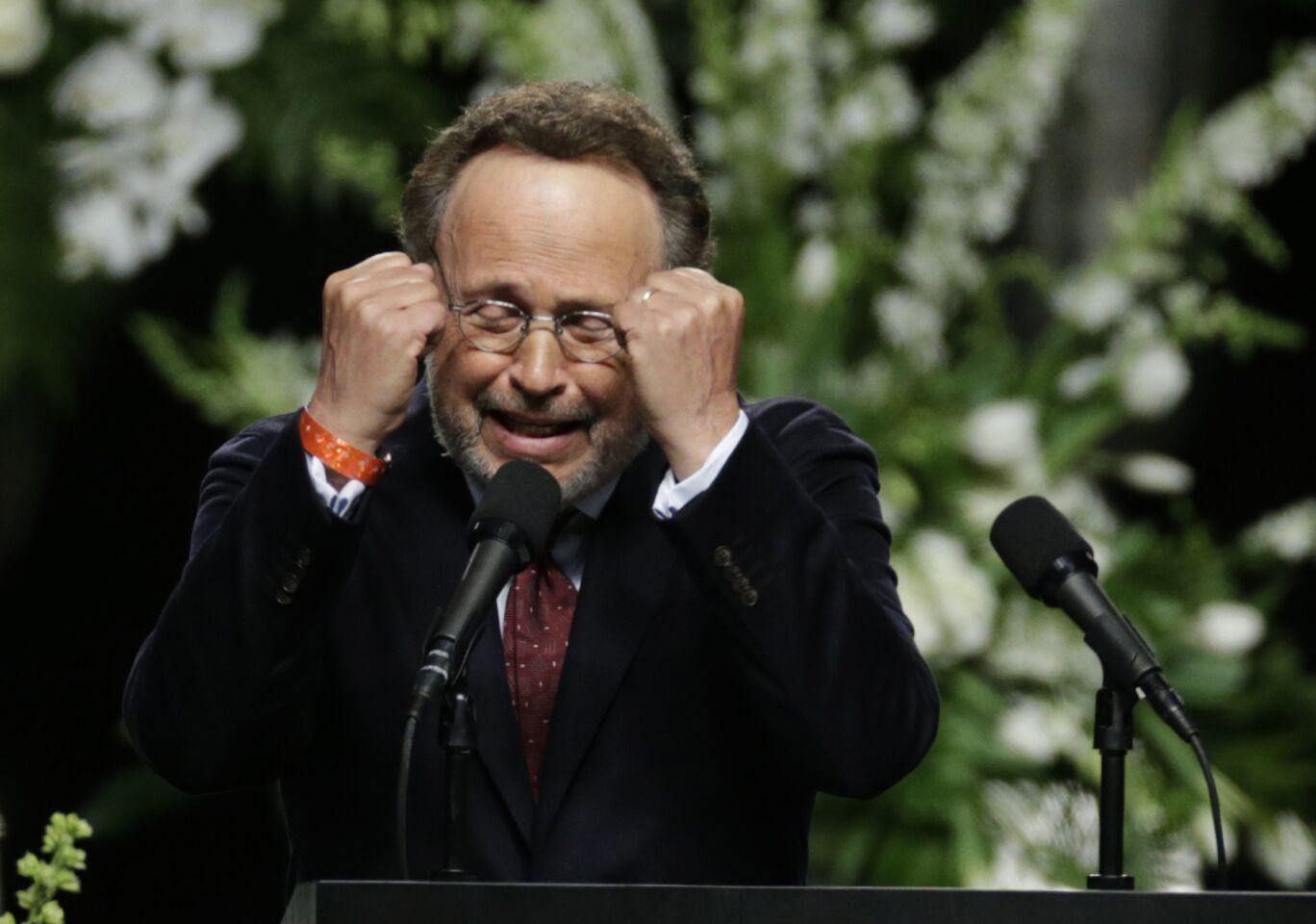 Comedian Billy Crystal imitates Muhammad Ali during the memorial service.
(David Goldman / AP)
Lonnie Ali, the widow of Muhammad Ali, delivers a eulogy speech during the memorial service.
(Michael B. Thomas / AFP / Getty Images)
Pallbearers (from left) Mike Tyson, Lennox Lewis, Jerry Ellis, Mike Moorer and Will Smith applaud during a speech at the memorial service.
(Michael B. Thomas / AFP / Getty Images)
Muhammad Ali's daughter, Rasheda Ali-Walsh, cries after speaking during his memorial service.
(David Goldman / AP)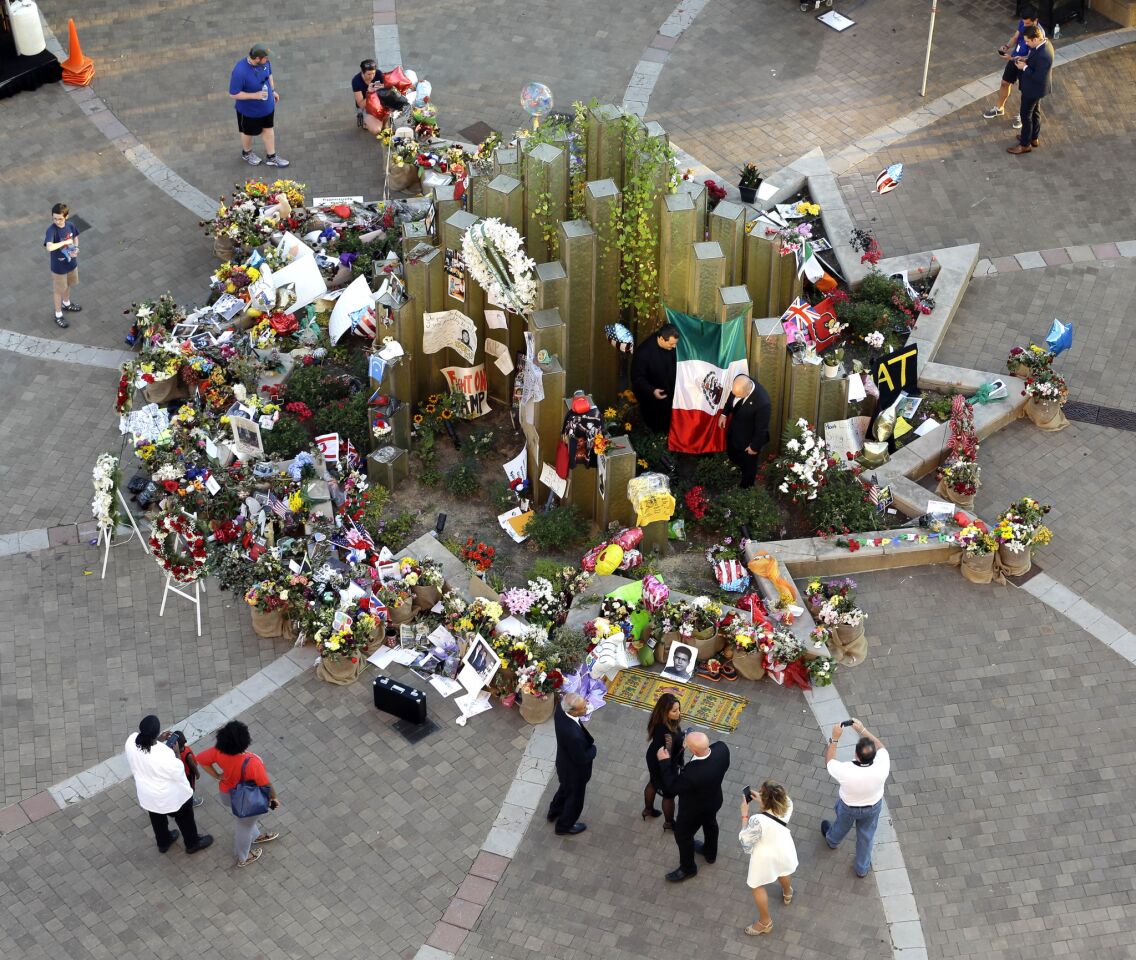 People look at the flowers and items left in tribute to Muhammad Ali at the Muhammad Ali Center in Louisville, Ky.
(Mark Humphrey / AP)
A Louisville bus carries a salute to native son Muhammad Ali.
(Michael Conroy / AP)
The service was filled with similar pronouncements about the message of Ali's life, which he began here as Cassius Clay before winning the heavyweight championship, embraced the Muslim faith and changed his name to Muhammad Ali. He was stripped of his title in 1967 for refusing to fight in the Vietnam War, then, after spending nearly four years in boxing exile while refusing to disavow his beliefs, he returned to the ring and became champion two more times before fighting for the final time in 1981.
"He decided he would never be disempowered,'' said President Clinton. "He decided not his race nor his place would strip from him the power to write his own story."
Ali made an even bigger impact after his retirement as he traveled the world preaching peace and philanthropy. Much of Friday's service, in fact, focused on those years. There were no boxing videos. There were no boxing photos. There were no speeches from anyone involved in Ali's boxing life. This was clearly intended as a memorial for a statesman, not a sportsman.
"In the first part of his life was dominated by the triumph of his truly unique gifts … the second part of his life was more important,'' Clinton said. "In the second half of his life he perfected gifts that we all have … gifts of mind and heart."
When the day ended, and the Ali chants quieted, the crowd filed out into warmth of downtown streets where even the city buses had only one destination.
"Ali – The Greatest'' scrolled the marquee over one.
The Greatest indeed saved the greatest for last.
"I think Muhammad had something to do with all this,'' said Lonnie Ali. "Even in death, Muhammad has something to say.''
MORE
Muhammad Ali dies at 74; boxing great shook up the world in and out of the ring
The Japanese pro wrestler who almost got Muhammad Ali's leg amputated
Underestimating Muhammad Ali was the mistake of a lifetime, George Foreman says
Muhammad Ali's 'Thrilla in Manila' against Joe Frazier stands the test of time
---
Get our high school sports newsletter
Prep Rally is devoted to the SoCal high school sports experience, bringing you scores, stories and a behind-the-scenes look at what makes prep sports so popular.
You may occasionally receive promotional content from the Los Angeles Times.