Muhammad Ali's 'Thrilla in Manila' against Joe Frazier stands the test of time
A bright morning sun typically symbolizes the birth of a new day, the start of something potentially magnificent.
In October 1975, after Muhammad Ali closed his historic trilogy with Joe Frazier in a superior battle that some rank as boxing's ultimate prizefight, co-promoter Bob Arum recalls exiting the Araneta Coliseum to burning heat.
"Like something had died," Arum said.
The best of both Ali and Frazier came out during third and final meeting, the "Thrilla in Manila."
Frazier won their first meeting in 1971, a bout between two unbeatens that is considered one of the greatest spectacles of the sports century. Ali won the rematch in 1974.
Frazier's disdain for Ali rose before the third meeting, with the champion boasting their fight in the Philippines would be a "killa and a thrilla and a chilla when I get that gorilla in Manila."
President Ferdinand Marcos struck a deal with promoter Don King to bring the bout across the Pacific.
"Ali is a promoter's dream. He created the magic of excitement," King said. "Frazier took [the gorilla comment] to heart, though, never really forgave him for that."
He should have, King said, pointing to Ali's attention to human rights that included his previous conscientious-objector stand against the Vietnam War.
"Ali stood for something," King said. "He stood up for the African American. It was about being a man, m-a-n.
"Look, no one will ever be able to say how great Ali was because he lost four years at the peak of his career standing up for a cause [objecting to the Vietnam War], for humanity and the unalienable rights of life, liberty and the pursuit of happiness that he felt would be denied him. Muhammad Ali stood for America."
World heavyweight boxing champion Muhammad Ali poses at the Royal Artillery Gymnasium in London while training for a 1966 fight against British champion Henry Cooper. Ali, who compiled a 56-5 professional record, is considered one of the greatest boxers of all-time.
(Trevor Humphries / Getty Images)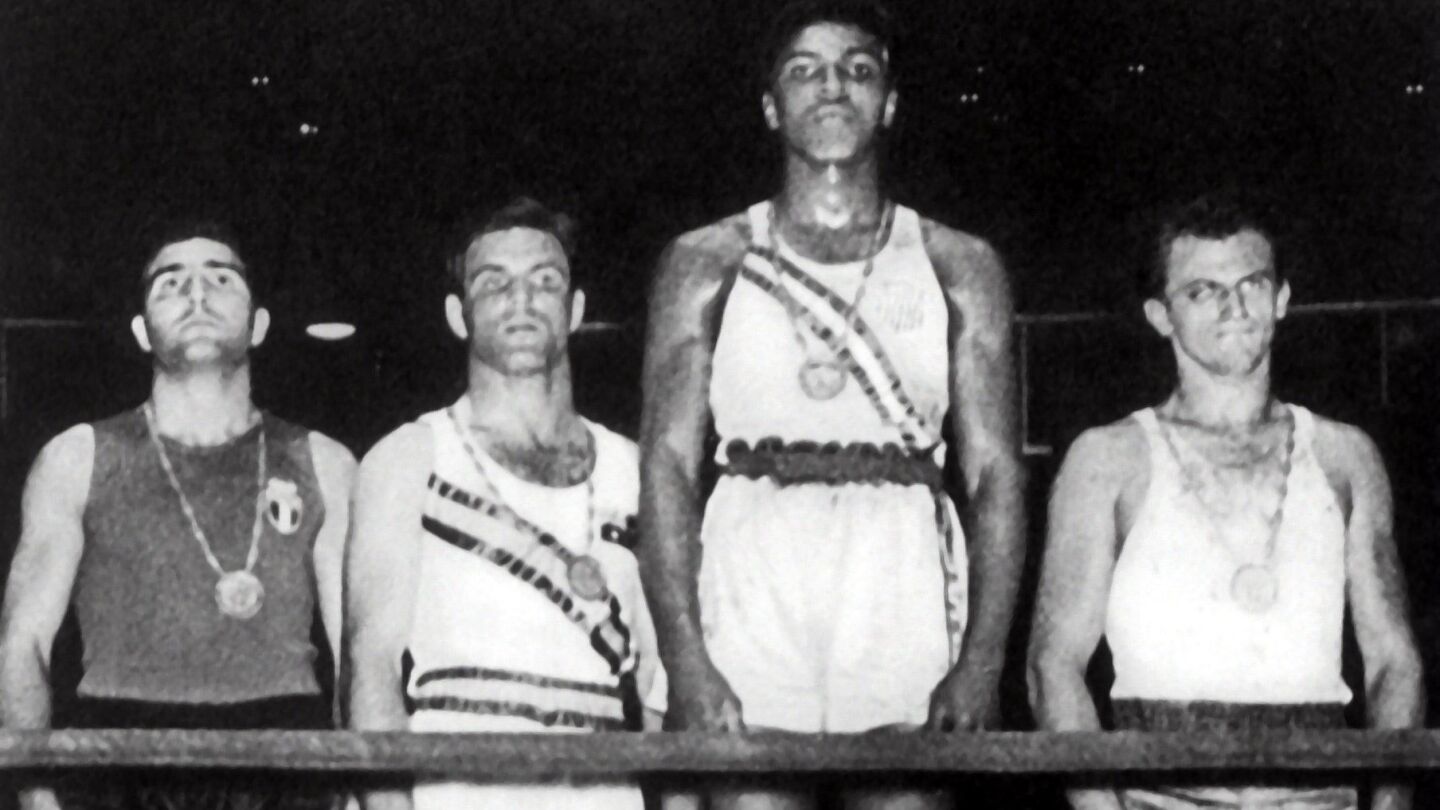 Muhammad Ali, second from right, stands on the medal podium at the Olympic Games in Rome after winning the light-heavyweight gold medal. Zbigniew Pietrzykowski of Poland, the man he beat in the final, is on his left.
(IOC / Allsport)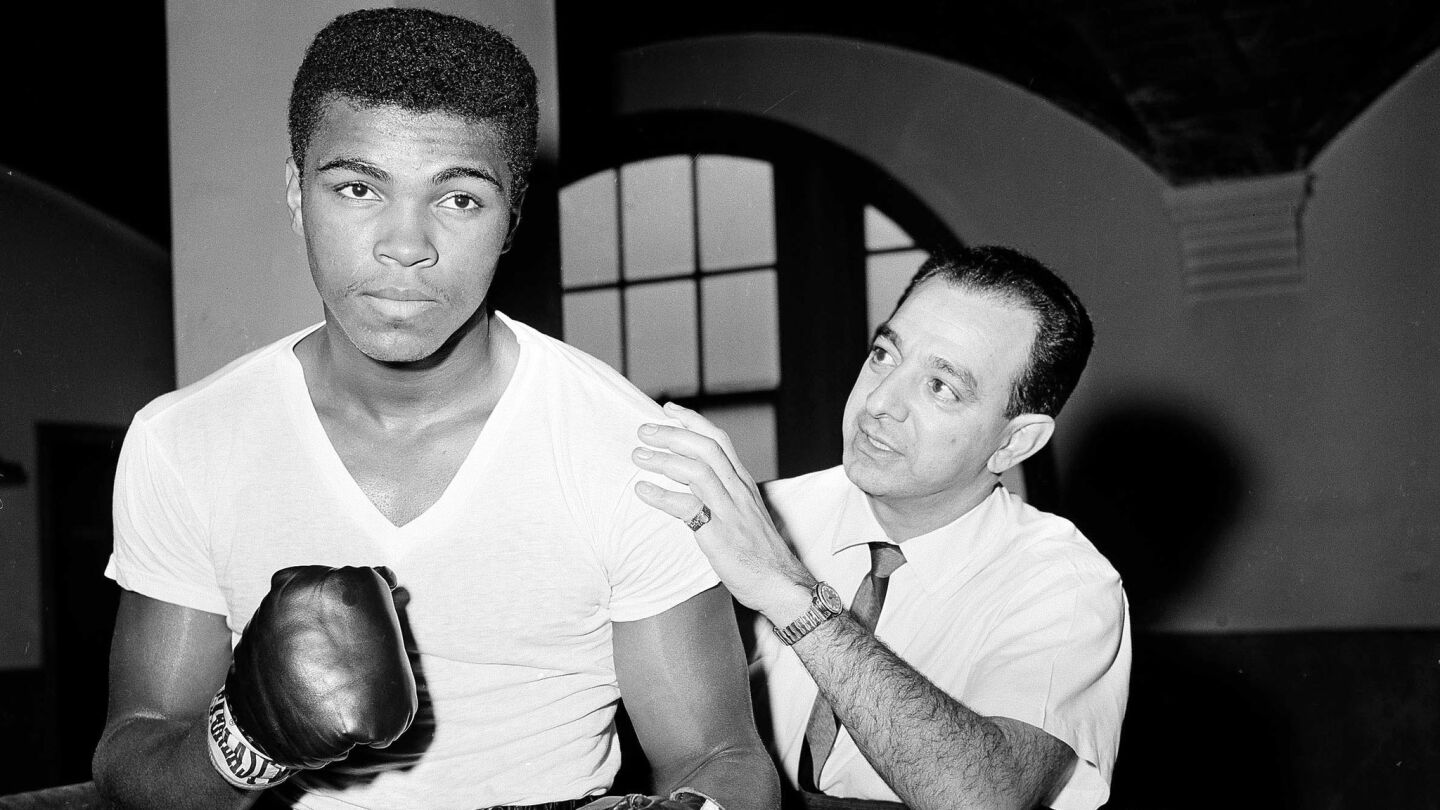 Boxer Muhammad Ali is seen with his trainer, Angelo Dundee, at City Parks Gym in New York on Feb. 8, 1962.
(Dan Grossi / Associated Press)
Heavyweight champion Sonny Liston, left, and Muhammad Ali exchange punches during their first fight in Miami on Feb. 25, 1964. Ali, then known as Cassius Clay, defeated Liston by technical knockout in the seventh round to claim the title.
(Hulton Deutsch / Allsport)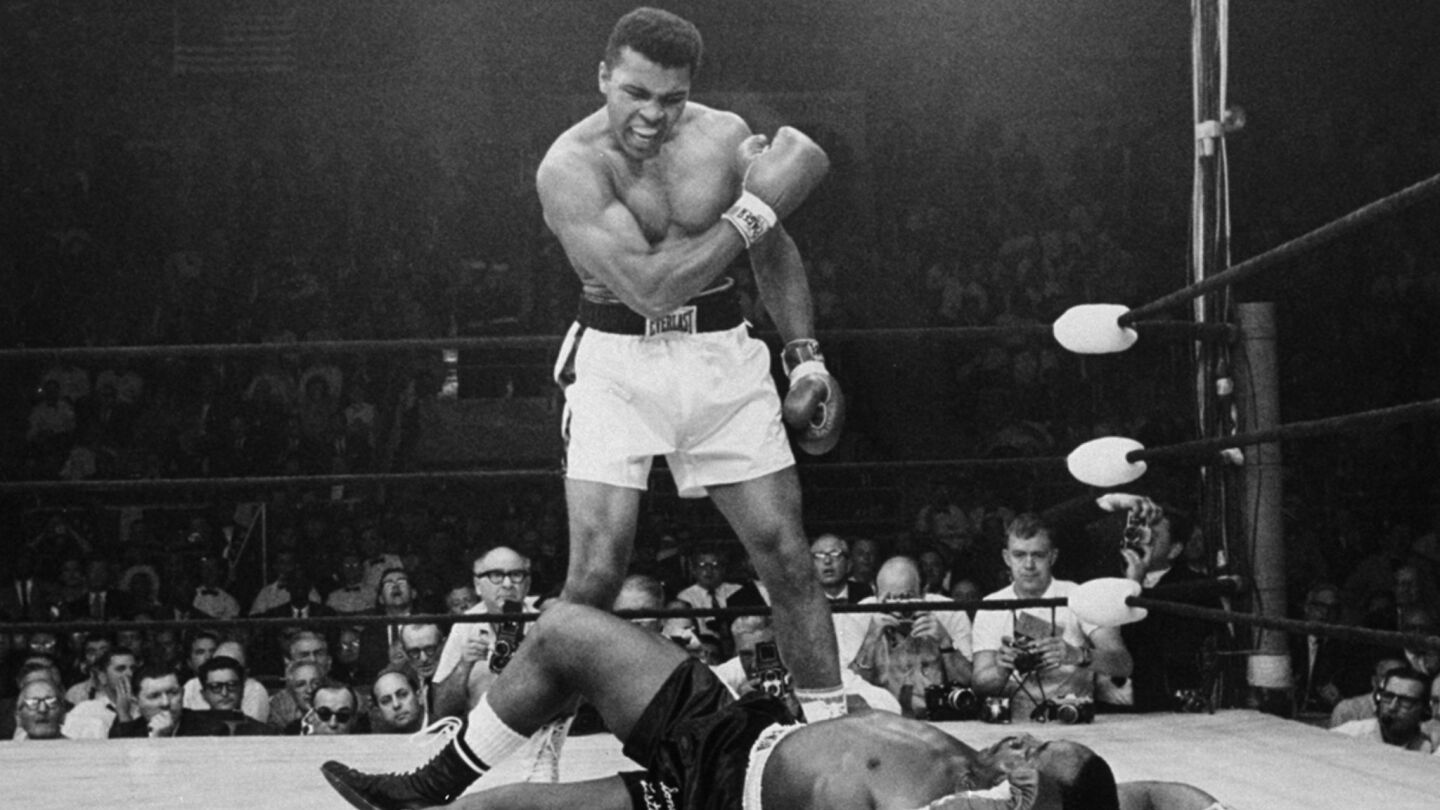 Heavyweight champion Muhammad Ali stands over fallen challenger Sonny Liston, shouting after knocking him down with a short, hard right to the jaw during their bout in Lewiston, Maine, on May 25, 1965.
(John Rooney / Associated Press)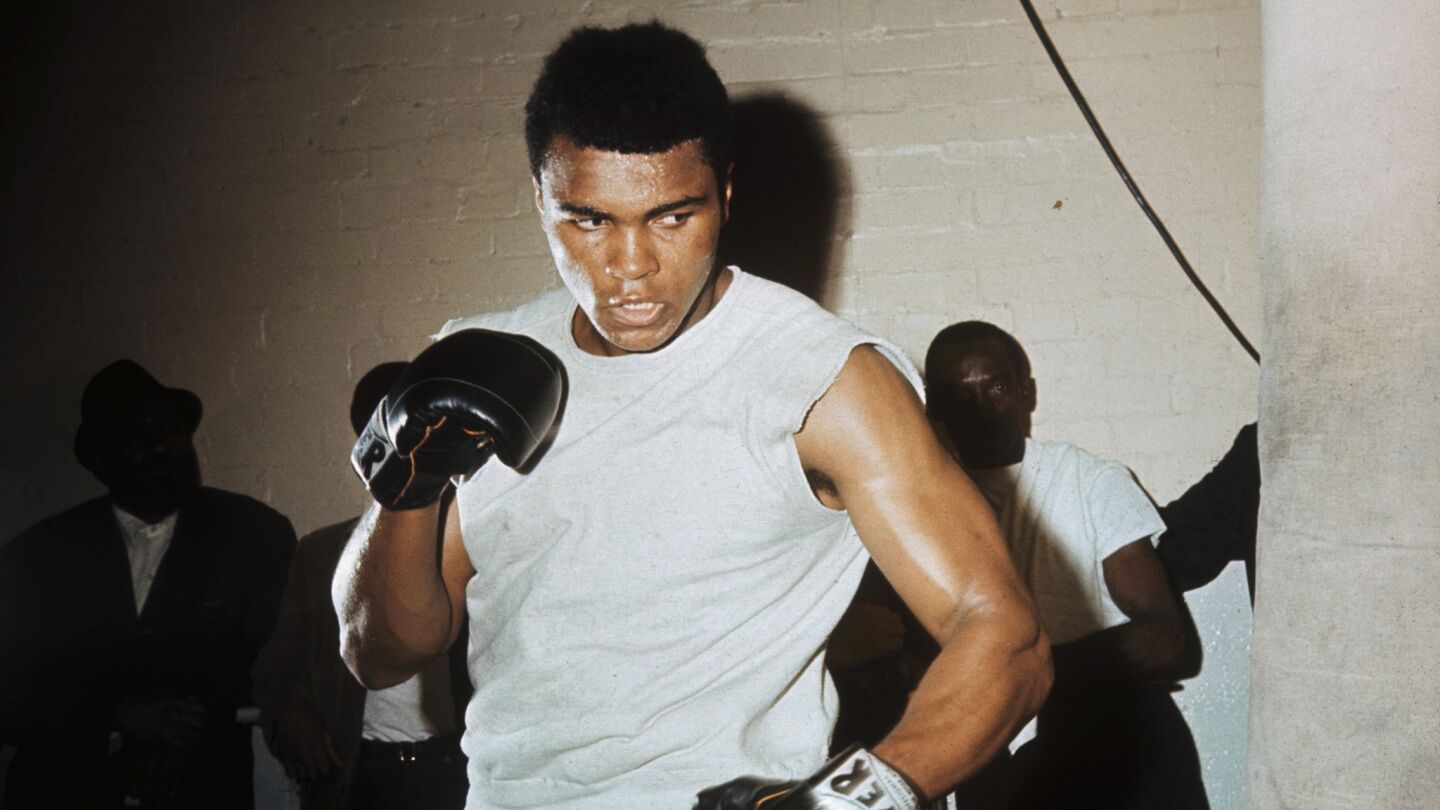 Muhammad Ali trains in London in 1966.
(Wesley / Getty Images)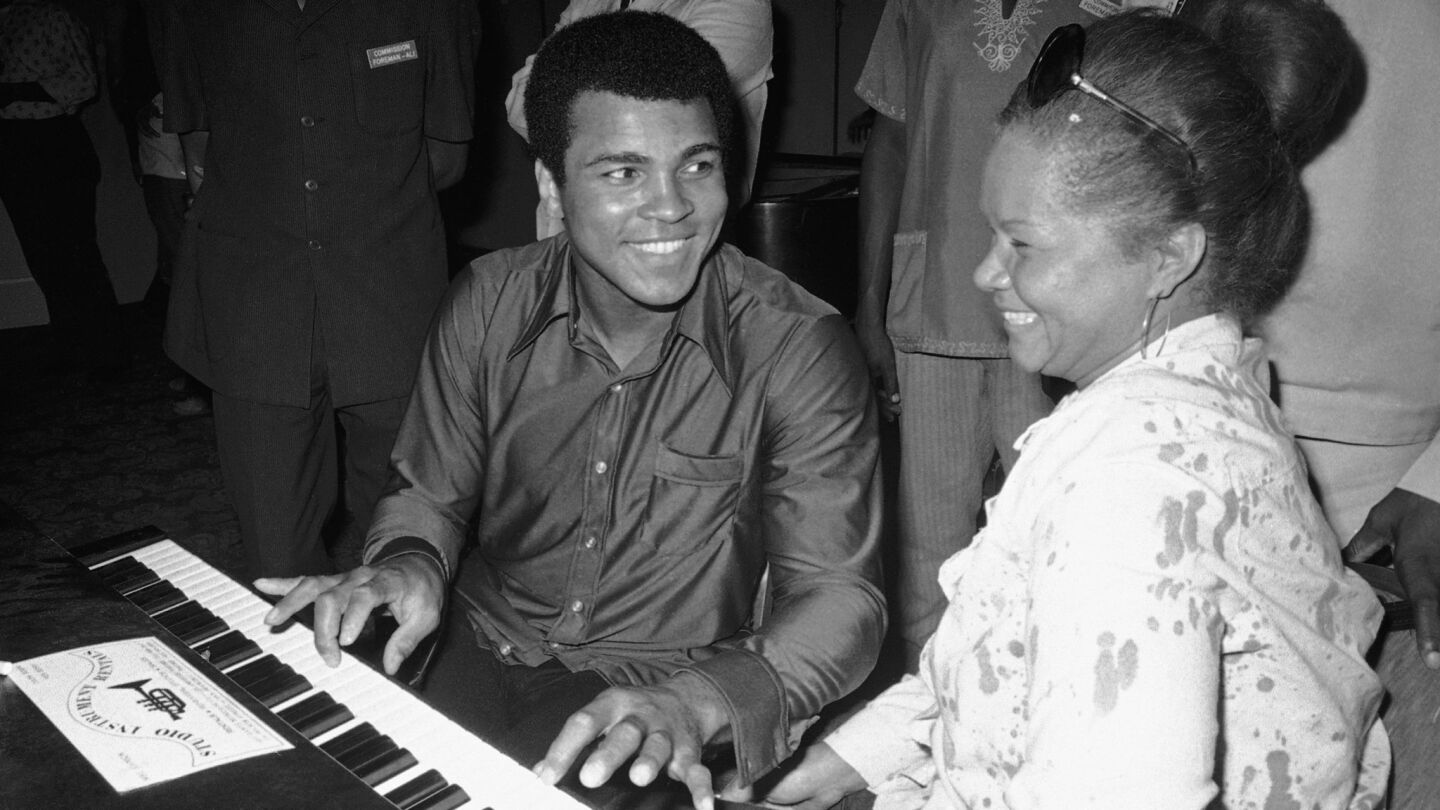 Muhammad Ali, left, smiles as he plays notes on a piano while sitting next to recording artist Etta James on Sept. 22, 1974.
(Horst Faas / Associated Press)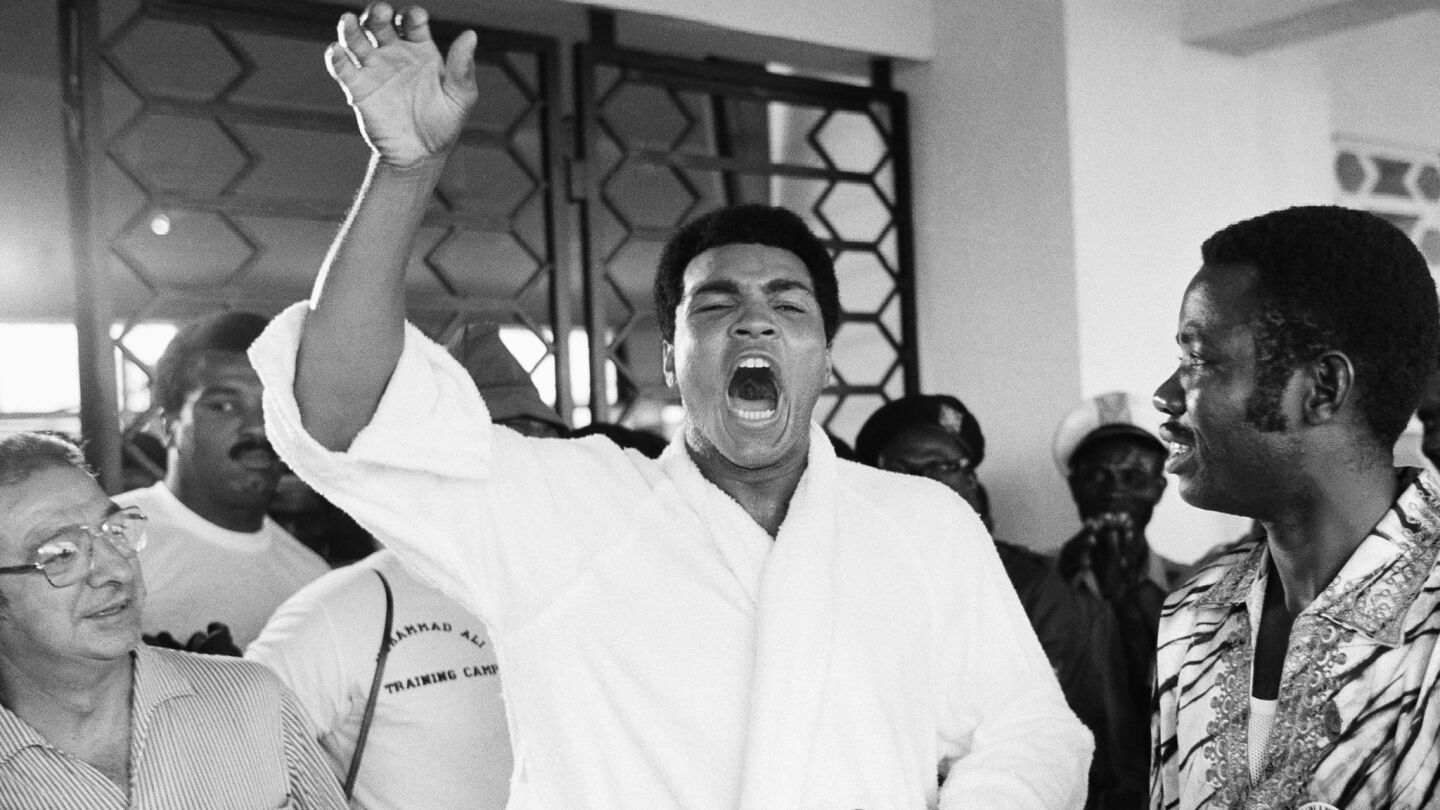 While in Zaire preparing for his upcoming bout against George Foreman, Muhammad Ali declares in the Lingala language, "ako bo mai ye," which translates as "I will kill him" while appearing before a crowd of fans on Sept. 12, 1974.
(Horst Faas / Associated Press)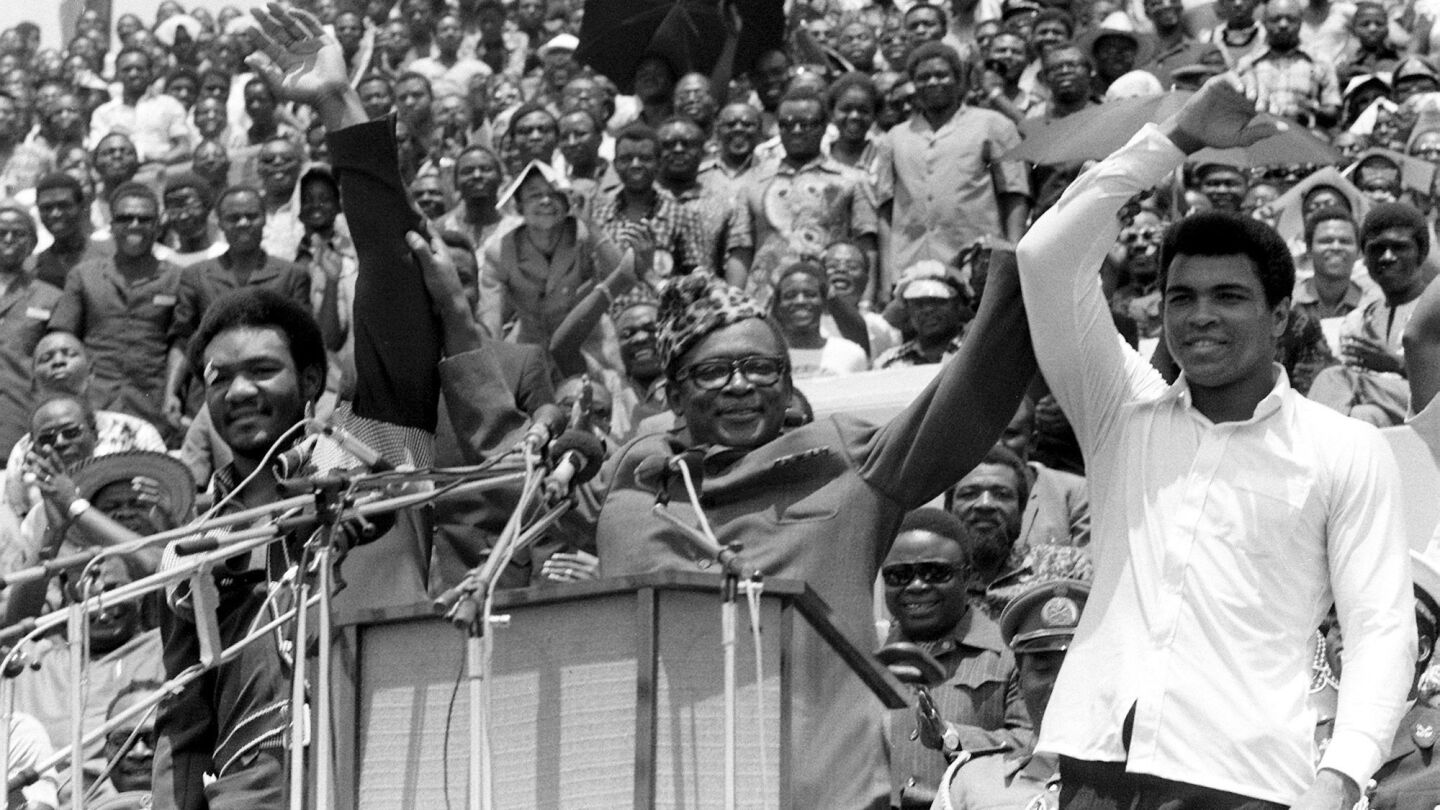 Mobutu Sese Seko, center, president of Zaire, raises the arms of George Foreman, left, and Muhammad Ali during a rally in Kinshasa on Sept. 22, 1974, to promote their upcoming heavyweight title bout.
(Horst Faas/ Associated Press)
Muhammad Ali, right, punches George Foreman in the head during their heavyweight title bout in Zaire on Oct. 30, 1974.
(Ed Kolenovsky / Associated Press)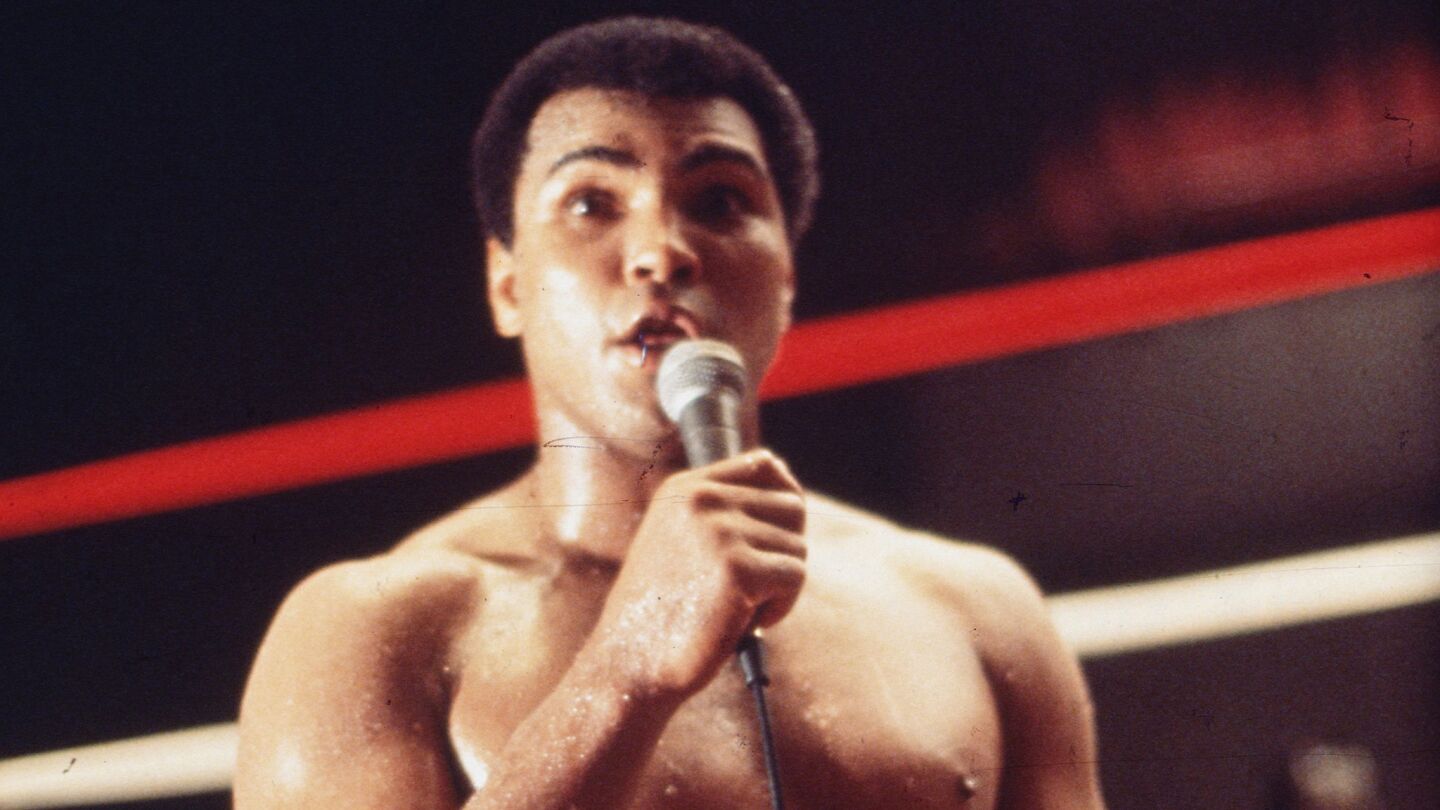 Muhammad Ali addressing the crowd before his heavyweight title victory over Leon Spinks in New Orleans in 1978.
(Keystone / Getty Images)
Boxing legend Muhammad Ali, right, clowns around with Oscar De La Hoya while appearing together in New York on Dec. 2, 1997.
(Doug Kanter / Associated Press)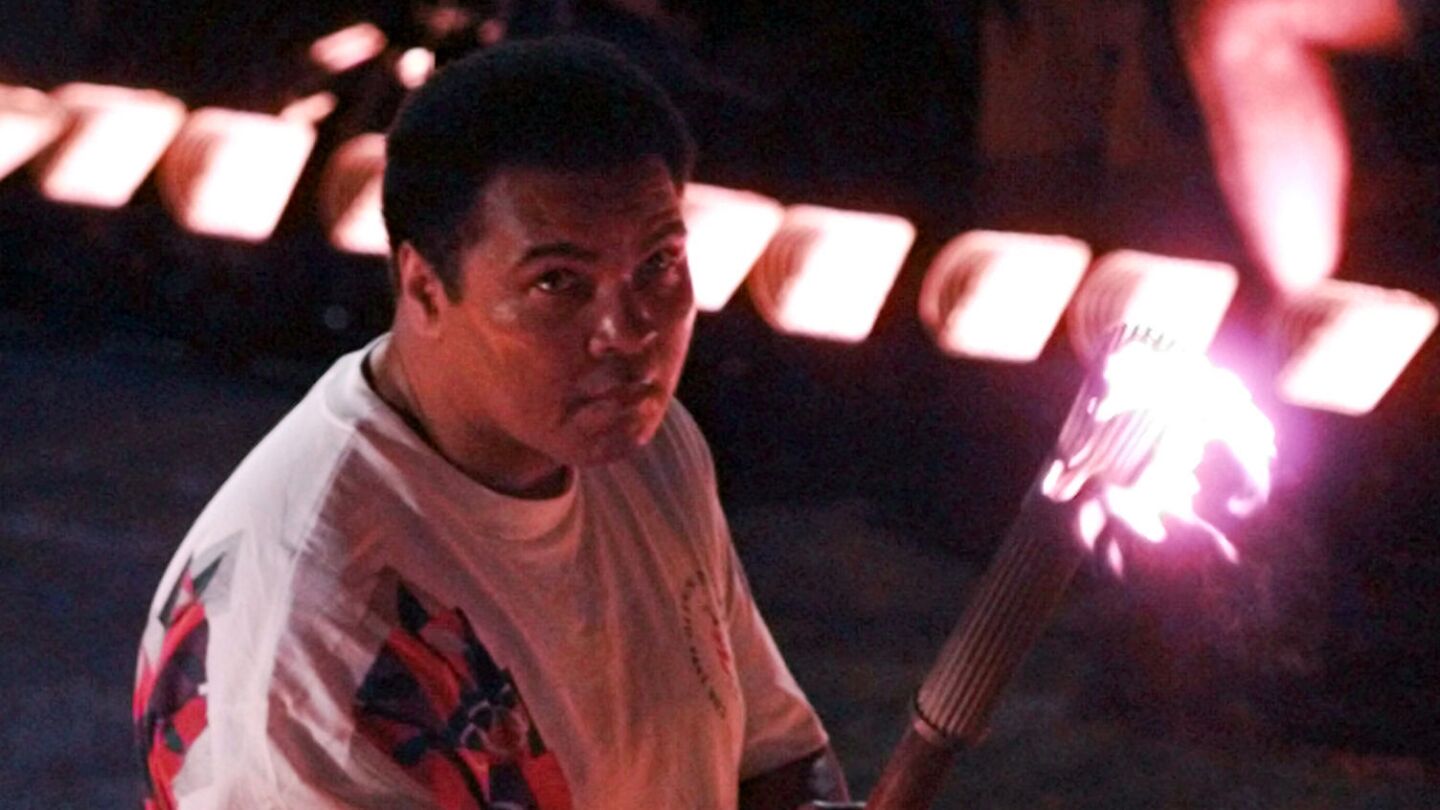 Muhammad Ali watches as the flame climbs up to the Olympic torch while taking part in the opening ceremonies of the 1996 Atlanta Olympic Games.
(Doug Mills / Associated Press)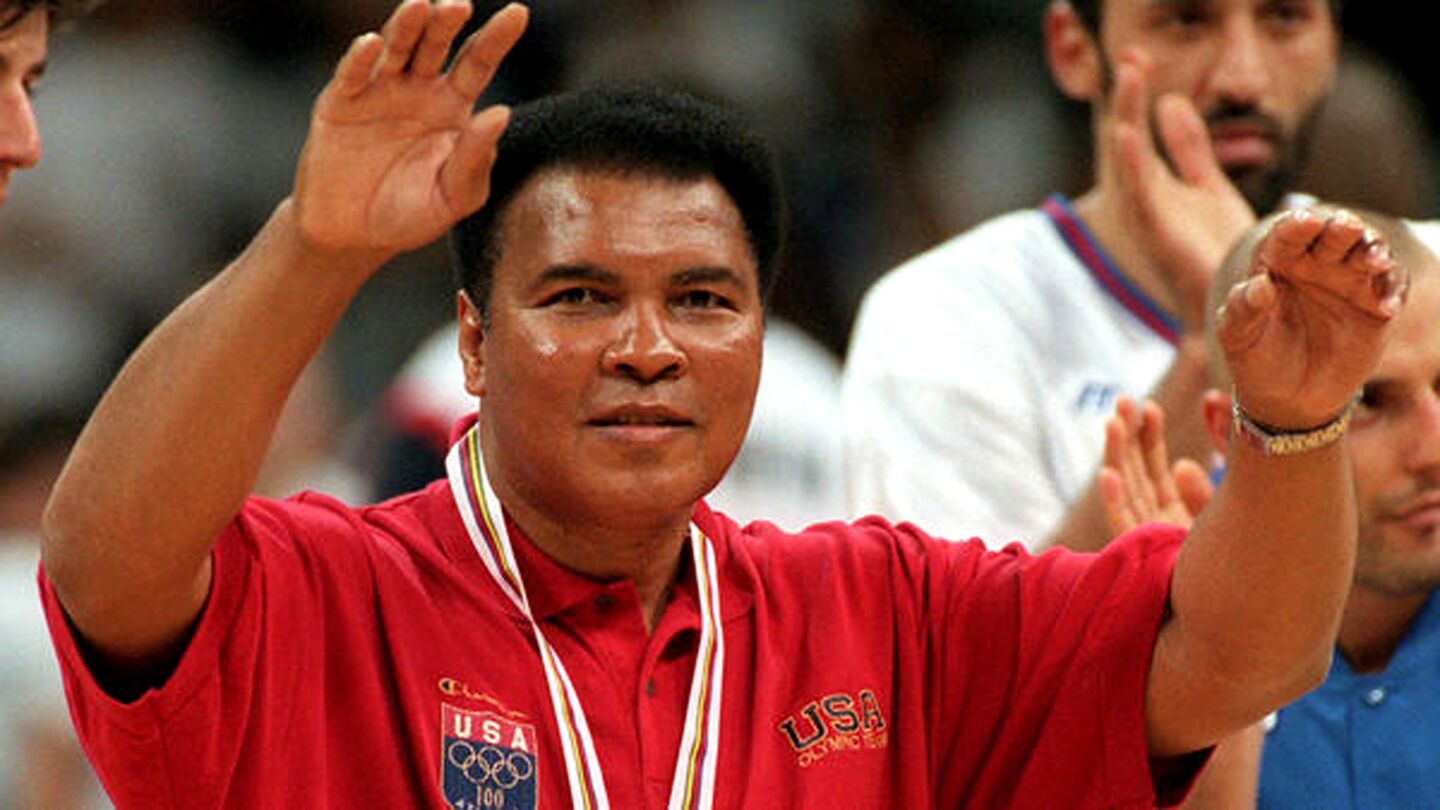 Muhammad Ali acknowledges the cheers of the crowd during halftime of the gold-medal basketball game between the United States and Yugoslavia at the Atlanta Olympic Games on Aug. 3, 1996.
(Paul Morse / Los Angeles Times)
Former heavyweight champion Muhammad Ali throws playful punch toward a photographer while sitting on a bus in front of Locke High School in December 1996.
(Ken Lubas / Los Angeles Times)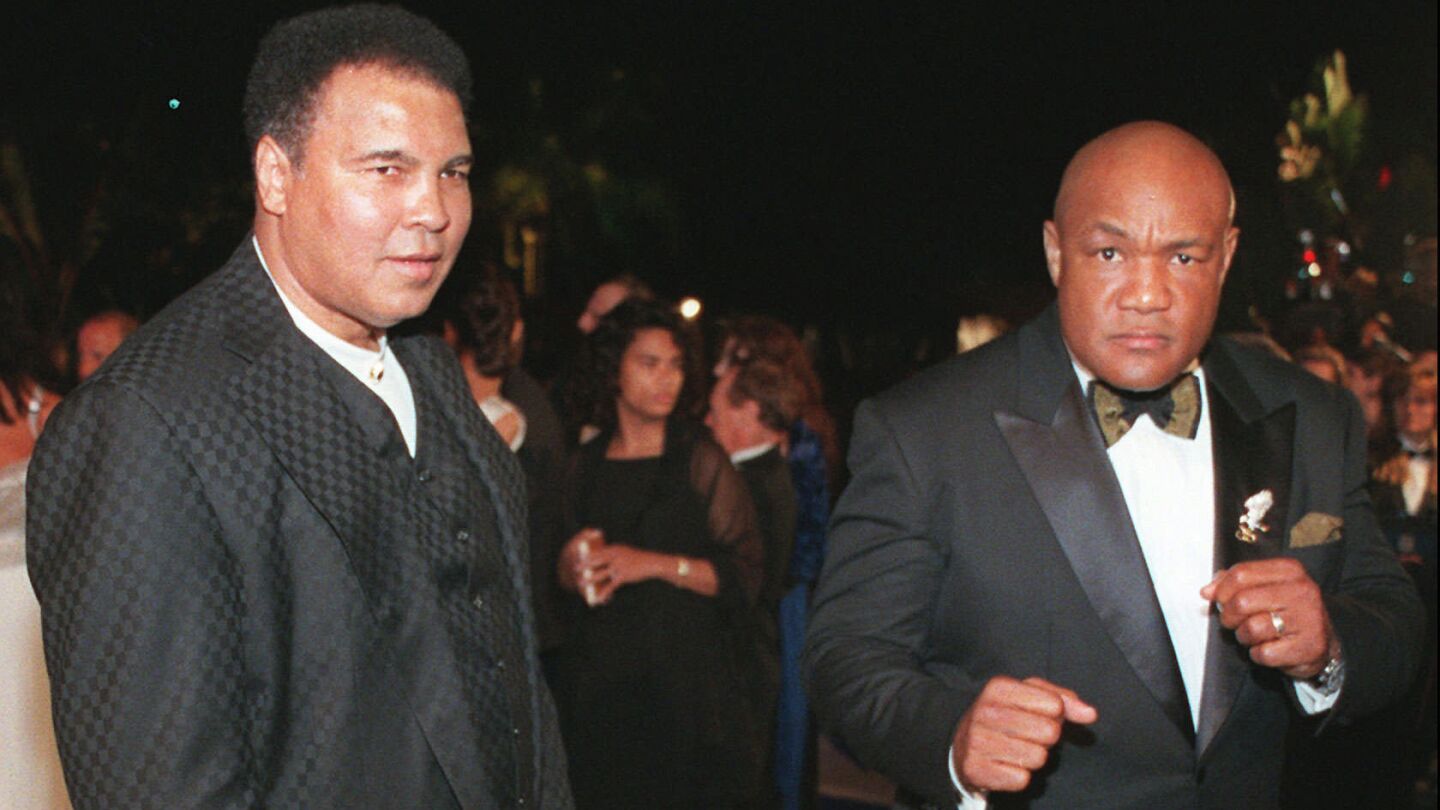 Muhammad Ali, left, and George Foreman arrive at the Vanity Fair Oscar party in Los Angeles on March 24, 1997.
(E.J. Flynn / Associated Press)
Boxing great Muhammad Ali, left, and heavyweight champion Evander Holyfield pose for the camera while attending the ESPY Awards in New York on Feb. 10, 1997.
(Timothy A. Clary / AFP / Getty Images)
Muhammad Ali, right, and his daughter, boxer Laila Ali, pose for a picture during a celebrity roast for charity in Los Angeles on Nov. 16, 2000.
(Kevork Djansezian / Associated Press)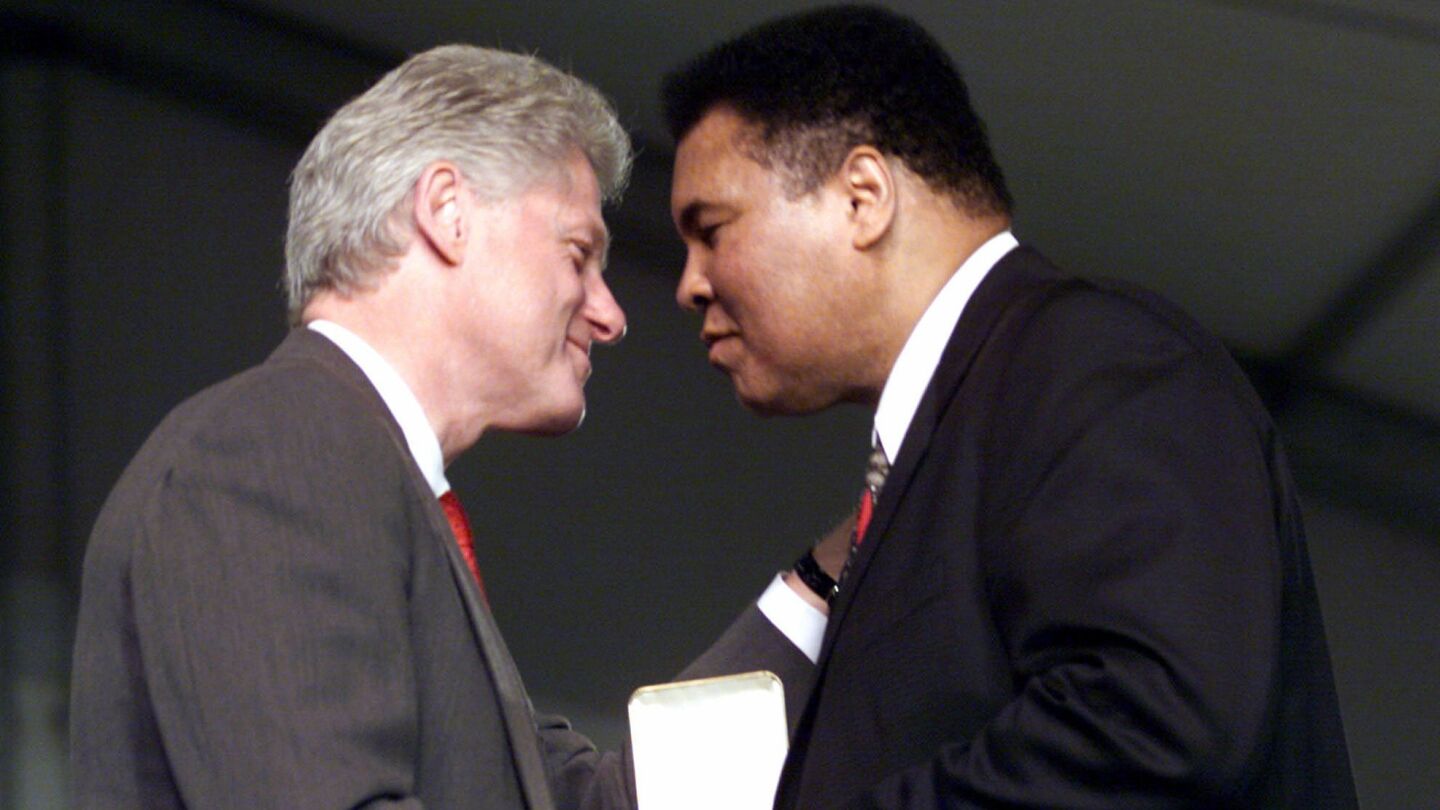 President Bill Clinton presents boxing great Muhammad Ali with a Presidential Citizens Medal during a ceremony at the White House on Jan. 8, 2001.
(Ron Edmonds / Associated Press)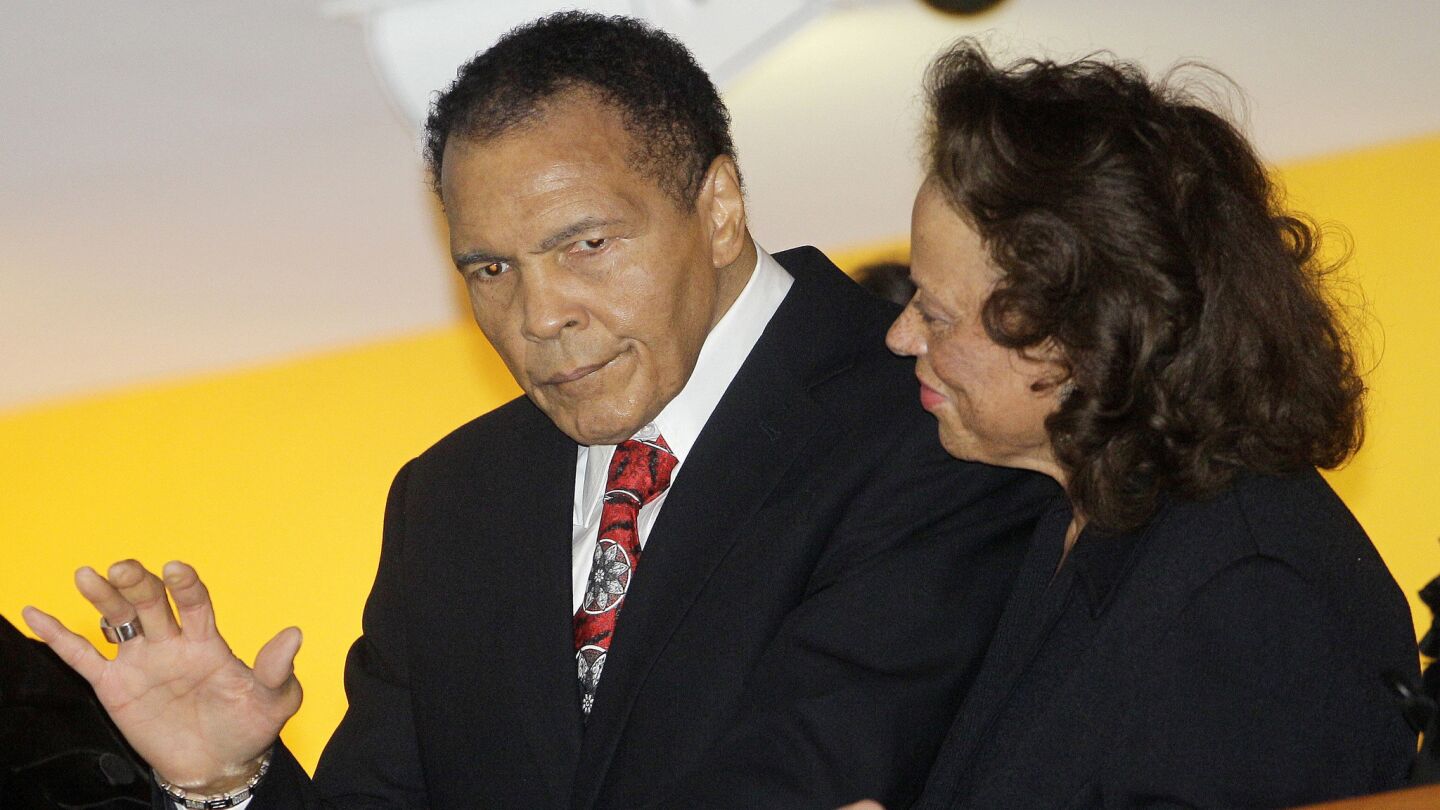 Muhammad Ali stands with his wife, Lonnie, while waving to friends attending his 70th birthday celebration at the Muhammad Ali Center in Louisville, Ky., on Jan. 14, 2012.
(Mark Humphrey / Associated Press)
The bout was staged in the Philippines, King said, because Marcos pushed to stage a symbolic battle between two proven boxing warriors who could bring attention to the past obscured war efforts of Filipinos in the battlegrounds of Iwo Jima, Okinawa and Saipan.
"This fight was about manhood," King said. "The rubber match … was super sensational. It will be immortalized for the standard of time. Ali said it was the closest to death he's ever been.
"The fight illustrated man's courage, the spirit that nobody can fight your battle but you, and the enemy is in front of you. They had that will of giving it their all, for all mankind."
Ali, the champion at that time following his epic "Rumble in the Jungle" victory a year earlier over George Foreman, ruled the first four rounds, belting Frazier with precise blows.
Frazier rallied impressively, dominating with power left-handed shots and his patented toughness that continually gave Ali fits.
"I hit him with punches that'd bring down the walls of a city," Frazier said afterward.
Both men were gassed in the late championship rounds. Ali scored hurtful blows on Frazier, swelling the former champion's eyes and blasting him with hard rights to the head in the 14th round that might have impaired – or killed -- a less fit, weaker foe.
After 14 rounds, Frazier's trainer Eddie Futch concluded that his fighter, with bad left-eye vision and a swollen right eye, couldn't see anymore.
In the opposite corner, an exhausted Ali, comfortably ahead on scorecards that differed from those kept in ringside reporters' notebooks, had cornerman Angelo Dundee urging him on for three more minutes.
"Ali was going to give his life. He had to perform," King said. "I remember it like it was yesterday. Ali told me it was the closest to death he had ever came, but that the cause was more worthy than he. The cause of manhood.
"That fight was the epitome, showing man's incredible will to withstand the withering battle of blow after blow. After a fight like that, there was no way you could be the fighter that you were."
Futch dramatically decided Frazier had had enough, waving the towel, stopping the fight against Frazier's objections.
"It wasn't Joe Frazier who stopped the fight," King said. "It was Eddie Futch. He stopped his fighter from being hurt any worse, physically and psychologically. God bless Eddie Futch."
Years later, an aged Frazier was shown hitting a heavy bag in an HBO documentary about the Thrilla in Manila, suggesting he'd gotten the best of Ali in the end, because his punishment contributed to Ali's being ravaged by Parkinson's.
King recalls a more uplifting review of the clash.
"It was so wonderful for Muhammad because [of] when they were making him the bad guy years earlier about not going to fight the Viet Cong. . . . People were finally able to see after this test of manhood that he was truly fighting for freedom of religion, against the system that allowed the horrific, barbaric things that were being done to our people," King said.
"He is the people's hero. For black and white. He always told me, 'Never let 'em down.'"
---
Get our high school sports newsletter
Prep Rally is devoted to the SoCal high school sports experience, bringing you scores, stories and a behind-the-scenes look at what makes prep sports so popular.
You may occasionally receive promotional content from the Los Angeles Times.