Underestimating Muhammad Ali was the mistake of a lifetime, George Foreman says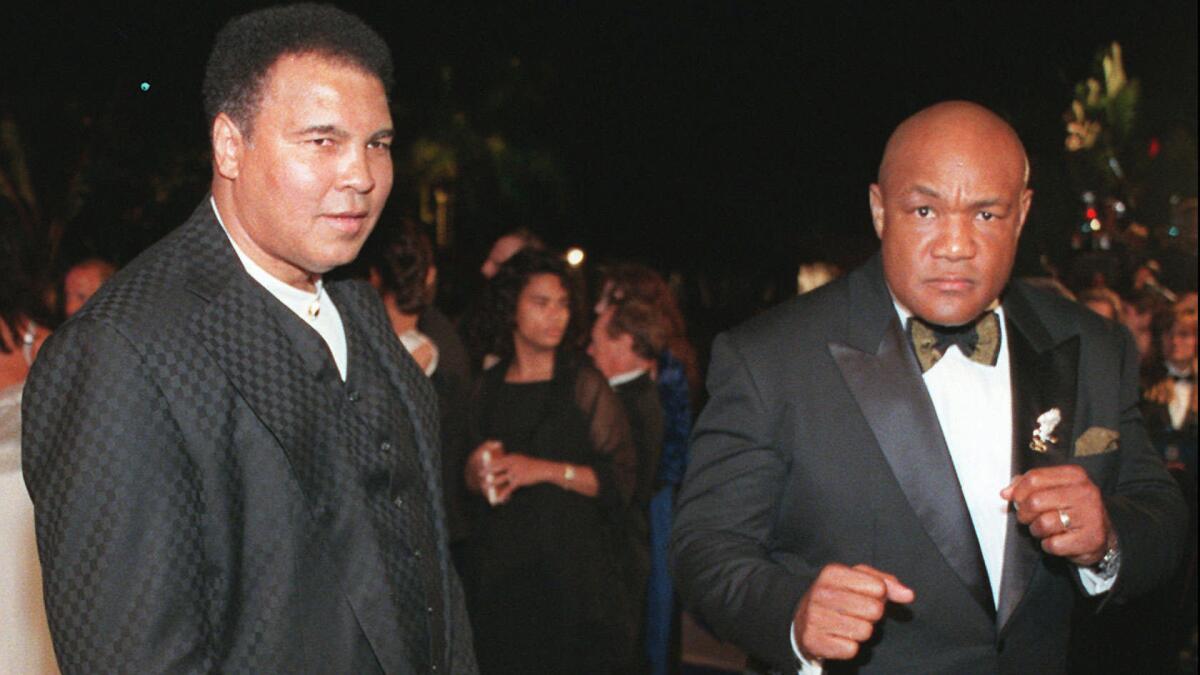 The one prominent photo that George Foreman keeps in his office at home in Texas shows him knocked to the canvas by Muhammad Ali in their famed "Rumble in the Jungle" fight in Zaire in 1974.
The photo, Foreman says, is a testament to overconfidence, the danger of not remaining humble and, finally, to the greatness of Foreman's delayed but strong friendship with Ali.
"It was the performance of a lifetime … I wish I had been able to tell him that right after it happened," Foreman said.
The now-lovable Foreman was a different man then.
Muscular, massive, unbeaten and ornery, Foreman, like Ali, was paid $5 million by promoter Don King and his backers for the bout, which was delayed for more than a month until Oct. 30, 1974, after Foreman's sparring partner, Bill McMurray, cut Foreman near the right eye.
"Guy stuck his elbow up in me and I couldn't do anything," Foreman said of the cut. "I was in the best shape of my life, at any time ... never before or since. Muhammad couldn't have stood up to me. But I couldn't run for 10 days to let the scar heal. Couldn't spar for 20 days. All I could do was hit the bag and run. All of the rhythm I had was gone."
Foreman was clearly viewed as the bad guy in Africa, countrymen roaring in unison, "Ali, boma ye!" (Ali, kill him), before and during a bout that drew 60,000 and was fought at 4 a.m. local time to satisfy U.S. television programming.
"[The chants] didn't bother me," Foreman said. "He was such a great entertainer, no one could compete with him, not at all. The guy was the greatest show on Earth.
"And I figured I'd knock him out in three rounds."
Yet, Foreman's dominance fostered immense overconfidence, both internally and among his training staff, led by head trainer Dick Sadler and former heavyweight title challenger Archie Moore.
"All of us had one gigantic ego, all because I had mopped the floor with everyone," Foreman said. "The stronger I'd get, the weaker they'd all get."
Foreman would read an entire newspaper during breaks while preparing for Ali — "even the horoscopes," he said — but he'd avoid any stories in which Ali was quoted.
"Never studied one film, never dissected anything," Foreman said. "He was such a good-looking guy, I'm like, 'I can beat him.' Never decided what his strength or weakness was.
World heavyweight boxing champion Muhammad Ali poses at the Royal Artillery Gymnasium in London while training for a 1966 fight against British champion Henry Cooper. Ali, who compiled a 56-5 professional record, is considered one of the greatest boxers of all-time.
(Trevor Humphries / Getty Images)
Muhammad Ali, second from right, stands on the medal podium at the Olympic Games in Rome after winning the light-heavyweight gold medal. Zbigniew Pietrzykowski of Poland, the man he beat in the final, is on his left.
(IOC / Allsport)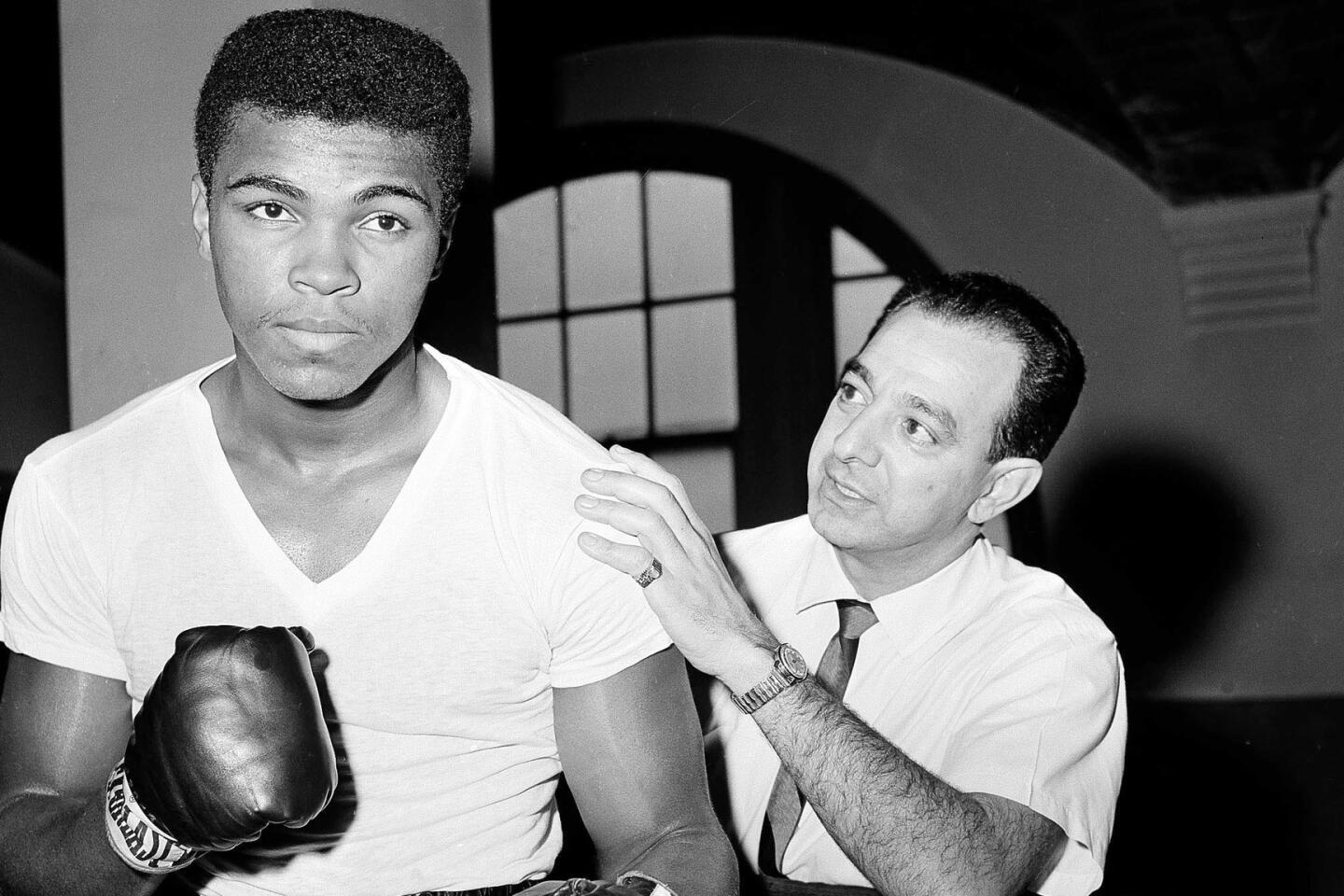 Boxer Muhammad Ali is seen with his trainer, Angelo Dundee, at City Parks Gym in New York on Feb. 8, 1962.
(Dan Grossi / Associated Press)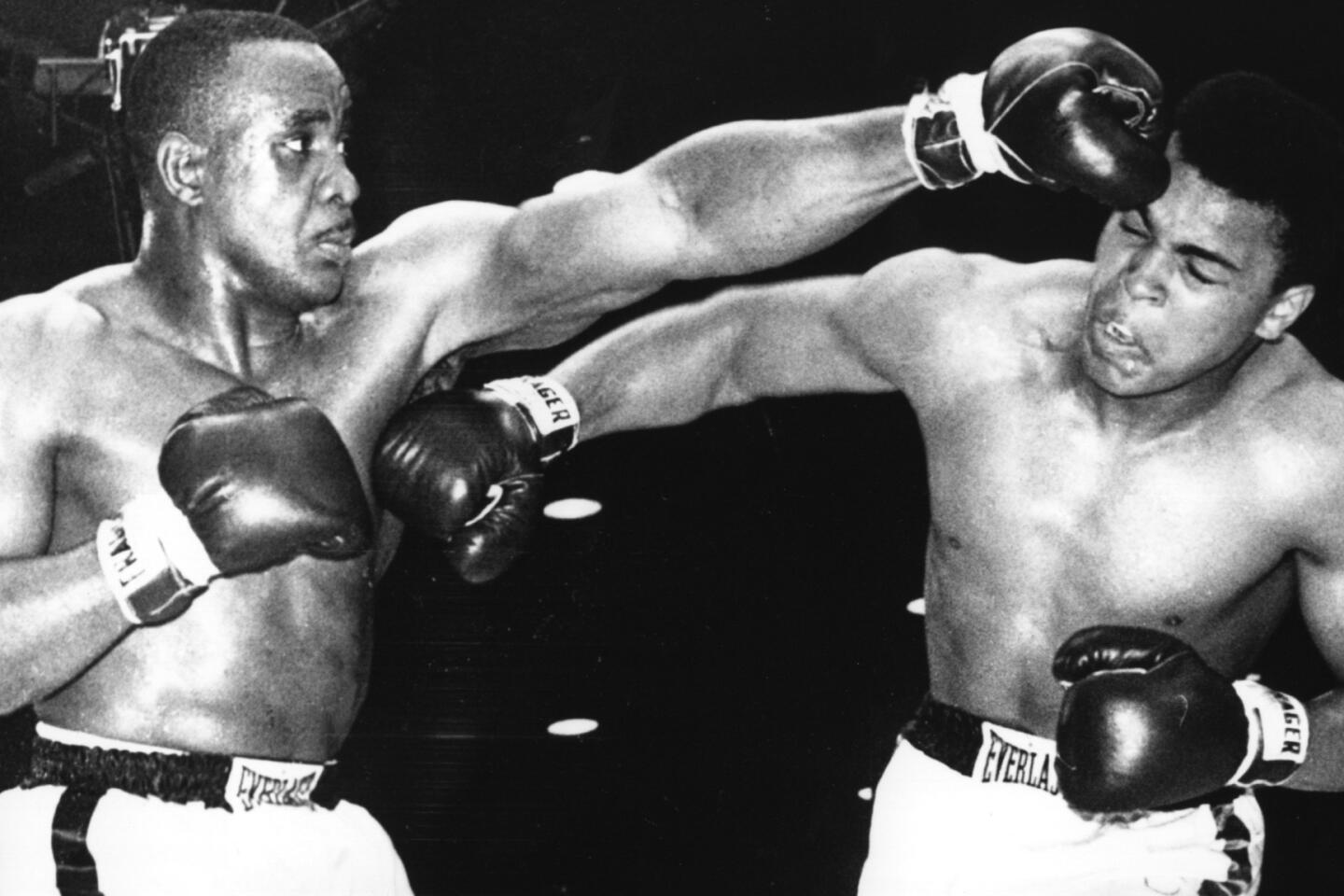 Heavyweight champion Sonny Liston, left, and Muhammad Ali exchange punches during their first fight in Miami on Feb. 25, 1964. Ali, then known as Cassius Clay, defeated Liston by technical knockout in the seventh round to claim the title.
(Hulton Deutsch / Allsport)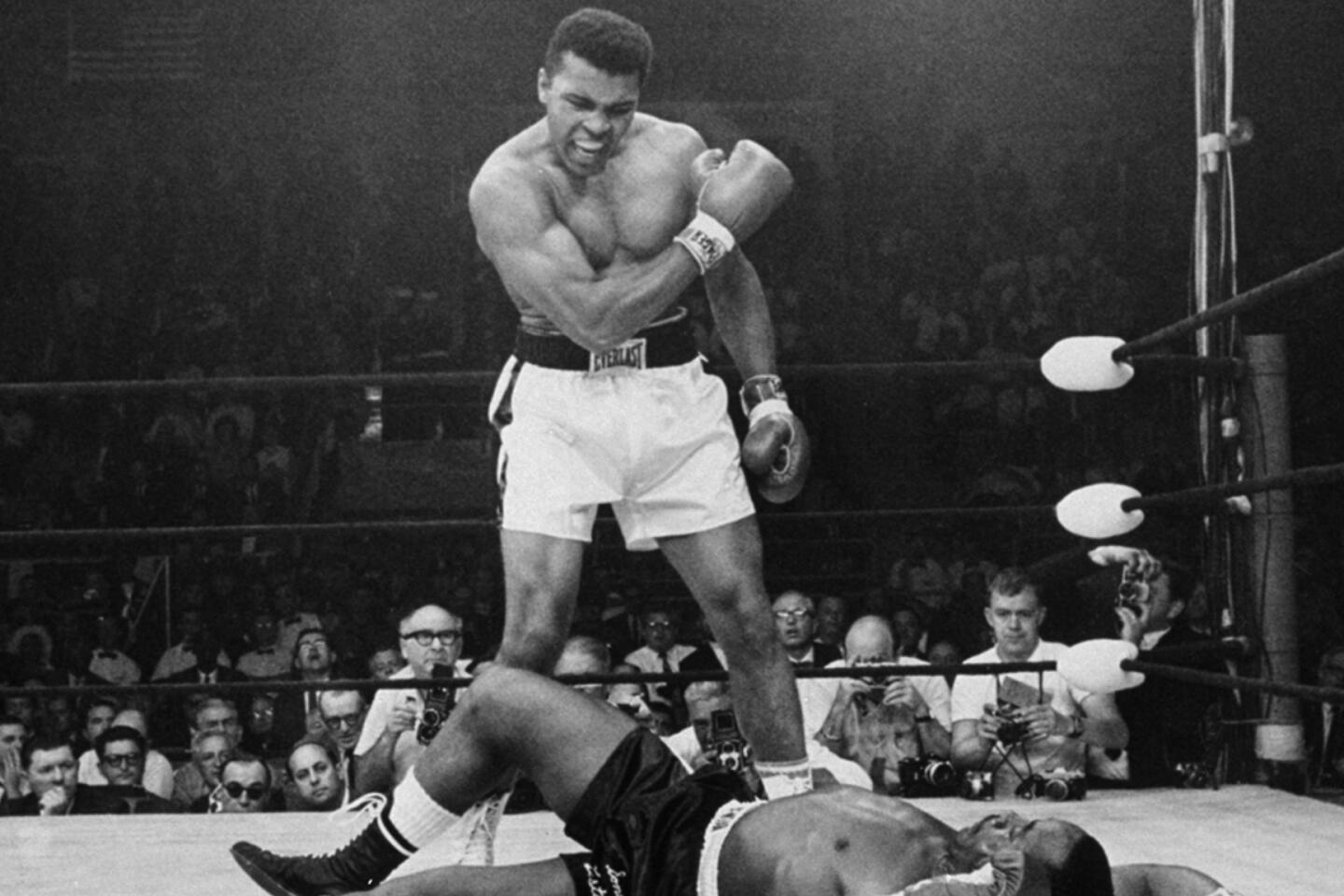 Heavyweight champion Muhammad Ali stands over fallen challenger Sonny Liston, shouting after knocking him down with a short, hard right to the jaw during their bout in Lewiston, Maine, on May 25, 1965.
(John Rooney / Associated Press)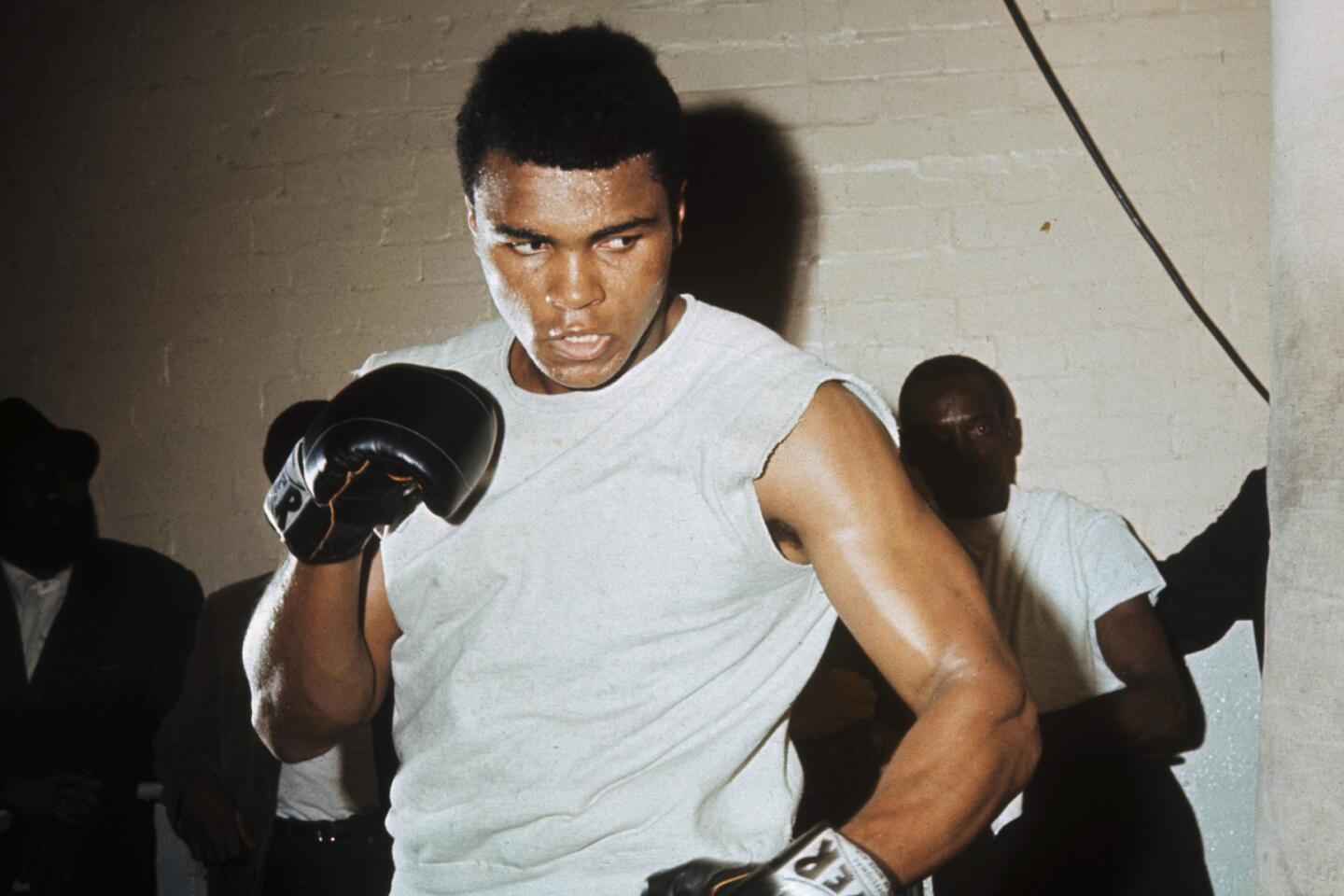 Muhammad Ali trains in London in 1966.
(Wesley / Getty Images)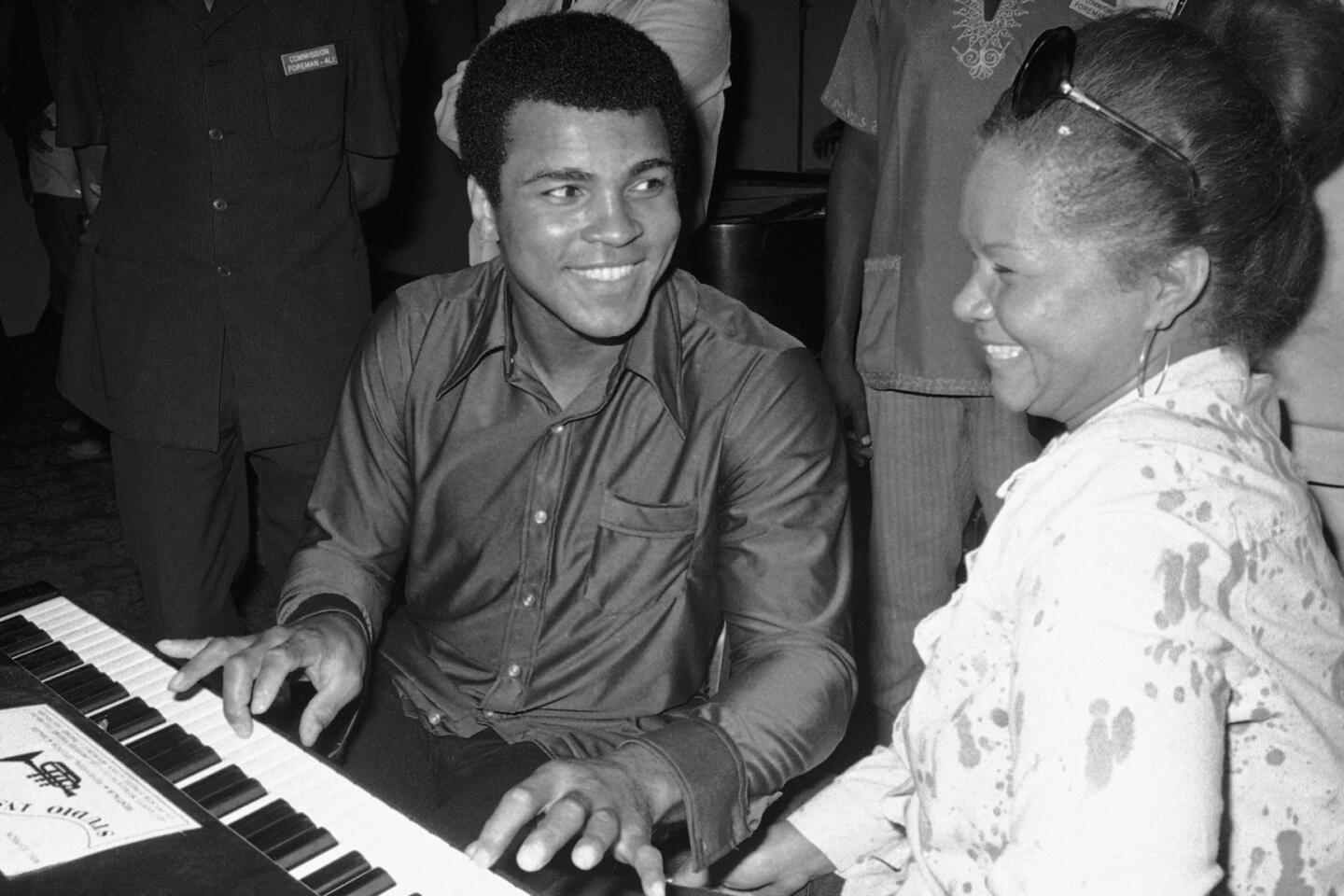 Muhammad Ali, left, smiles as he plays notes on a piano while sitting next to recording artist Etta James on Sept. 22, 1974.
(Horst Faas / Associated Press)
While in Zaire preparing for his upcoming bout against George Foreman, Muhammad Ali declares in the Lingala language, "ako bo mai ye," which translates as "I will kill him" while appearing before a crowd of fans on Sept. 12, 1974.
(Horst Faas / Associated Press)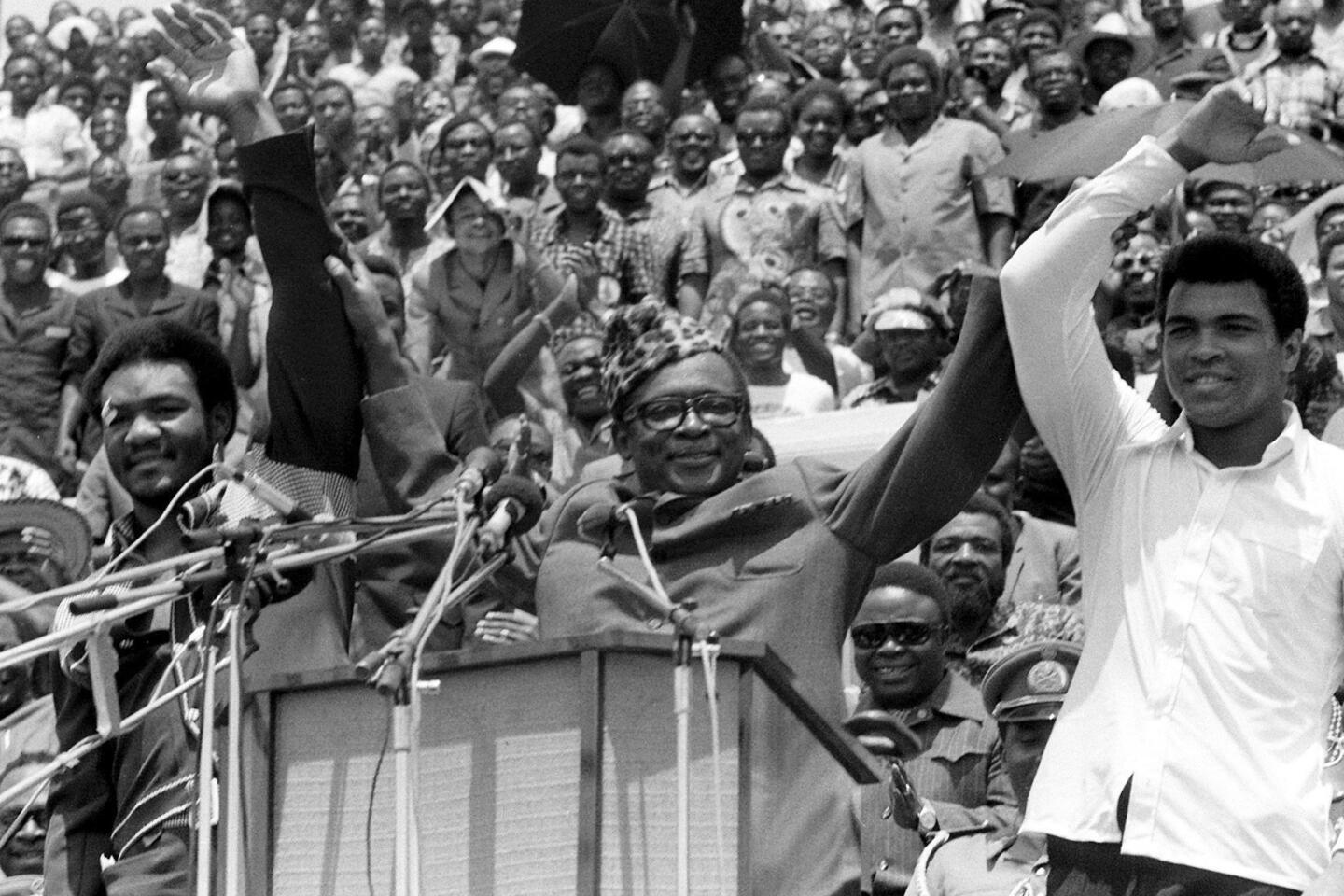 Mobutu Sese Seko, center, president of Zaire, raises the arms of George Foreman, left, and Muhammad Ali during a rally in Kinshasa on Sept. 22, 1974, to promote their upcoming heavyweight title bout.
(Horst Faas/ Associated Press)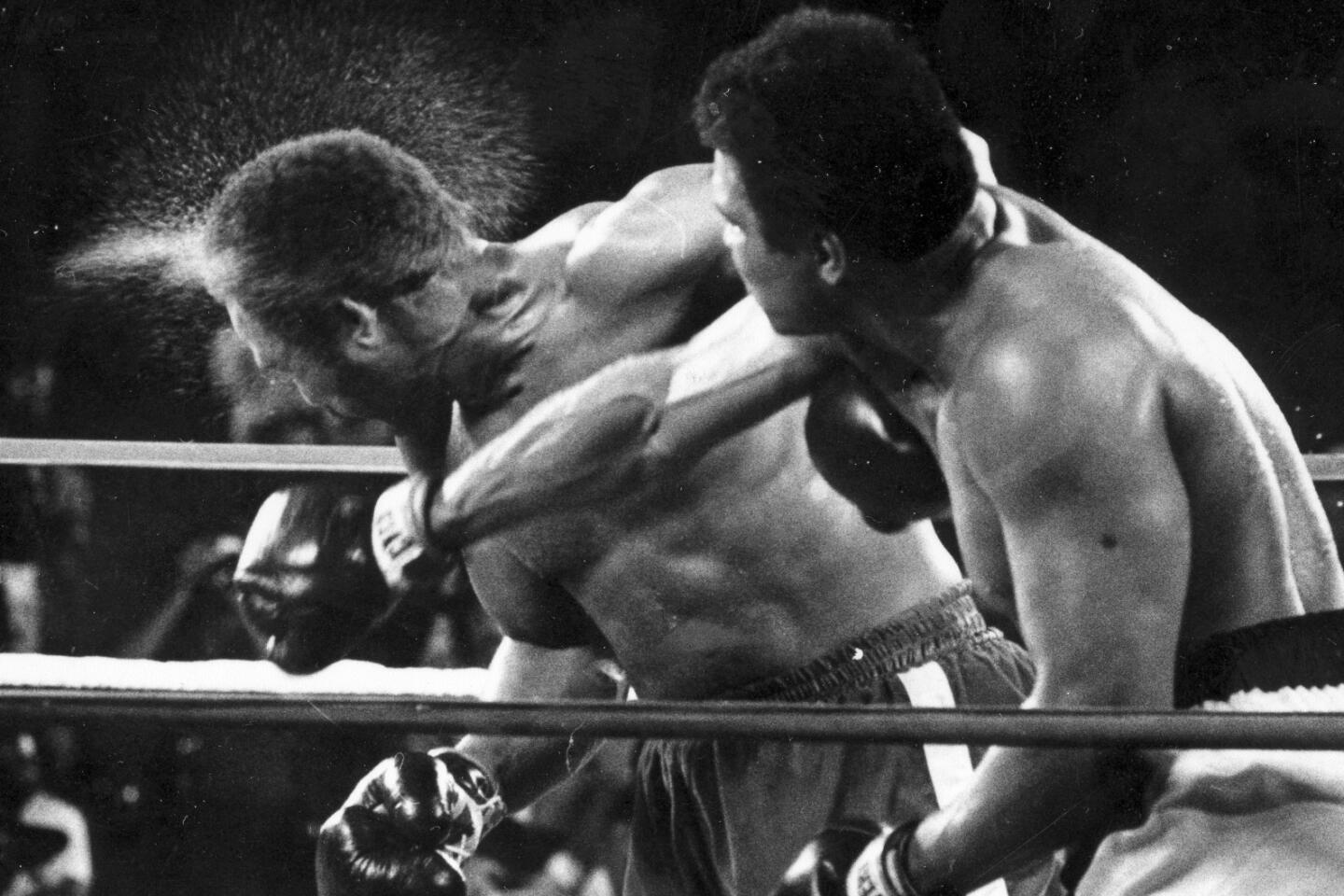 Muhammad Ali, right, punches George Foreman in the head during their heavyweight title bout in Zaire on Oct. 30, 1974.
(Ed Kolenovsky / Associated Press)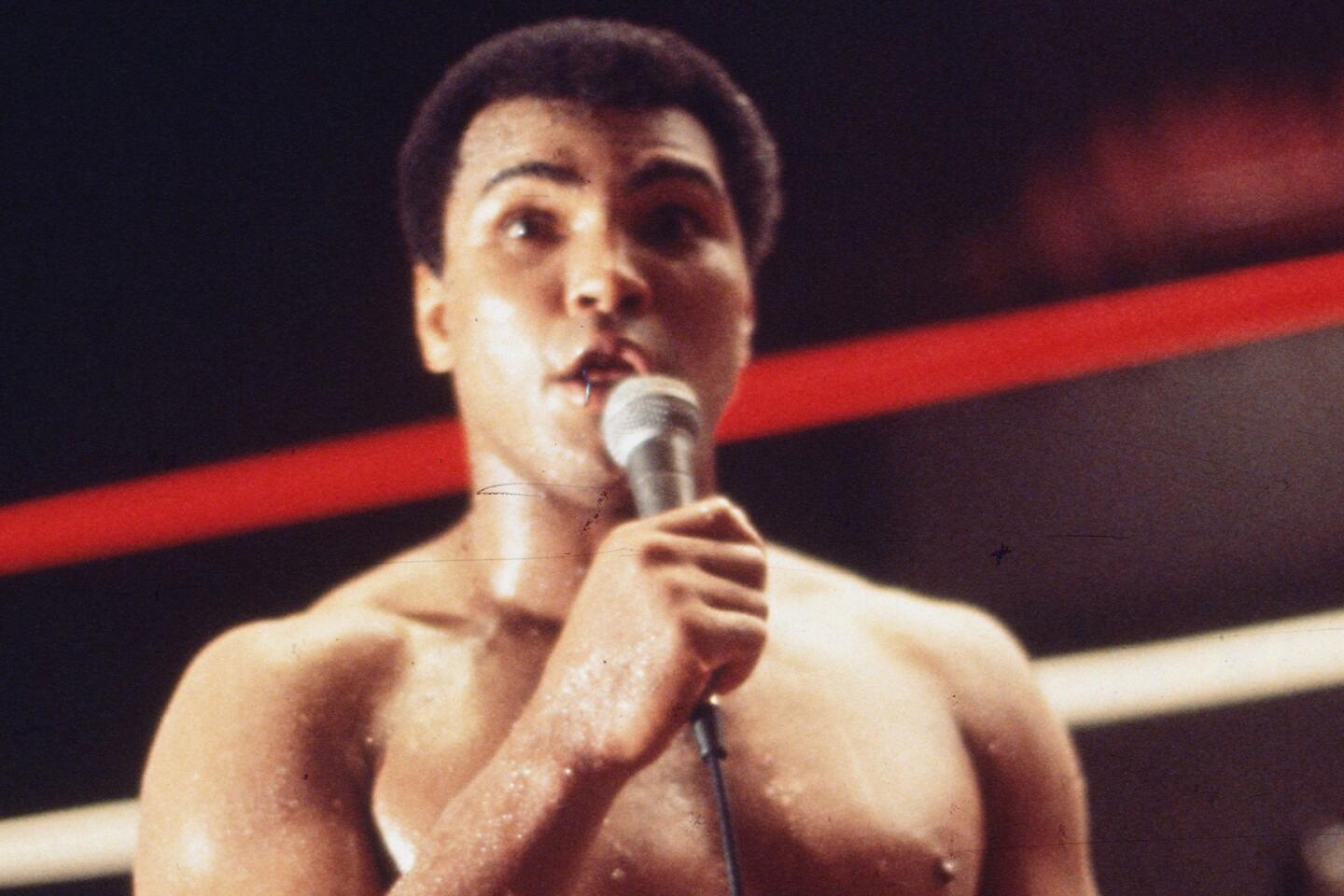 Muhammad Ali addressing the crowd before his heavyweight title victory over Leon Spinks in New Orleans in 1978.
(Keystone / Getty Images)
Boxing legend Muhammad Ali, right, clowns around with Oscar De La Hoya while appearing together in New York on Dec. 2, 1997.
(Doug Kanter / Associated Press)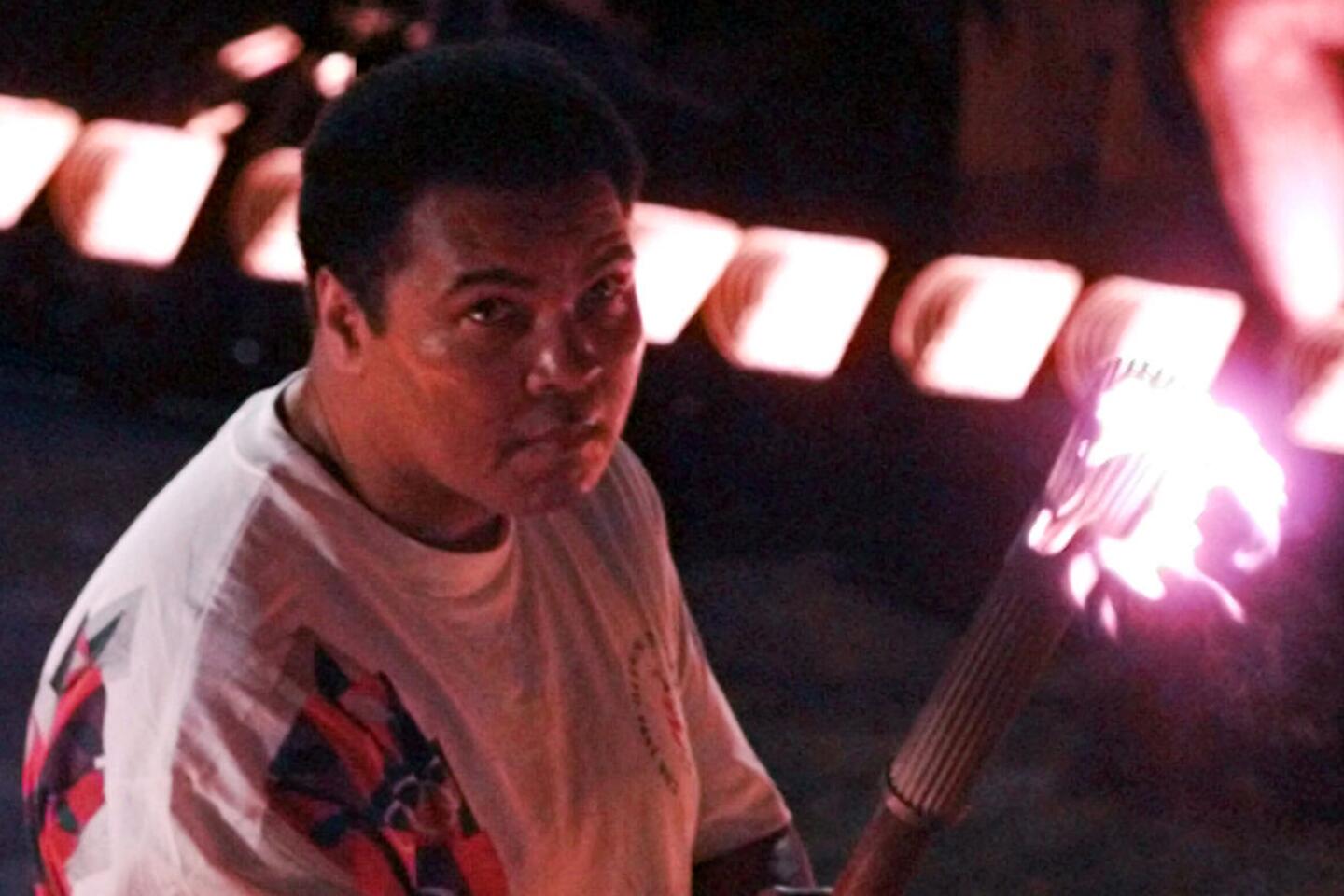 Muhammad Ali watches as the flame climbs up to the Olympic torch while taking part in the opening ceremonies of the 1996 Atlanta Olympic Games.
(Doug Mills / Associated Press)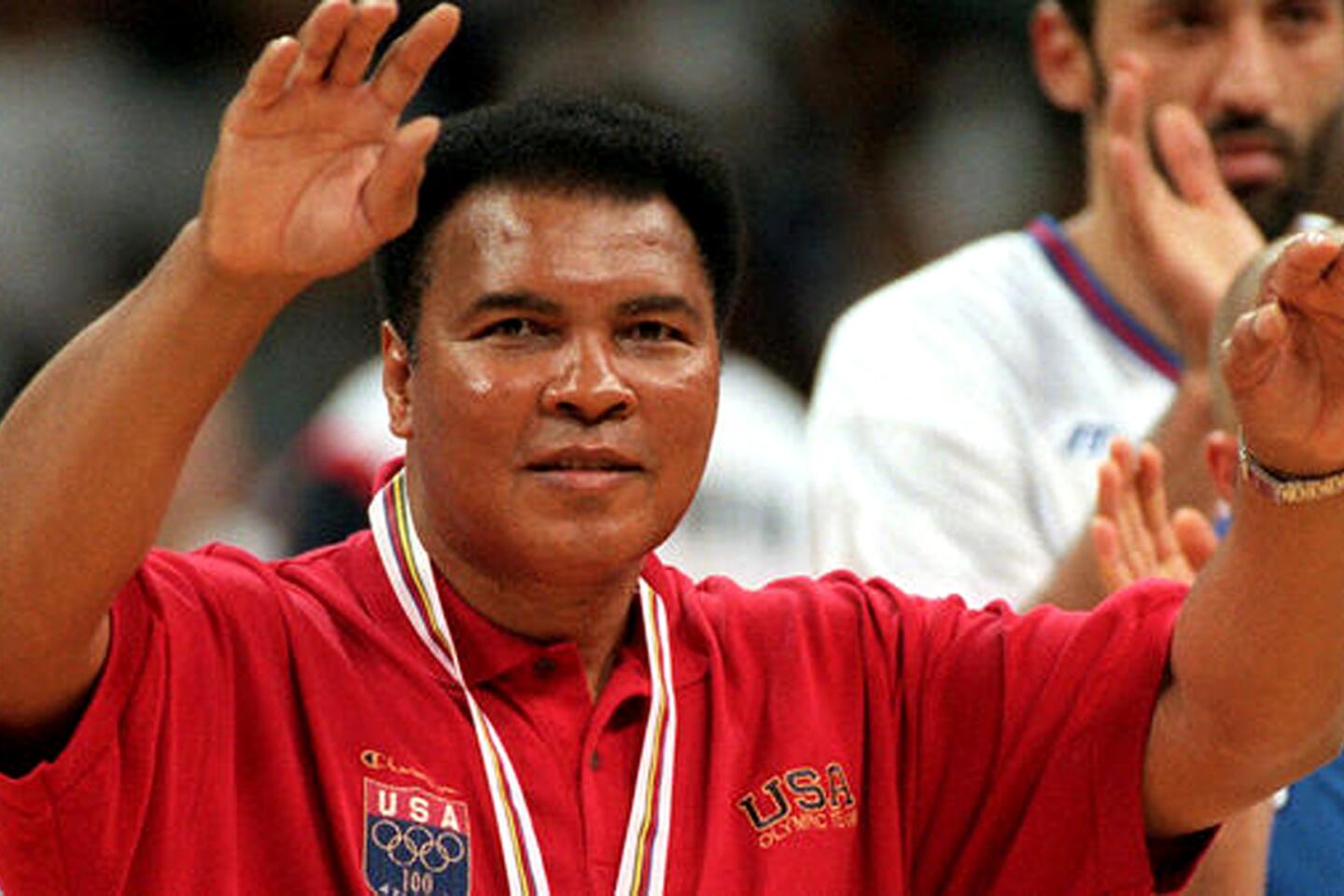 Muhammad Ali acknowledges the cheers of the crowd during halftime of the gold-medal basketball game between the United States and Yugoslavia at the Atlanta Olympic Games on Aug. 3, 1996.
(Paul Morse / Los Angeles Times)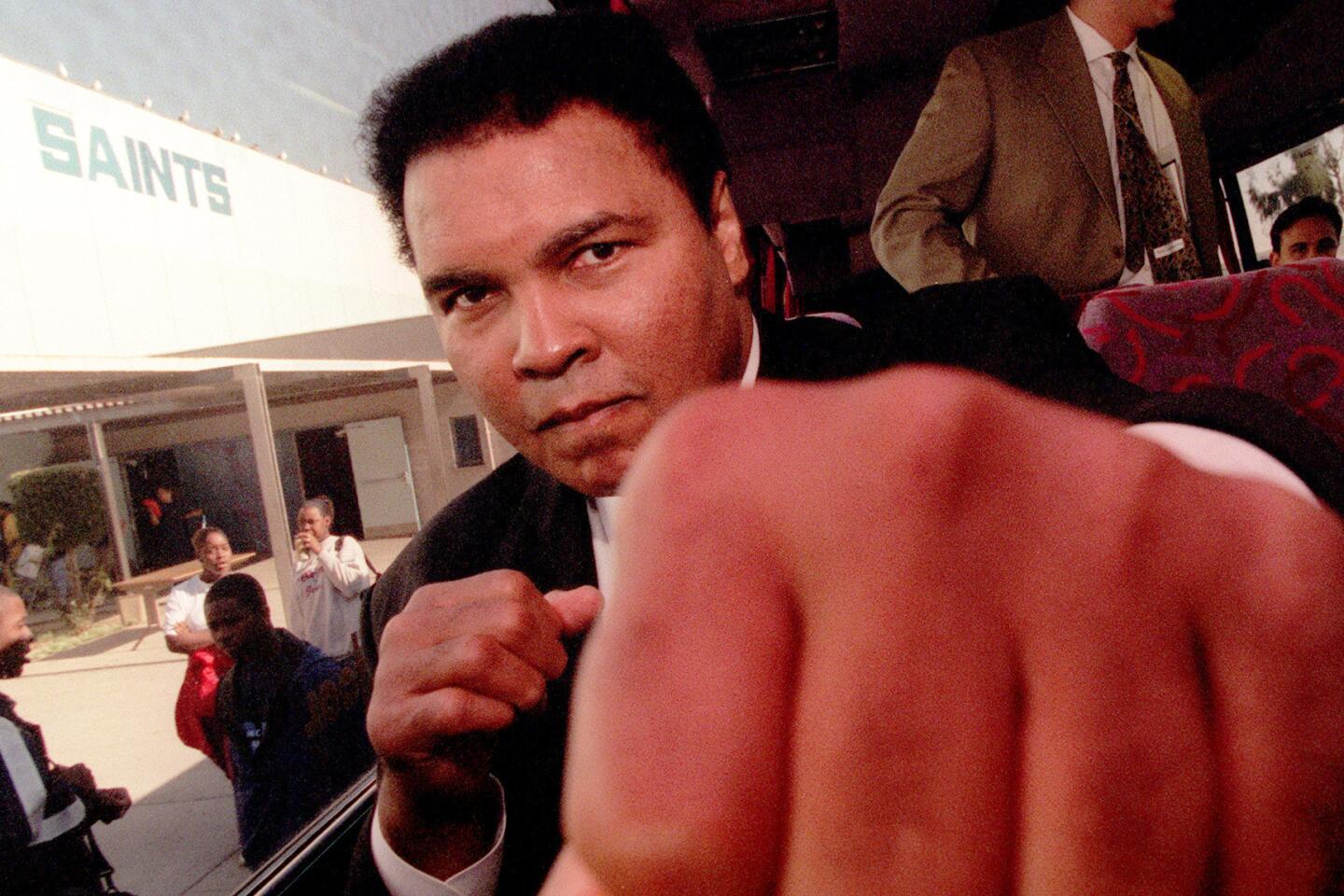 Former heavyweight champion Muhammad Ali throws playful punch toward a photographer while sitting on a bus in front of Locke High School in December 1996.
(Ken Lubas / Los Angeles Times)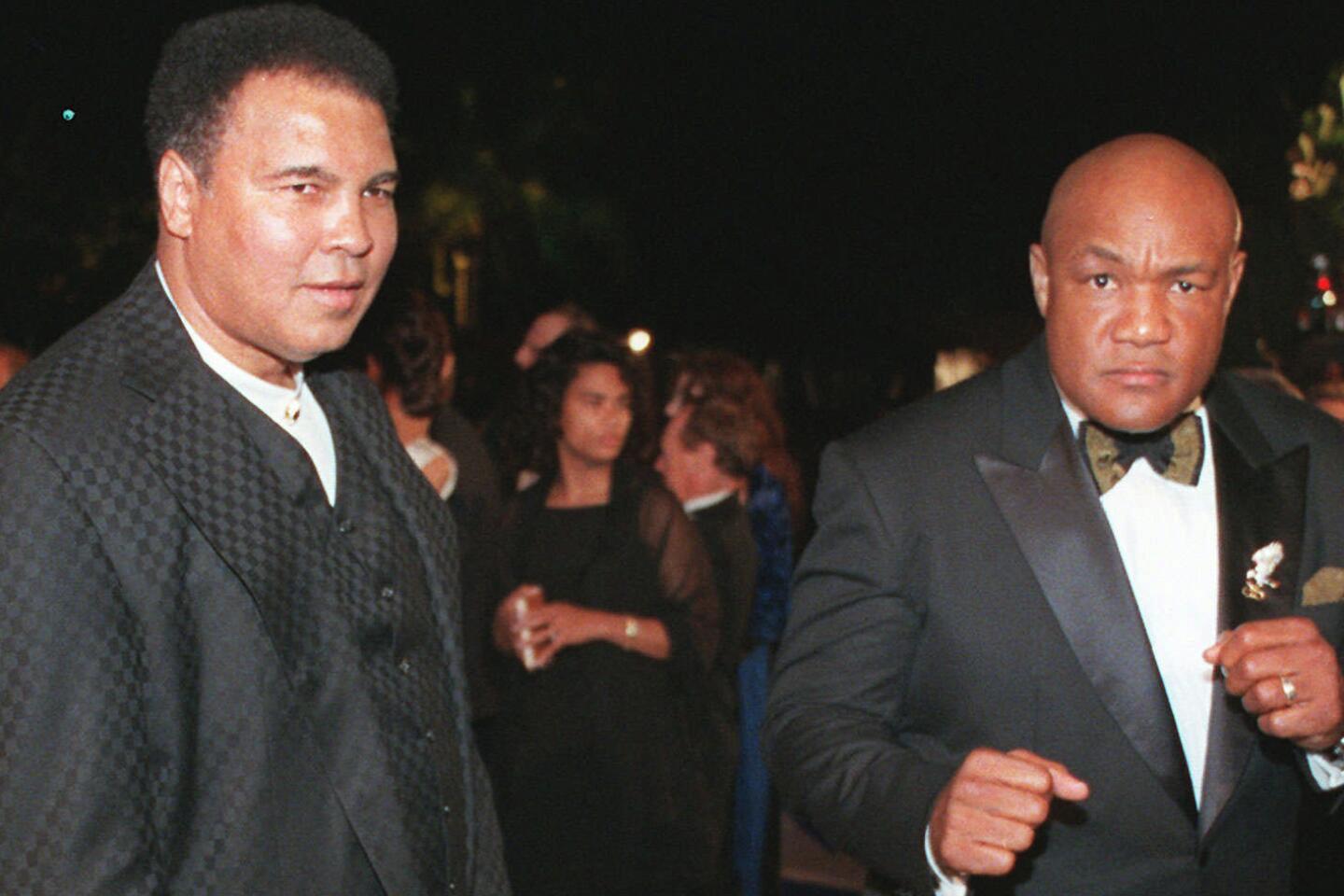 Muhammad Ali, left, and George Foreman arrive at the Vanity Fair Oscar party in Los Angeles on March 24, 1997.
(E.J. Flynn / Associated Press)
Boxing great Muhammad Ali, left, and heavyweight champion Evander Holyfield pose for the camera while attending the ESPY Awards in New York on Feb. 10, 1997.
(Timothy A. Clary / AFP / Getty Images)
Muhammad Ali, right, and his daughter, boxer Laila Ali, pose for a picture during a celebrity roast for charity in Los Angeles on Nov. 16, 2000.
(Kevork Djansezian / Associated Press)
President Bill Clinton presents boxing great Muhammad Ali with a Presidential Citizens Medal during a ceremony at the White House on Jan. 8, 2001.
(Ron Edmonds / Associated Press)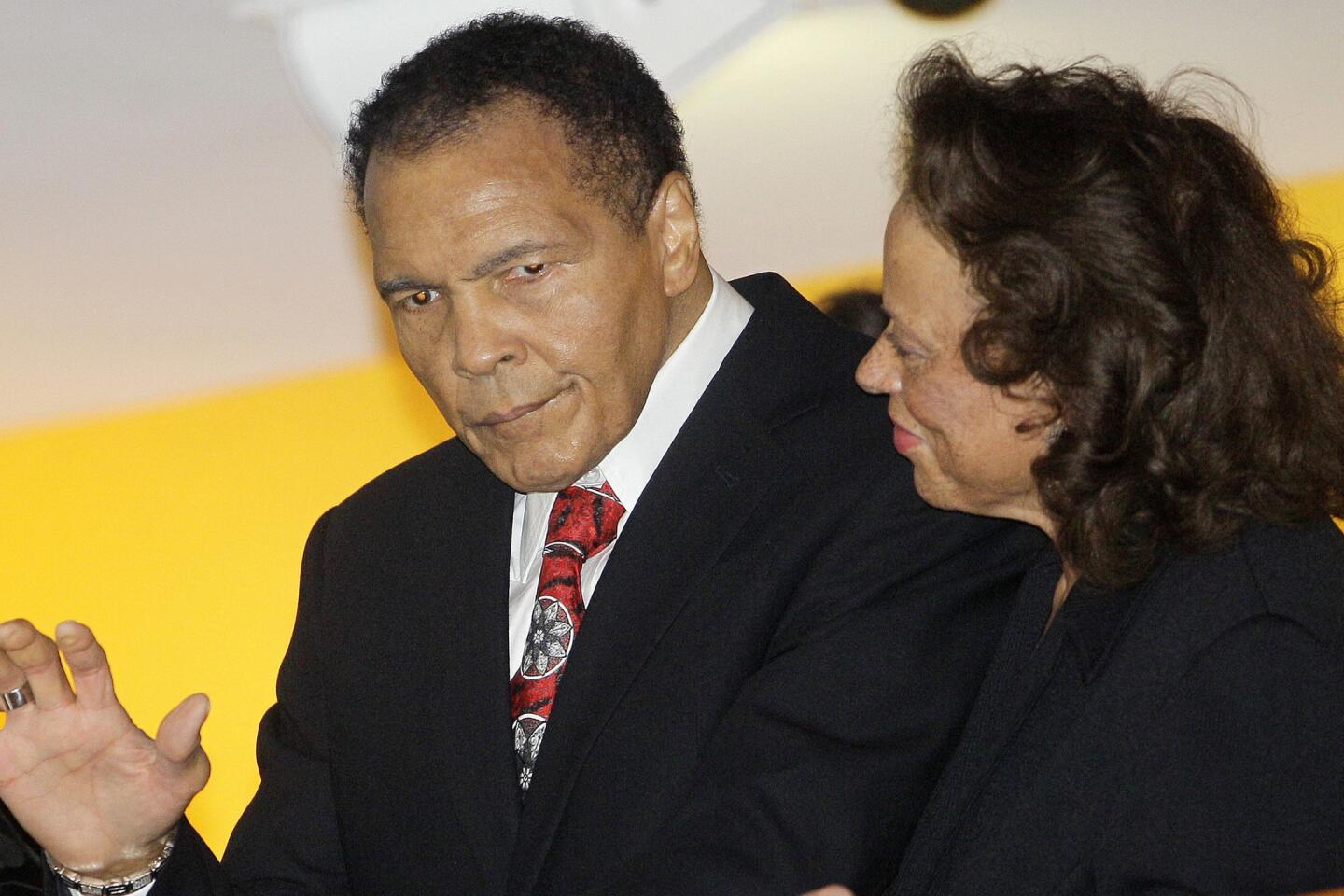 Muhammad Ali stands with his wife, Lonnie, while waving to friends attending his 70th birthday celebration at the Muhammad Ali Center in Louisville, Ky., on Jan. 14, 2012.
(Mark Humphrey / Associated Press)
"Afterward, I read the Playboy he was in and then every interview he did and I realized, 'This guy, he was talking about how I couldn't go 15 rounds ... .' In one interview, he said, 'Nobody can fight for 15 rounds. I'm going to fight for a few rounds, then coast a little bit, then fight a couple more rounds.' If I had just read a couple of those things, I would've beaten him."
Foreman laments he "played right into Ali's hands" by believing the challenger was actually afraid of him as the fight neared.
"Muhammad was a master. He'd act as frightened as could be. I'd put a hand near his face and he'd act scared," Foreman said. "Look, all those amateur boxing matches he had, Sonny Liston ... no way he was afraid of me."
On fight night, Ali implemented the "surprise" tactic he'd discussed before the fight, the famed "rope-a-dope," in which he backed to the ropes and blocked or absorbed a slew of Foreman's heaviest punches, letting the champion exhaust himself.
"Usually, you finish a guy after hurting him. I just wanted to finish him," Foreman said. "All I was getting from my corner was 'Kill him, kill him, kill him!' It was like a rap song.
"After three rounds, I had hurt him a few times and he looked at me and I realized, 'This is a different fight ... this guy ... somebody lied.' I hit him in the side real hard. He just covered up and went back to the ropes. After the third round, the bell rings, he says, 'I made it!'
"I saw his face and realized this is not the fight I planned. This guy can take a punch and can hit back."
In the eighth round, Ali again took himself to a corner and weathered some fatigued Foreman rights before moving off and unloading a flurry of punches, including a left that stunned Foreman and a crushing right to the head that caused the massive man to crash to the canvas.
"He never hurt me. Never. I was hitting on him, he squeezed and turned around and hit me with a combination, a one-two punch. I braced myself to stop the fall and hit the floor. It was a good shot," Foreman said.
"That right hand was the fastest punch I've ever been hit with. Never been hit so fast. It was like he was a lightweight. I didn't even see it coming. I waited, my corner told me to hold it, I jumped up, the fight was over."
Foreman said that afterward he "fired 'em all. ... They should've been smart enough to say, 'Pace yourself George, don't try to win every round.' "
Foreman held on to the resentment for years, even taking to fighting five journeymen on one night with Ali and Howard Cosell watching ringside less than a year later, as if that would prove the endurance that Ali exposed.
In an interview in 1978 with Times sports columnist Allan Malamud, Foreman was asked what really happened in Zaire. There were persistent rumors Foreman had been drugged.
"I got beat," Foreman answered. "As soon as I said that, I found peace. I realized all those years I wasted — those were the best years ... the two of us could've been friends that whole time instead of me being so angry.
"So I keep that photo as a reminder. I love the guy. I just wished I had said what I should have then ... ."
Twitter: @latimespugmire
ALSO
Muhammad Ali: His final fight still had fans cheering
Deeply personal 'I Am Ali' scores an intimate knockout
Muhammad Ali defied the draft -- and polarized the nation -- 49 years ago today
Get our high school sports newsletter
Prep Rally is devoted to the SoCal high school sports experience, bringing you scores, stories and a behind-the-scenes look at what makes prep sports so popular.
You may occasionally receive promotional content from the Los Angeles Times.