Column: Jerry Dipoto puts Angels' bullpen in order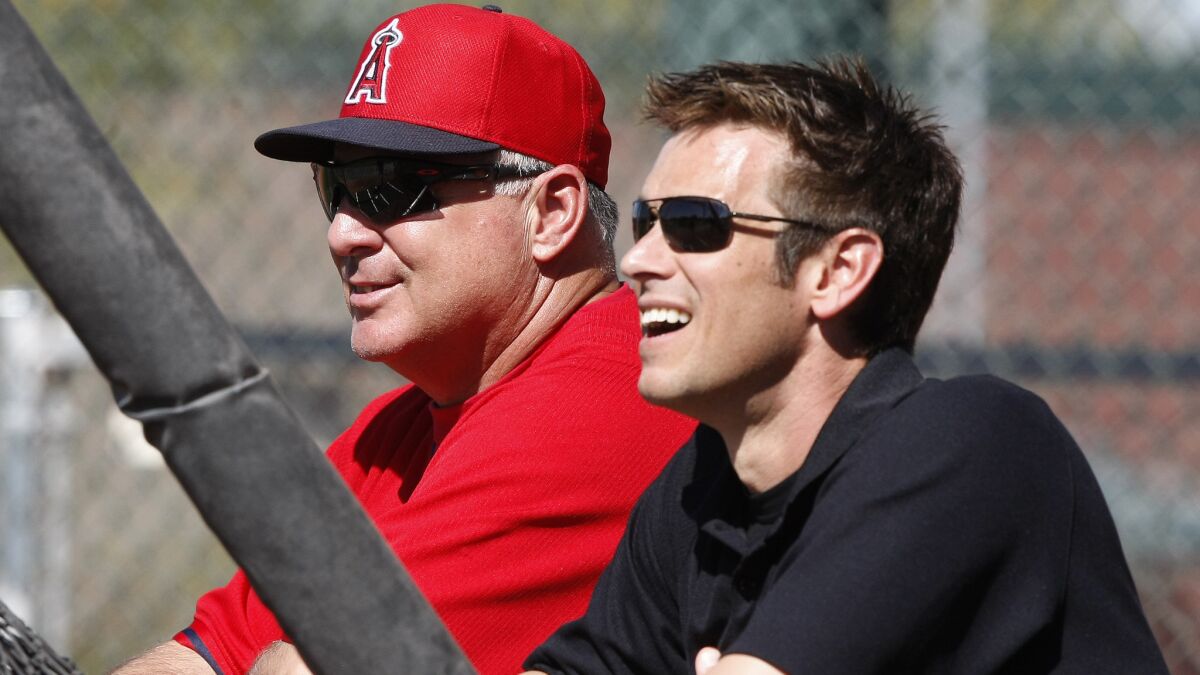 Of the four finalists to become the San Diego Padres' general manager, none played in the major leagues. Of the 29 currently employed general managers, three played in the majors.
Billy Beane and Ruben Amaro played the outfield.
Jerry Dipoto pitched. He appeared in 390 games, all in relief.
For the Angels, this should offer an edge, an insider doing the trading. You would think that a playing career spent entirely in the bullpen would help Dipoto put together a bullpen, in his new career as the Angels' general manager.
"I think it is probably two totally different skill sets," Dipoto said. "I think you'll probably realize, just from grading my past performance in that regard, I may have been better at one than the other.
"I'm not sure which one that is."
That comes off as a self-deprecating rim shot, but he is not kidding.
"I was fairly average as a reliever, at best," Dipoto said. "And we have struggled to put together the right group here, over time."
As the Angels' first general manager of the Mike Scioscia era, former major league pitcher Bill Stoneman had a Midas touch, spinning waiver claims and low-round draft picks and independent league refugees into golden bullpens.
In contrast, in his three years as the Angels' GM, Dipoto has thrown a lot against the bullpen wall, with very little sticking to it.
That is what makes this week so special for Dipoto. As the Dodgers and other teams race to add relief help in advance of Thursday's trading deadline, Dipoto already has completed a bullpen makeover, all the more impressive given the relative lack of resources available to him.
The Angels might well have swapped all their chips for an elite starter, a prudent Plan A given the suspect rotation behind Garrett Richards and Jered Weaver.
But they lacked the budget to secure that kind of starter beyond this season and, more importantly, they lacked the elite prospect necessary for such a trade.
They had minor league players, but no one like Addison Russell, the shortstop standout the Oakland Athletics flipped for Jeff Samardzija, or the Dodgers' power prospect pack of outfielder Joc Pederson, infielder Corey Seager and pitcher Julio Urias. They had some young major league talent, but not enough to prevent making a trade that might fill one void while opening another.
Relievers come more cheaply. That left the Angels with Plan B, essentially the restoration of the 2002 World Series championship blueprint — load up on the back end of the bullpen, hope for five or six good innings from the starters, and outhit the other guys.
"That is always the alternative," Dipoto said. "That is exactly what we did.
"It's easy to dream up great deals for high-end starting pitchers. They're usually not available, and they cost a lot more than you think at the water cooler on Monday morning. The volume of players, and the impact and quality of players that you have to give up to make those kinds of trades, cuts so deep that you'd be taking away from what got us here. And we don't want to ruin what got us here."
Dipoto has steered the Angels away from their fetish for "power arms," both with trades for closer Huston Street and left-handed specialist Joe Thatcher, with the off-season signing of setup man Joe Smith, and with the use of such middle relievers as Mike Morin and Fernando Salas. In that group, no one throws 95 mph, even in this era where a pitcher's strikeout rate is hailed as a predictor of success.
From his days as a player, Dipoto said, he realized the best bullpens had pitchers that threw at a variety of speeds, and from a variety of angles. From watching the bullpens he assembled blow a variety of saves, he realized throwing strikes was better than throwing hard.
"That is probably the thing that has changed most about our bullpen as the year has gone by, and particularly the last 30 or 40 days," Dipoto said. "We have become a lot less about velocity and a lot more about commanding the strike zone."
Over the last year, Dipoto also has emphasized the need to add pitchers with minor league options, to maximize the ability to shuttle relievers between Anaheim and the minor leagues as needed.
If he can get one thrown into a trade — Salas in the deal that sent outfielder Peter Bourjos to St. Louis for third baseman David Freese, for instance, or Cory Rasmus in a deal that sent veteran reliever Scott Downs to Atlanta — so much the better. When the Angels needed an extra outfielder Saturday, they sent Salas to the minors, without the risk of losing him on waivers.
The Angels have used 25 relievers this season, four shy of the American League record, set by the 2012 Toronto Blue Jays.
Of the six teams in major league history to use more relievers than the Angels have this season, five finished with a losing record. The 2011 New York Yankees used 26 relievers and won the American League East.
The Angels' relievers rank ninth in the AL in earned-run average, after ranking 13th last year and 12th two years ago. The Dodgers' relievers rank 12th in the National League this year.
The Angels have used 11 relievers for three or fewer appearances this season.
The Dodgers have used 11 relievers, not counting catcher-mopup man Drew Butera. The comparison is not exactly fair, since the Dodgers have built their bullpen with veterans afforded a longer leash by virtue of their track records, an their contracts.
And the track record of Dodgers GM Ned Colletti virtually guarantees the team will add a reliever, and probably a starter too, perhaps this week, perhaps in the August trade window.
Dipoto thought he had the Angels' bullpen mess solved last year, when he signed free agents Ryan Madson and Sean Burnett. The two pitched a total of 101/3 innings for the Angels, all by Burnett.
Twice bitten but not shy, Dipoto went to three years on Smith, banking on his consistency and durability. Smith said the Dodgers wanted him too, but they would not extend their offer to three years.
If they had, the outlook for this frenzied week of trades might have looked a lot different, for the Angels and for the Dodgers. For now, for Dipoto, the trade deadline and the eighth inning are for the other guys to sweat.
Get our high school sports newsletter
Prep Rally is devoted to the SoCal high school sports experience, bringing you scores, stories and a behind-the-scenes look at what makes prep sports so popular.
You may occasionally receive promotional content from the Los Angeles Times.