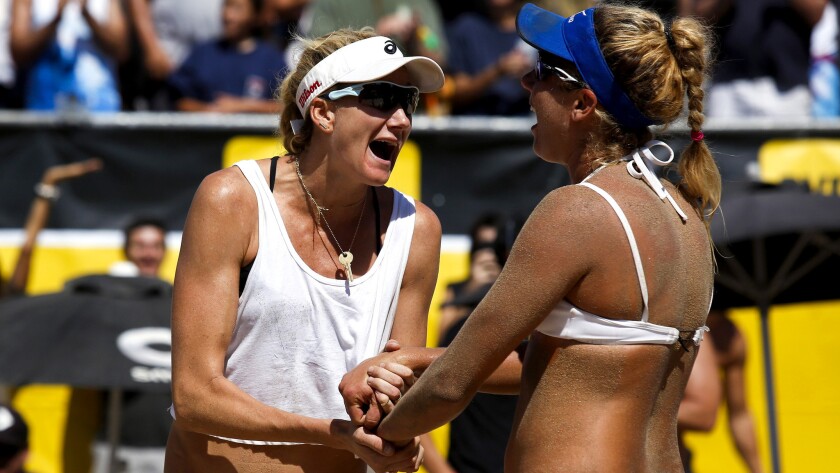 It's safe to say this beach volleyball season hasn't turned out the way Kerri Walsh Jennings thought it would.
Instead of playing at this week's Kingston AVP Championships in Huntington Beach with usual partner April Ross, Walsh Jennings opted for surgery to repair a torn labrum and torn capsule in her right shoulder. Her previous partner with whom she won a gold medal at the 2012 London Olympics, Misty May-Treanor, is playing at Huntington Beach, despite the fact she formally retired from competitive volleyball in 2012.
This is Walsh Jennings' new reality — and the reality of playing partner Ross, who's teaming up with Lauren Fendrick at Huntington Beach. Ross, for her part, is rolling with the punches.
"I try not, as a rule, to do the 'what if' thing," Ross said. "You have to deal with it when it comes along, and I haven't thought twice about how it went, or what if we were 100% healthy."
Walsh Jennings first dislocated her shoulder in May, then did it again in July. She took roughly a month off before returning for the World Series of Beach Volleyball at Long Beach, where she and Ross put together an unexpected run all the way to a second-place finish. Considering Walsh Jennings was serving underhand and couldn't spike the ball, it was an impressive showing.
"I was pretty limited as far as how I could adjust when I needed to adjust," Walsh Jennings said.
Walsh Jennings and Ross needed to rack up more appearances and points to help them qualify for the 2016 Olympics, so they also competed in Poland and Rio in recent weeks, adding respectable fifth- and ninth-place results to their tally.
"We literally went into this being like, 'Let's shoot for winning our pool, let's shoot for ninth,' " Walsh Jennings said.
Ross was slightly more reserved at the time.
"When she said that, I was kind of caught off guard, like, 'Oh my gosh, how are we going to do that?' And then to go into Long Beach and get second was just crazy," Ross said. "I was kind of blown away with our ability to do that. Teams started taking us more and more seriously and scouting us more, coming with a better game plan, and every match just got a little bit harder."
Though Walsh Jennings is sidelined probably until mid-March, she remains convinced the Olympics are still a realistic goal, especially after how she and Ross battled in recent international tournaments.
"That's how you win championships, and that's how we're going to win a gold medal next year," Walsh Jennings said.
The duo needs to play in five more qualifiers by June 12 and be one of the top two U.S. women's teams to make it to Rio.
And Ross, to her credit, has enjoyed success away from Walsh Jennings this year, winning the Seattle Open and the Manhattan Beach Open. She'll play her first match with Fendrick at 10:20 a.m. Friday against Amanda Dowdy and Heather McGuire. Walsh Jennings was scheduled for surgery Thursday, but will be keeping tabs on her regular playing partner's performance at the AVP season finale.
"If I'm clear-minded enough, I'll be watching for sure," Walsh Jennings said.
---