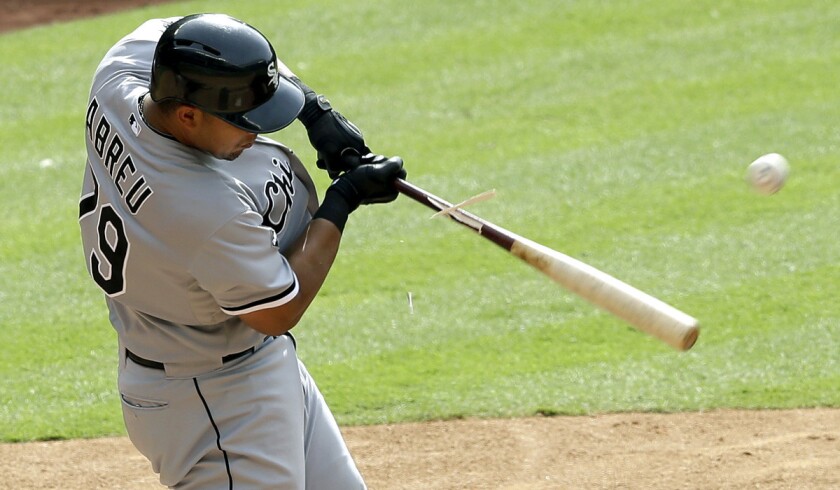 Major league home runs leader Jose Abreu of the White Sox has been placed on the 15-day disabled list with tendinitis in his left ankle.
The 27-year-old rookie first baseman left Saturday night's game against the Astros in Houston with a limp in the seventh inning. Abreu set rookie records for home runs (10), RBIs (32), extra-base hits and total bases in April.
He is hitting .260 with 15 homers and 41 RBIs in 44 games.
Manager Robin Ventura said Sunday that Abreu is in Chicago for further evaluation.
Outfielder Adam Eaton will be called up from his rehab assignment in Triple-A Charlotte to take Abreu's roster spot.
Eaton has been on the DL since May 3 with a strained right hamstring. He is hitting .276 with 14 RBIs.
Etc.
The St. Louis Cardinals have activated left-handed pitcher Jaime Garcia to start against the Atlanta Braves. Garcia had surgery for a torn labrum and rotator cuff last May. Sunday would be his first appearance in just over a year and the 100th of his career. To make room for Garcia, the Cardinal optioned right-handed reliever Jorge Rondon to Memphis on Sunday. ...
The Washington Nationals placed Gio Gonzalez on the 15-day disabled list Sunday because of inflammation in his pitching shoulder. This is the first time the 28-year-old left-hander has gone on the disabled list. Gonzalez (3-4) dropped his third straight start in Saturday's 5-2 loss to the New York Mets. The Nationals recalled Ryan Mattheus from Triple-A Syracuse. ... The Texas Rangers have recalled outfielder Daniel Robertson from Round Rock and optioned right-handed reliever Miles Mikolas to the triple-A affiliate.
---