Column: Dodgers need to close the deal and sign Bryce Harper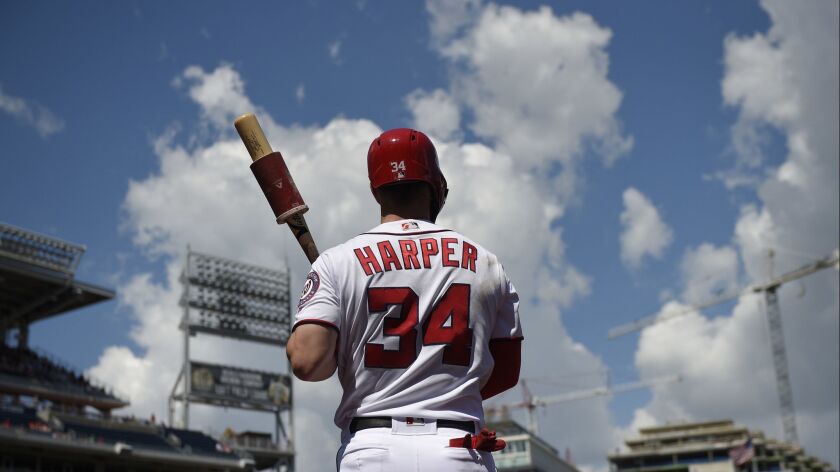 Close the deal, Dodgers.
Bryce Harper is out there, waiting. A different October is dangling there, ready. A statement of championship boldness is sitting there, scripted.
The Dodgers need to blink hard, dig deep and end this game of chicken now by signing baseball's marquee free agent outfielder so they can begin their third consecutive trip to the World Series and this time win the dang thing.
After several months of watching from the sidelines while they protected their pennies and settled for outfielder A.J. Pollock, the Dodgers jumped back into the Harper sweepstakes this week because they saw a chance to sign him on their terms.
Now that they're in the room, recent events make it obvious that they need to walk out with him in a Dodger uniform, because they must and because they can.
First, it's clear that Harper doesn't really want to play in Philadelphia. That has been his long-assumed destination, the Phillies were declared the winner early in the process, but lately it's become obvious they are his last resort.
The Phillies have, at times, reportedly been the only team willing to give him the 10-year deal he wants for the $300-million plus he's demanding, but he hasn't signed yet? Hello? If he really wanted to be there, he would have signed moments after Manny Machado broke the free-agent thaw by signing with the San Diego Padres.
And really, why would Harper want to spend the next decade playing for the Phillies? They're located right down the road from his former home with the Washington Nationals, same division, same modest championship dreams. If he wanted to go to Philadelphia, he would have just stayed in Washington, no?
Second, it's also become clear in recent days that the Dodgers can accelerate their long-term spending schedule because their potential top free-agent target next winter is no longer free. Nolan Arenado, the Colorado Rockies third baseman and a Southern California kid who was thought to be headed this way next season, re-signed with the Rockies for eight years and $260 million.
To put this in terms that the many blue-wearing Laker fans will understand, this was like Paul George suddenly deciding to stay in Oklahoma City. The Dodgers will never say they were counting on Arenado, but they sort of were, and his instant unavailability changes everything.
All that money they were going to spend on Arenado next year, they can spend it now, for a player who can make a similar impact, with the benefits of helping this quickly aging roster a year sooner.
Finally, the stakes became even higher Wednesday with the news that the San Francisco Giants are seriously involved. According to various reports, the Giants met Harper in his Las Vegas home for a second time on Tuesday, and are discussing the sort of 10-year deal that the Dodgers reportedly will not give him.
OK, listen Dodgers, if you're really making a pitch for Bryce Harper, you can lose him to 28 other teams, but you cannot lose him to the Giants. You cannot get outspent by your rivals who have won three World Series championships in nine years while you have won zero in 30 years. Andrew Friedman cannot be outmaneuvered by his former lieutenant Farhan Zaidi.
Dodger Stadium cannot lose to whatever the Giants are calling their cramped ballpark these days.
There's also no real indication that Harper wants to play in San Francisco, where future Hall of Fame manager Bruce Bochy is retiring after this year and where Zaidi has embarked on a rebuilding project that could take several years.
Here's guessing Harper, 26, wants to win while he's in his prime. He wants to take advantage of his marketability while he still has all that hair. He wants to be forever associated with an iconic franchise in a giant market.
The Dodgers are the only team still in the running that can give him all of that, so now they just need to figure out the money and years, and, given their need for one more piece to possibly win one or two more World Series games, they can't afford not to be generous with both.
Plus, have you been watching spring training? The Dodgers' cornerstone, Clayton Kershaw, is once again a physical question mark. Their best young position player, Corey Seager, basically hasn't played in a year. And who knows how quickly a slimmed-down Kenley Jansen will recover from off-season heart surgery?
They need Harper as much as he needs them. They are his best option for immediate baseball happiness, and he is theirs. They are a match made, if not in heaven, then certainly in Las Vegas, and absolutely right now.
So what's the problem?
Close the deal, Dodgers.
Sign up for our daily sports newsletter »
Get more of Bill Plaschke's work and follow him on Twitter @BillPlaschke.
---
Get our high school sports newsletter
Prep Rally is devoted to the SoCal high school sports experience, bringing you scores, stories and a behind-the-scenes look at what makes prep sports so popular.
You may occasionally receive promotional content from the Los Angeles Times.