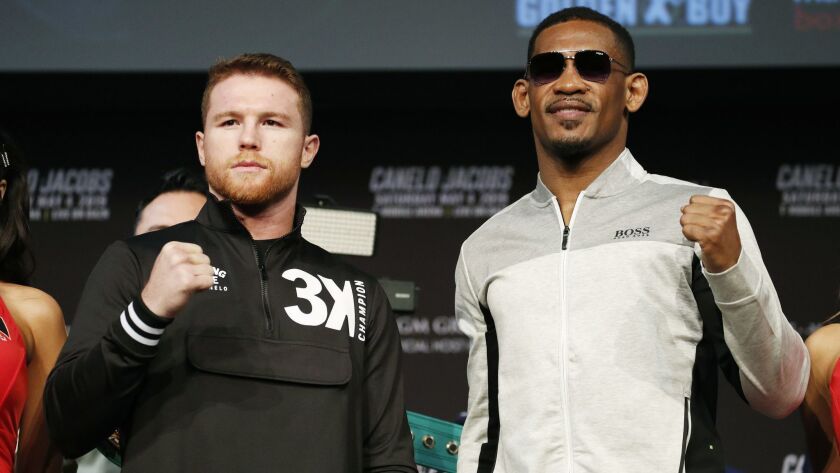 Reporting from las vegas —
Daniel Jacobs was a spectator the last time Glenn Feldman, Dave Moretti and Steve Weisfeld judged a boxing match of this magnitude.
That was in September, when Canelo Alvarez was officially awarded a split-decision victory in his rematch with Gennady Golovkin. Jacobs' eyes told him something else happened, which was that Golovkin deserved the victory. Jacobs wasn't alone.
TheOcean's Three will reassemble Saturday, as the same judges who declared Alvarez the winner over Golovkin were appointed by the Nevada Athletic Commission for Jacobs' showdown with the popular Mexican gladiator at T-Mobile Arena.
In other words, lock the doors, set the alarms and hold on to your wallets.
Speaking of wallets, Jacobs' will be fattened substantially, which is probably why the Brooklyn fighter is about the only person outside of Alvarez's camp who doesn't have questions about the officiating. By the most important measure, Jacobs has already won. He figures to collect the first eight-figure check of his career.
Sign up for our daily sports newsletter »
"I'm very comfortable with the judges that we have," Jacobs said, exhibiting the amount of peace of mind that comes can be purchased for $12 million or so.
In defense of the judges, the rematch between Alvarez and Golovkin last September was close. The verdict was certainly defensible. And for what it's worth, Feldman, Moretti and Weisfeld are considered three of the best judges in the world. Feldman scored the fight a draw.
Only it so happened that Moretti and Weisfeld ruled in favor of the fighter who generates the most revenue for the sport's powers-that-be, from sanctioning bodies to the casinos to the media entity broadcasting the fight.
Alvarez's initial encounter with Golovkin, in 2017, was ruled a draw. Jacobs also saw Golovkin as the winner in that fight.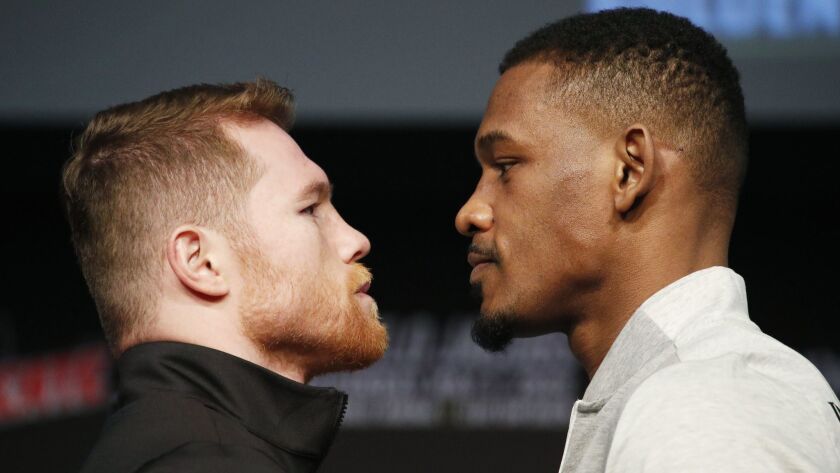 Jacobs suggested the judges might have been swayed by how the pro-Alvarez crowd reacted whenever Alvarez threw punches.
Whatever the case, the high percentage of close decisions won by the so-called "house fighters" points to some sort of bias influencing outcomes, whether it be conscious or not.
"There should be a spotlight on the judges," said Jacobs' manager, Keith Connolly. "Why shouldn't there be a lot of scrutiny? I have confidence they'll do well. But Steve Weisfeld, Dave Moretti and Glenn Feldman should be held to a high standard because if you're going to be involved in a mega fight, you have a fiduciary responsibility to do the right thing – for the fans, for the sport and, more importantly, for the fighters."
Suspicions over the sport's invisible hand have affected the lines at the sportsbooks. While the fight is considered a toss-up in boxing circles, Alvarez is listed as a 4-to-1 favorite.
Connolly considers this no small matter.
"Think about this," Connolly said. "If Danny Jacobs beats Canelo Alvarez and they rob him Saturday night, it's not just of the victory. It's of tens of millions of dollars the next few years and it's also million and millions of opportunities over the course of the lifetime."
Connolly pointed to how Alvarez parlayed his victory over Golovkin into a $365-million contract with streaming service DAZN.
"Triple-G gets one-third of that," Connolly said. "The difference is what the judges did in those two fights. There were close rounds. It wasn't a robbery, but I don't think Golovkin lost either of those fights."
Jacobs endured a similar setback. He challenged Golovkin in March 2017, when the public's appetite was peaking for a potential fight between Golovkin and Alvarez. Jacobs lost a close unanimous decision.
So as Golovkin went on to fight Alvarez for middleweight supremacy, Jacobs spent the last couple of years taking on relatively anonymous opposition. What made standing on the sidelines easier to stomach were the handsome paychecks he received from HBO. Jacobs earned an estimated $1.6 million in his latest fight, a split-decision victory over Sergiy Derevyanchenko in October.
Jacobs again has a safety net in that his deal with DAZN calls for him to earn $4 million in each of his next two fights if he loses to Alvarez.
If Jacobs wins, Alvarez has the contractual right to force a rematch, which would guarantee Jacobs another eight-figure purse.
"All that I asked for was a fair shake," Jacobs said.
Jacobs didn't think he received that in his last visit to Las Vegas, in 2010, only the judges weren't to blame then. Jacobs was 23 at the time. He fought Dmitry Pirog for a vacant middleweight championship.
Jacobs was dropped in the fifth round.
"I was going to get up like the Undertaker and show them I was ready for battle," Jacobs said.
He never had a chance. When the count reached five, referee Robert Byrd waved off the fight. Jacobs immediately sat up to protest, only for Byrd to shove him back to the canvas.
"That haunted me more than the loss did," said Jacobs, who was leading on all three scorecards when the fight was stopped.
What baffled Jacobs even more was an encounter he had with Byrd several years later. They exchanged pleasantries at a banquet hosted by the Nevada Boxing Hall of Fame and went their separate ways. Jacobs said Byrd later sent someone to his table with a picture of Jacobs down and Byrd signaling the end of the fight.
"Asked me to sign the picture for him," Jacobs recalled incredulously.
"No, he didn't," said Jacobs' trainer, Andre Rozier.
"Yes, he did," Jacobs said. "I never told you that?"
"No, you didn't tell me that," Rozier said. "I would have …"
"To me, that was like insult to injury," Jacobs said.
Jacobs didn't sign the picture.
"Hell no," Jacobs said.
Nine years removed from that defeat, Jacobs was able to laugh at the memory. He almost certainly won't have the same reaction if another controversy erupts Saturday night.
Follow Dylan Hernandez on Twitter @dylanohernandez
---