European trio trying to play American football finds perfect landing spot in Southern Califiornia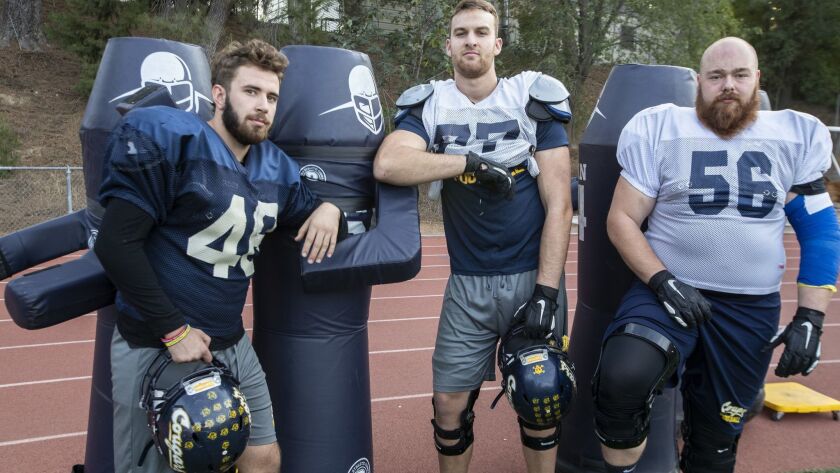 Even as a teen Philip Weinzierl was more a mountain than a man. And his size made it tough to find a home on the neighborhood soccer field.
"I played goalie, I played defender, I played striker," he said. None of them fit.
So one day the stocky boy detoured toward practice for another kind of football, the American kind, which was growing in popularity in the Bavarian town in Germany where Weinzierl grew up.
It was love at first down, set, hike.
"It just felt right from the perspective of, 'OK, this is the sport I want to do,' " said Weinzierl, who has grown to 6 feet 3 and 324 pounds. "The team spirit and everything, it just felt right and perfect."
Kilian Zierer, who grew up about 100 miles from Weinzierl, got his first peek at tackle football on a family vacation to Miami. The New England Patriots were playing the Pittsburgh Steelers on TV and the plus-sized 15-year-old couldn't take his eyes off the screen.
"When I came back from America I went to one practice and I just kept going," said Zierer, who stands 6-7. "It felt much better."
This fall the two Germans frequently lined up next to one another — Weinzierl at guard, Zierer at tackle — on the right side of the offensive line for College of the Canyons, the state's top-ranked junior college team. And they aren't the only Europeans who play for the unbeaten Cougars. Poland's Patryk Guk is a reserve linebacker for Canyons, which opens the Southern California community college playoffs Saturday when it hosts No. 6 Ventura.
All three freshmen found their way to Santa Clarita through email, first writing the school, then following up with a highlight video. Weinzierl and Guk learned about Canyons through Europe's Elites, a group started in 2016 to showcase continental players for U.S. colleges and one with deep ties to Canyons: It was founded by Evan Harrington, a former all-state linebacker at the school, and last year hired David Padilla, a former Valencia High and Canyons player, as its strength and conditioning coach.
"They reached out to us," said coach Ted Iacenda, who acknowledged his first concerns had little to do with football.
"The key is can they make it work financially?" said Iacenda, who as a junior college coach can offer no aid. "These kids are on their own. It's a struggle."
All three have made ends meet, they say, through a combination of savings and help from their parents. The struggle on the field, however, has been far more difficult.
Guk wound up on defense after telling his first coach in Poland he had been a wrestler. "Oh, you know how to put people down?" the coach asked. "I'll put you at linebacker." That was pretty much the end of the coaching.
"Most of the stuff I learned was from YouTube," Guk said. "Like pass-rushing techniques. Linebacker drills. My English wasn't that good so I translated from English to Polish."
He needed just one practice at Canyons to realize those videos must have been in slow motion.
"Oh my God, the speed was the biggest surprise for me," he said. "Guys here are really, really fast. To cover them? For me it's impossible for now."
American football is little-known in Poland, where Guk said it is often dismissed as a cheap imitation of rugby. But the sport has a long history in Germany, where five teams played in NFL Europe, a 16-year experiment in professional football that ended in 2007.
Germany's first domestic team was formed in 1977 in Frankfurt and barnstormed the country playing against teams from U.S. military bases. Two years later a league was founded, one that has grown to 16 teams at both the first- and second-division levels. And in 2016 Germany produced the first player to be drafted by the NFL straight out of Europe when the Minnesota Vikings took wide receiver Moritz Boehringer in the sixth round.
Plus, NFL games are now routinely available over the Internet in Germany.
All that made the transition to Canyons easier for Weinzierl, 23, and Zierer, 18, who had both played in Germany, Weinzierl in the second-division German Football League 2 and Zierer for a pair of under-19 teams.
Weinzierl, like Guk, said the speed of the game is the biggest difference between Europe and the U.S.
"If you practice six to eight weeks you kind of get used to it," he said.
Zierer, however, is still struggling with some of the finer points of offensive line play.
"My technique was completely different. So we had to change all of it," he said. "And we're still practicing technique."
Their background has given them one advantage, though: Sometimes when they line up side by side they'll call out blocking assignments in German, confident no one on the defense will understand them.
Iacenda likens the lower-tier leagues where the two played to a good high school league.
"They knew how to play football," he said. "They knew how to block. We cleaned up a lot because they were raw in a sense. But it wasn't like they were just giant human beings that had never seen American football before."
If they continue to progress, Iacenda thinks both can play for a major college.
"They both have a lot to learn but their ceilings are very high because of their size," he said. "Everybody wants big kids. And there's not enough big kids to go around.
"So at the end of their two years here they're going to be highly, highly recruited."
That prospect excites Zierer but Weinzierl isn't so sure he wants to play beyond junior college. A business student with a 3.82 grade-point average, he wants to put his education to use in Germany.
The odds for Guk are much longer. Undersized for a linebacker at 5-11, 205 pounds – "Six feet with my shoes on," he said — he has to grow both his body and his game.
"I don't think [he] played the game in quite the league that Philip and Kilian did. So he has a lot to learn," Iacenda said.
Even so, Guk and his teammates have already enjoyed uncommon success in the U.S.: 10 games into their first season of college football, they're still unbeaten and their team is a juggernaut.
Canyons goes into the playoff game Saturday averaging more than 35 points and 436 yards of total offense. Seven times the Cougars have scored more than 30 points in a game; seven times they've held opponents to fewer than 10.
"We've put them through the ropes. They've gotten better every week," Iacenda said of the European trio. "They're playing at a pretty high level right now."
kevin.baxter@latimes.com | Twitter: @kbaxter11
---
Get the latest on L.A.'s teams in the daily Sports Report newsletter.
You may occasionally receive promotional content from the Los Angeles Times.