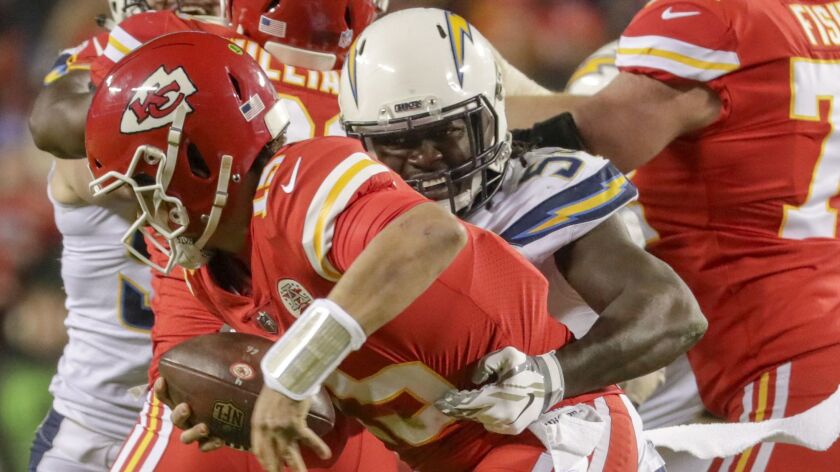 The Chargers will play internationally for the second consecutive year when they host their AFC West rival Kansas City Chiefs in Mexico City's Estadio Azteca during the 2019 season, the NFL announced on Monday. The date and time for the game will be announced in conjunction with the release of the full NFL schedule this spring.
The NFL will play four games in London next season: the Rams vs. Cincinnati; Houston vs. Jacksonville; Carolina vs. Tampa Bay; and Chicago vs. Oakland.
The Chargers played Tennessee in London on Oct. 21, holding on for a 20-19 win when defensive back Adrian Phillips tipped a Marcus Mariota pass intended for Taywan Taylor in the back of the end zone, denying a two-point conversion that would have given the Titans a one-point lead with 31 seconds left.
The Chiefs were scheduled to play the Rams in Mexico in November, but poor field conditions at Estadio Azteca, the result of several soccer games and concerts as well as a significant amount of rain, caused the NFL to move the game to Los Angeles.
The trip to Mexico City will be the Chargers' seventh game played abroad in franchise history and the third to be played during the regular season.
The Chargers played the first NFL game outside North America in August 1976, an exhibition game against the St. Louis Cardinals in Tokyo. They played preseason games against the New York Giants in Berlin (1994), the Pittsburgh Steelers in Tokyo (1996) and the Denver Broncos in Sydney, Australia (1999).
The Chargers played the NFL's second-ever regular-season game in London against the New Orleans Saints in 2008 but did not return to the United Kingdom for another decade.
Tom Brady leads Patriots to third straight Super Bowl with 37-31 overtime win over Chiefs »
"We're honored to represent the NFL internationally for the second time in as many seasons," A.G. Spanos, the Chargers' president of business operations, said in a statement.
"The opportunity to bring a divisional game to fans in Mexico City is exciting. The atmosphere at Estadio Azteca is going to be electric, and we look forward to adding to the storied history of one of the world's most iconic sporting venues."
Sign up for our daily sports newsletter »
The Chargers and Chiefs split their 2018 season series, with the Chiefs winning the season opener in Carson and the Chargers coming back from a 14-point fourth-quarter deficit for a 29-28 victory in Kansas City on Dec. 13.
The winning points in Arrowhead Stadium came on a Philip Rivers one-yard touchdown pass and a two-point conversion pass to Mike Williams with four seconds left. The teams both finished with 12-4 regular-season records.
---