Column: Compact, cozy StubHub Center could be just the ticket for a unique fan experience and a Chargers rebirth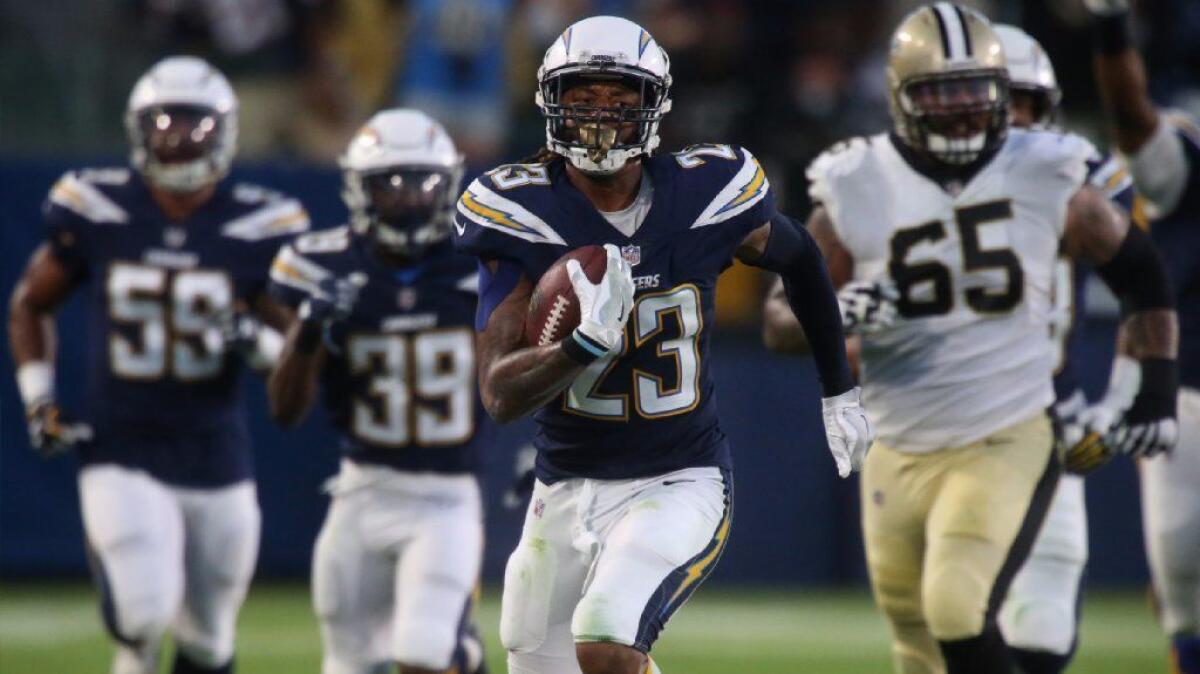 It was nearly the end of the first quarter at StubHub Center when, standing on a concourse overlooking the field, I ran into a fan who had not yet been to his seat.
He had not been stuck in traffic. He had not been slowed by security. He was not avoiding a section of drunks.
No, from the moment Clarence Perkins walked into the stadium for a preseason game between the Chargers and New Orleans Saints, he was so struck by the view, he couldn't sit down.
"For 40 minutes I've just been standing here," he said. "I'm just shocked at how close I am."
Down below, it appeared the Chargers and Saints were playing on an HD flat-screen TV, only it was real.
You could see every gesture, feel every hit, sense every motion, hear every kick. The pregame fireworks smoke fills your face. The officials' whistles buzz your ears. You don't need replays. You don't need binoculars.
It's that shocking, and that close, and with it, the Chargers have finally landed a real shot in their self-proclaimed "Fight for L.A."
After my first visit to their three-year temporary home Sunday, I can safely claim that, for an NFL viewing experience, StubHub Center kicks the concrete out of the Coliseum.
It is completely lacking in the Coliseum's majesty, totally devoid of its tradition, and only partially filled with fans. It will be absent the inspiring roar, the ancient chill, and everything that is so throwback cool to our city's venerable sporting palace. With the Coliseum's legacy personified on Saturdays by longtime fans who have lovingly turned it into a second home, it will forever be the perfect place to watch a USC football game.
But, goodness, StubHub Center is just a much, much better place to watch a pro football game.
"Compared to the Coliseum, this place is a paradise," said Matt Wheeler, 56, a contractor who drove down from San Fernando to see this gem for himself. "This is as good a place to watch football as I've ever been."
The Chargers have rightfully taken a lot of heat for failing to sell out the stadium's roughly 27,000 seats for either of their first two preseason games. They are beginning their inaugural Los Angeles season without the legacy or institutional love that belongs to their rival Rams. Even their television ticker abbreviation — does the "LAC" remind you of anything? — seems to reinforce their debut as the No. 2 team in town.
Yet spend five minutes at StubHub and realize, this stadium can be their great equalizer.
It was one thing to hear Chargers and AEG officials spend the last six months bragging about the uniqueness of bringing the NFL here. It's quite another, however, to see a game for yourself.
From virtually everywhere in this Carson soccer stadium, you really do feel like you're standing on the shoulder pads of the football players. Penalties are immediately understood. Formations are quickly recognized. When the Chargers' Isaiah Burse zig-zagged for a 17-yard punt return Sunday during the team's 13-7 loss to the Saints, you could almost feel every juke.
Attendance at NFL games has been decreasing in recent years because it's a better game on television. That truth is turned on its head here, where TV cannot match the charge of feeling like a dude is being tackled at your feet.
"It's really surreal,'' admitted Doug Frankel, a lifelong Chargers fan from San Diego who bought season tickets. "It's probably going to be underwhelming for the NFL, but it's great for the fans."
The NFL opinion makers are already grumbling. I've heard complaints about this feeling like a small-college football venue unworthy of the league's 70,000-seat majesty. But it works exactly because it feels like a small-college football venue, and not just because it doesn't require 20 minutes to climb to your seat.
Unlike the ancient tight quarters of the Coliseum, StubHub Center also features wide concourses dotted with picnic tables and umbrellas. The tables are surrounded by so many different food options, it could be a weekly Taste of LA. The best part of the concourses is that whenever you decide to step into the stadium area, the football game is right in your face.
"I actually feel like I'm on the field with them," said Perkins, 27, a Los Angeles P.E. teacher. "I've never felt so close to the actual game."
Perkins echoed many people's feelings about the Coliseum, which creaked last year under the weight of restless Rams fans, who often fled early out of discomfort or boredom.
"I love the Coliseum because it's the Coliseum," Perkins said. "But this experience tops it twofold."
On Sunday there was more fodder to mock the slow-starting Chargers franchise. Attendance was only 21,197, a second consecutive week of questionable support even during the dumb exhibition season. There is also reason to wonder if the average fan can ever experience this place, as it has the highest average ticket price in the league at $192.
But stripped down to its basics, their new home is one of the best combinations of sports and venue in this city, something that was loudly reinforced when the Chargers scored their only touchdown.
It came early in the fourth quarter on a 99-yard interception return by Dexter McCoil. As he picked his way through the Saints offense, the crowd gasped with every swerve and sway, as if he were running directly down their aisle. When he crossed the goal line, many fans seemed to hop when he leaped, as if he had just scored among them.
In the Fight For L.A., StubHub Center packs a pretty good punch.
Get more of Bill Plaschke's work and follow him on Twitter @BillPlaschke
Get our high school sports newsletter
Prep Rally is devoted to the SoCal high school sports experience, bringing you scores, stories and a behind-the-scenes look at what makes prep sports so popular.
You may occasionally receive promotional content from the Los Angeles Times.