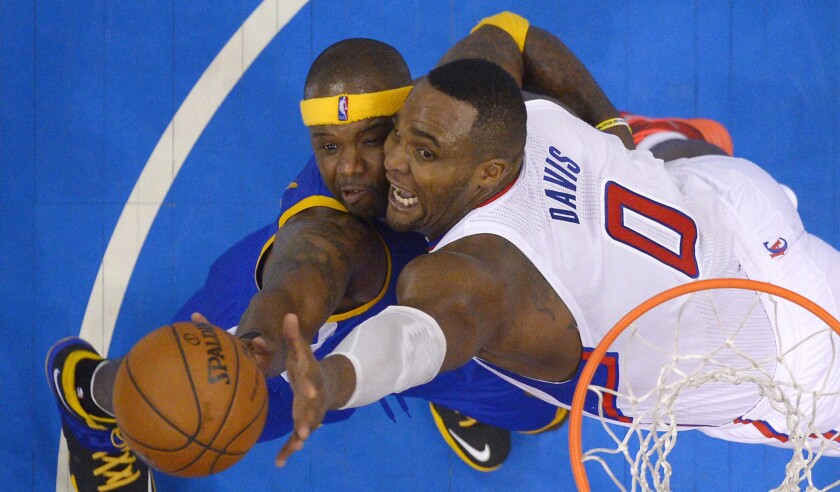 Can a bench be benched?
The Clippers essentially did it this season, signing, discarding and trading a variety of reserve players until finally arriving at the right combination …they hope.
Dying to add some punch to Jamal Crawford and Darren Collison, the Clippers tried Stephen Jackson for a few winter weeks. He wasn't the answer.
They signed Sasha Vujacic for a 10-day trial period. Darius Morris made it through two 10-day contracts before politely being shown the exit. Reserves Antawn Jamison and Byron Mullens were traded on the same day, both off-season signings that never fit with the Clippers.
But in a four-day February span, the Clippers might have found what they were seeking: Glen "Big Baby" Davis and Danny Granger, veteran castoffs from other teams.
The Clippers finally had a more versatile bench, something they'd need beyond Chris Paul, Blake Griffin, timely shooting from J.J. Redick and the swatting tendencies of DeAndre Jordan if they planned to get past the second round of the playoffs for the first time.
Surprisingly, though, the reserves were a somber unit in the Clippers' playoff opener, fumbling around just like the starters in an unexpected home loss to the Golden State Warriors. In that game, the Clippers' bench was outscored (32- 26) and outrebounded (21-13) by the Warriors' reserves.
Game 2 was different. Collison had 12 points and 10 assists Monday. Granger made three three-pointers. Crawford shrugged off a ragged Game 1 (two-for-11 shooting) for nine points, three assists and three steals in 18 minutes.
"Our bench won that game," Clippers Coach Doc Rivers said. "Our bench came in at the end of the first, stretched the lead. I thought it allowed everybody to just go relax and play."
The Clippers had never scored so many points in a playoff game or won by such a large margin, 138-98, setting four other team playoff records as well — most assists, steals, three-pointers and best free-throw percentage.
Rivers was particularly enamored of Crawford.
"My star of the game was Jamal defensively. 'Jamal' and 'defensively'…I didn't even know those two things would ever be said," Rivers said.
Rivers also talked about Hedo Turkoglu, plucked out of retirement in January by the Clippers after sitting out almost a year. Turkoglu made three three-pointers Monday while scoring 13 points in 14 minutes.
"Turk was the go-to guy at times," Rivers said.
Turkoglu has plenty of playoff experience (95 games so far), thanks a slew of early-career playoff games with Sacramento and a 2009 trip to the NBA Finals with Orlando. And the 35-year-old might not be done yet.
"There was different times throughout the season [where] Turk has had some unbelievable practices," Griffin said. "Three, four tough shots in a row and just hitting shots on guys. Danny's had good games. We know they can help us. We know what they have and what they can offer."
Davis, 28, also comes with playoff experience, playing for Rivers and the Boston Celtics on trips to the NBA Finals in 2008 and 2010, winning the first one.
The guy called "Big Baby" might have the best advice. It could work for the Clippers' bench and their starters.
"One thing on that '08 team, everybody embraced their role," he said. "Nobody stepped outside of their role and they did the necessary things to win ballgames. That's what we have to do."
Twitter: @Mike_Bresnahan
---