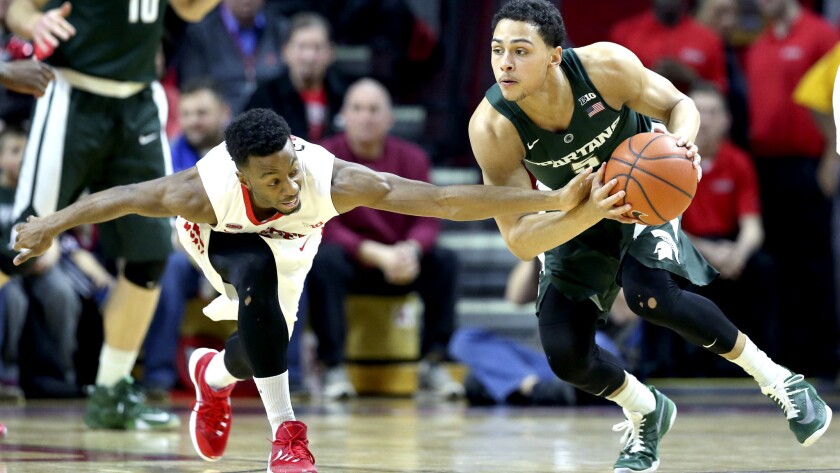 Bryn Forbes scored a career-high 33 points, hitting a conference-record 11 three-point shots, and No. 2 Michigan State woke up in the second half to rout Rutgers, 97-66, on Wednesday night in Piscataway, N.J. It was the 17th straight loss for the Scarlet Knights.
Eron Harris added 15 points and Denzel Valentine added 14 for the Spartans (25-5, 12-5 Big Ten), who made 16 three-pointers in winning their fifth straight game and ninth in 10. Matt Costello had 10 points and matched his career-best with 15 rebounds.
Forbes' 11th three-pointer was banked home and it broke the single-game record of 10 set by John Diebler of Ohio State against Penn State in 2011.
If Michigan State beats Ohio State on Saturday in its regular-season finale it will earn a double bye in the conference's upcoming tournament and the No. 2 seed.
Corey Sanders, who was returning from a four-game suspension, had 19 points for Rutgers (6-23, 0-17). The Scarlet Knights have lost 32 consecutive conference games dating to last season.
Rutgers needs to beat Minnesota, the second-worst team in the conference, to avoid a winless season in the league.
No. 7 Miami 68, at Notre Dame 50: Angel Rodriguez matched his season high with 19 points, Sheldon McClellan added 17 and the Hurricanes (24-5, 13-4 Atlantic Coast Conference) jumped to an early 18-point lead to move back into a tie with North Carolina for first place in the conference.
Miami held the Fighting Irish (19-10, 10-7) to a season-low 34% shooting as Notre Dame struggled offensively for the fourth straight game, losing three of those. The Hurricanes also had an 39-16 advantage in rebounds and a 32-24 edge in points in the paint.
Zach Auguste led Notre Dame with 18 points and 11 rebounds and Bonzie Colson added 11 points.
at No. 10 West Virginia 90, Texas Tech 68: Senior Jaysean Paige and Daxter Miles Jr. each scored 15 points and the Mountaineers (23-7, 12-5 Big 12) closed out their home schedule with a rout of the Red Raiders (18-11, 8-9). Paige made seven of 15 shots and had five rebounds and five assists.
Miles broke a slump which had seen him score a total of 14 points in his last four games.
West Virginia is in sole possession of second place in the Big 12 with a game to go at No. 19 Baylor on Saturday.
---