As college football teams rise and fall in polls, don't discount those preseason opinions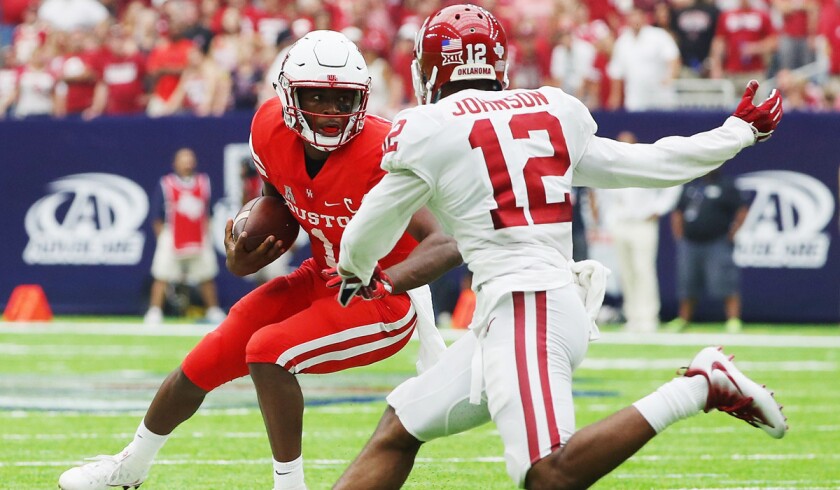 It comes as no surprise that last weekend — full of big wins and startling upsets — has seriously reshuffled the college football polls.
Houston, Wisconsin and Texas made huge jumps after unexpected victories while top-10 losers Oklahoma, Louisiana State and Notre Dame tumbled almost as far.
Now that voters have seen the teams play, as opposed to making summertime predictions based on talent evaluation and gut instinct, they have a better feel for the situation, right?
Not necessarily.
Ed Feng, a Stanford-educated chemical engineer who runs the Power Rank sports analytics site, believes that preseason polls are better at predicting eventual success than anything voters produce later on, and he backs that claim with numbers.
Examining the past 11 seasons, Feng used bowl games — neutral-site contests between quality opponents — to see how often the higher-ranked teams won.
The preseason Associated Press poll predicted winners 60.2% of the time. The coaches poll did even better at 60.9%. But the AP's final regular-season poll predicted only 56.6% of the winners and the success of the coaches poll dropped to 55.8%.
Habit and emotion might explain at least some of the discrepancy. As Feng puts it, "When the regular season begins, you start making systemic mistakes."
In many cases, he believes, voters drop losing teams a few spots too far. Oklahoma went from No. 3 to No. 14 after its stumble against Houston, a defeat that turned on a missed field-goal attempt returned for a touchdown.
"There's the image that Oklahoma has fallen off," Feng said. "The game was really pretty tight."
This dynamic works the opposite way too, with upset winners receiving a strong push. Wisconsin's rise from unranked to No. 10 is among the biggest one-week jumps in the AP poll's history. Texas similarly went from unranked to No. 11 after defeating Notre Dame in double-overtime.
"That was a very exciting game, but I don't think you can put that Texas team in the next category yet," Feng said. "The reality is, they still have a freshman quarterback who is going to make mistakes."
So what would the statistics guy tell voters as the season progresses?
Less emotion, he says. More logic.
Traps are set
If last weekend sparkled with top-25 matchups, this weekend brings something a little different.
For many teams, it's all about the trap game.
Top-ranked Alabama comes down from the hype of USC to face Western Kentucky. No. 6 Houston switches focus from an Oklahoma showdown to an expected beat-down against Lamar.
No wonder Houston Coach Tom Herman warned his players about complacency, saying that "they are going to get smacked in the face with a proverbial shovel" if they let down in practice.
Gardening tools aside, coaches apply all sorts of tricks to keep their teams on edge.
Coming off the Notre Dame upset, Texas Coach Charlie Strong wants his players to ignore the headlines as they prepare for underdog Texas El Paso.
"People are going to pat you on the back," Strong told his team. "But we've got to move on."
A kind of reverse psychology can be handy.
While losing coaches bolster their teams' confidence by paying some attention to things that went right, winning coaches are more apt to focus on the negative, especially when the next opponent looks like a pushover.
After a hard-fought victory over North Carolina, Kirby Smart made a to-do list for his Georgia players as they get ready for Nicholls State.
"You go to sleep thinking you played good, you watch tape and you're sick to your stomach because there are so many things you did wrong that we need to improve on," Smart said. "The good thing is, we get to show the kids that."
Snap decisions
A handful of top teams entered this season with no clear starter at quarterback and plans to rotate at the position.
That will change heading into Week 2, at least in some cases.
Texas freshman Shane Buechele became an overnight star against Notre Dame, and Auburn's Sean White performed well enough against second-ranked Clemson to be named the starter this week.
The Florida State situation appears settled with Deondre Francois replacing injured senior Sean Maguire and leading a comeback victory over Mississippi on Monday night.
"You've got a guy, a redshirt freshman, a young quarterback coming in and just telling the offense, 'I got y'all,'" Seminoles running back Dalvin Cook said. "It can't do nothing but motivate you to play harder."
Things aren't quite as clear at Alabama, where Coach Nick Saban refused to make any pronouncements in the competition involving Blake Barnett, Cooper Bateman and presumed front-runner Jalen Hurts.
Notre Dame Coach Brian Kelly has been just as coy, even after DeShone Kizer took the majority of snaps against Texas, passing for five touchdowns, while Malik Zaire watched from the sideline.
Asked about his plans with Nevada next on the schedule, he said: "We plan on having two really good quarterbacks the rest of the year."
---
Get our high school sports newsletter
Prep Rally is devoted to the SoCal high school sports experience, bringing you scores, stories and a behind-the-scenes look at what makes prep sports so popular.
You may occasionally receive promotional content from the Los Angeles Times.