90-year-old cyclist is stripped of world record after positive drug test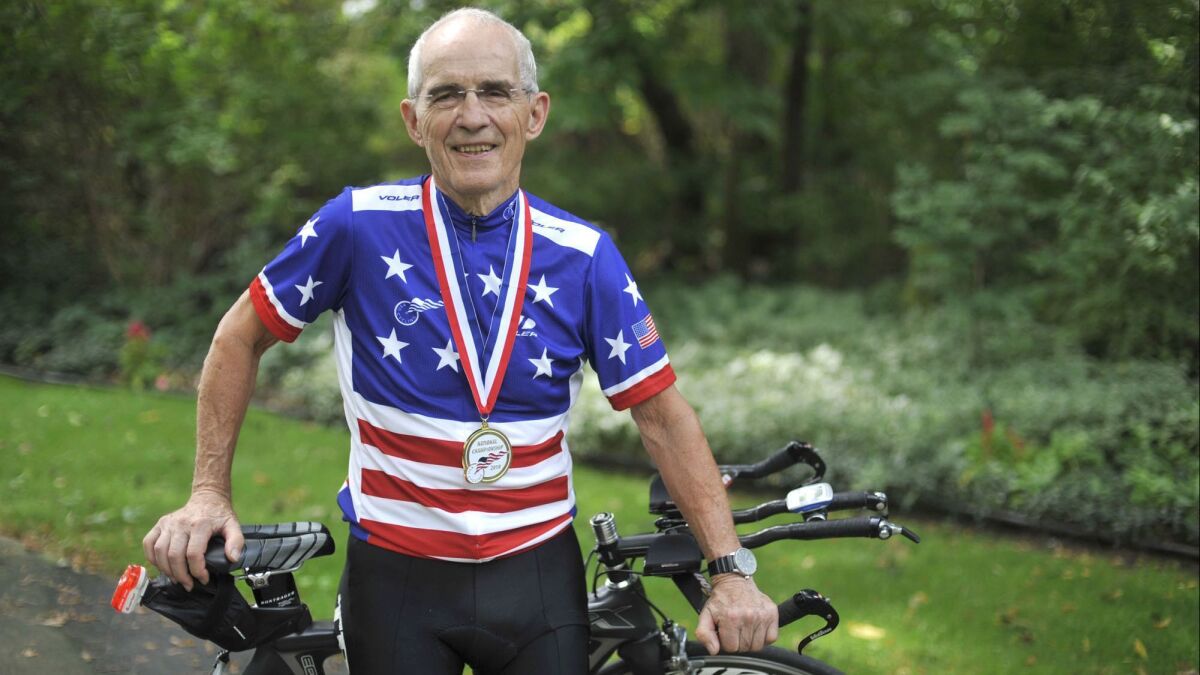 Carl Grove is 90 years old. He has dedicated himself to showing others that it's possible to be active and healthy at an advanced age, winning multiple cycling national titles and setting records in the sport for folks in their 80s and 90s.
Last week, however, he was stripped of one those titles and one of those records because of a positive drug test. Grove has said he wasn't doping, and the U.S. Anti-Doping Agency believes him.
But, nonetheless, the sanctions stand.
"I was really kind of down for a while. But I'm over it," the Bristol, Ind., cyclist told the Associated Press this week in his only public comments on the situation. "I wanted to be an inspiration, if possible. I worked like a real horse to do it."
Back in July, Grove took part in the U.S. Masters Track National Championships in Trexlertown, Pa. He tested negative for drugs after taking part in the the 500-meter time trial, then went out and had a liver dinner at a local diner.
The next day he competed in the 2,000-meter individual pursuit and set a world record in the 90-94 age group with his time of 3 minutes, 6.2 seconds. But a urine sample collected after the event came back positive for the banned substance trenbolone.
USADA said in a statement that the positive test was "more likely than not caused by contaminated meat." But the agency had no choice but to strip Grove of his title and world record, plus issue him an official warning, which is the lowest level of punishment for such cases.
"It absolutely breaks my heart to see a case like this with Carl," said Travis Tygart, chief executive of USADA.
"Cases like this make us bang our head against the wall. They're not right."
Grove said he's not worried about losing the title or record; his concern is the hit his reputation may have taken from the positive test.
"They struck me from the records. I don't really care about that too much," he said. "The thing that I really, really care about is that I wanted to be a sterling, totally clean person in front of people that knew about me.
"It looked like I had not been an honest person to a lot of people. I guess I was kind of worried about what did other people think, you know? Then, I began to think, `Well, some of them will believe me and some of them won't.' I guess that's just the way it is."
But Grove added that he is ready to set more world records and continue serving as a role model for older Americans.
"I try to show them that with just a little care and a little exercise and a proper attitude that, maybe, they can live the last eight, 10 years of their life with quality and not have aches and pains," he said.
Twitter: @chewkiii
---
Get our high school sports newsletter
Prep Rally is devoted to the SoCal high school sports experience, bringing you scores, stories and a behind-the-scenes look at what makes prep sports so popular.
You may occasionally receive promotional content from the Los Angeles Times.