The college basketball difference: The ball can change from game to game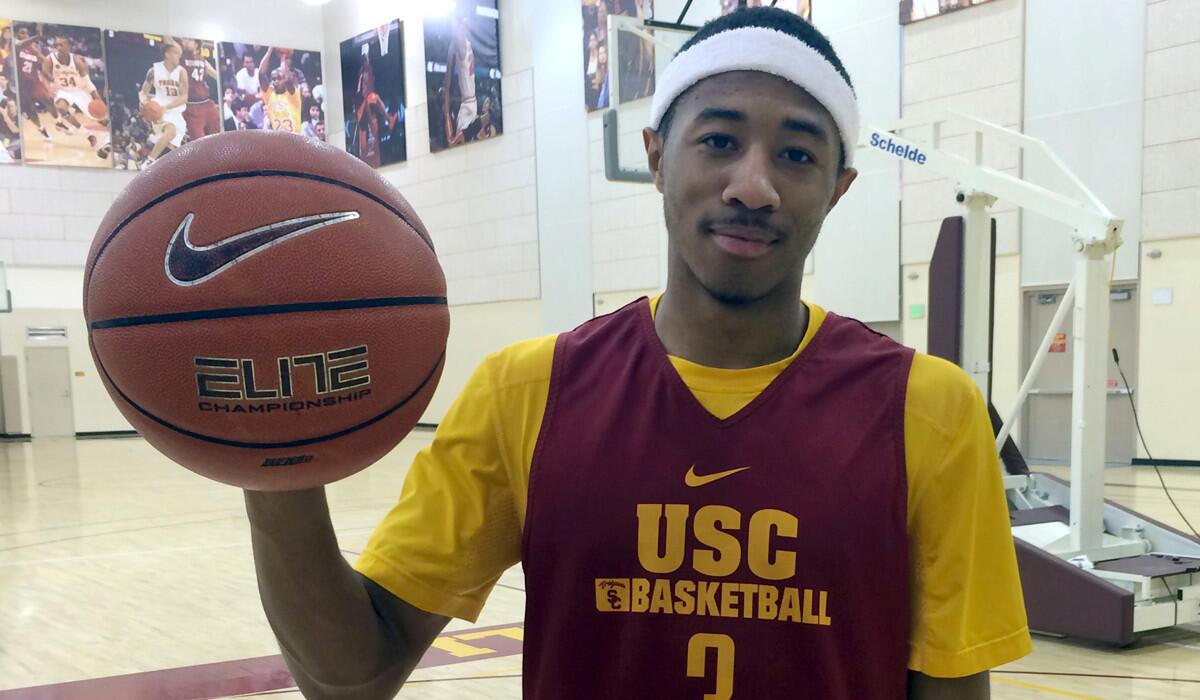 When UCLA tips off against California on Thursday, the referee will toss into the air an orangish inflated sphere with eight panels.
Most everything else about the game ball is up to the Bears. It can be leather. Or not. It can be 29 1/2 inches, or 30. If he wants to, California Coach Cuonzo Martin can stitch the game ball himself.
College basketball allows a quirk unseen in most other major sports. The NCAA sets basic parameters for a basketball, but the home team is free to choose whatever ball it desires. The balls often differ significantly game to game.
See the most-read stories in Sports this hour>>
California, which hosts both UCLA and USC this week, uses Nike's Elite Championship model. The Bears haven't lost at home all season.
"There's a reason people don't lose at home," USC guard Elijah Stewart said. "I've been saying that since AAU. Some teams will have home-court advantage, pull out a nasty ball. And that gives you the extra advantage sometimes. Sometimes the ball even weighs different."
Most college teams prepare for the difference. In the week before a road game, USC and UCLA practice only with their opponent's model.
"It might not seem like a whole lot, but when you're a shooter, when you're a guy who has the ball in their hands a lot, it's difficult to get into a rhythm when you're switching balls every other game," UCLA point guard Bryce Alford said.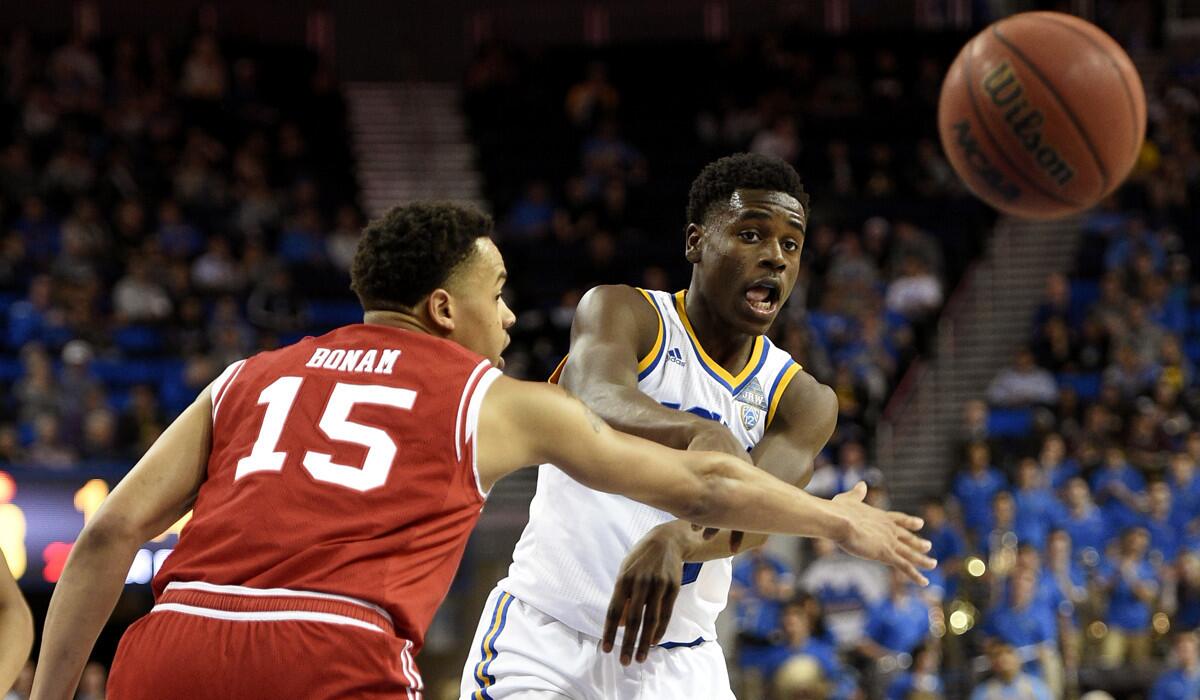 When Alford shoots a free throw, for example, he spins the ball until his finger lands on the rubber air valve. On Adidas balls, a smooth, indented bar code burrows directly below the valve. The ball feels different rolling off his finger.
Players can be picky about their preferred model. The NBA once switched its Spalding ball from leather to microfiber composite. Shooting averages went up. Scoring went up. Turnovers went down.
The players hated it.
Former Lakers guard Steve Nash, then on the Phoenix Suns, said it bothered his hands.
"The ball just tears them apart," he said. "It's kind of like paper cuts."
The NBA switched back in midseason.
In college, each player has his favorite style of ball. Some players complained that Adidas balls were slippery, so Adidas added deeper grooves. Wilsons are grippy and soft, almost buttery.
Alford loves Spalding's model, but he's never played with it in college. Stewart described the Under Armour model as rougher and denser. It's also his favorite.
"Even though they're heavier, they sit heavier up in your hands, so you can give it more flick to your wrist," Stewart said.
USC Coach Andy Enfield claims Nikes are better for shooters.
Wilson balls, he said, "grip the backboard more, versus a Nike, which just slides naturally."
Most schools ignore preference and stick with their affiliated brands. Among power-conference teams, 41 use Nike, by far the leader.
The NCAA uses a Wilson ball during the NCAA tournament, so nine power-conference schools use Wilson throughout the season. UCLA switched from Adidas to Wilson before last season.
Other tournaments, like the Pac-12 tournament, typically use Wilson, though some schools shift to other brands.
In the Pac-12 Conference, nine teams use Nike. (Utah opts for Wilson; Arizona State uses Adidas.)
Elsewhere, diversity abounds. Big Ten Conference teams navigate brands like Michigan's the Rock and Wisconsin's Sterling ball. Earlier this month, Wisconsin guard Nigel Hayes, dreading the prospect of playing with Maryland's Under Armour ball, advocated an NCAA-wide standard.
"You don't go to the Clippers' stadium and play with a Nike and then go to Golden State and play with a Rawlings," Hayes said. Then he quipped, "But in this amateur sport of college, where money isn't the goal — it's the student education and experience that you get — we play with a million different basketballs."
David Worlock, the NCAA's director of media coordination for basketball, said the NCAA can't legislate beyond its postseason tournaments. "It is not under the NCAA's purview to determine which manufacturers of various game equipment should be used," he said.
For other college sports, the difference isn't as pronounced. In football, each offense can use its own ball, even on the road. Baseball home teams supply their own game balls, but the NCAA provides stricter standards, down to the height of the laces.
The NCAA's basketball guidelines are liberal. A ball must have eight panels of pebbled leather or composite material. It can weigh between 20 and 22 ounces.
Virtually every team uses a 29 1/2-inch ball.
Despite certain bounciness and air-pressure standards, no two game balls feel the same, many players interviewed for this report said. As the balls are broken in, they develop unique characteristics, like a baseball mitt.
UCLA forward Tony Parker thinks the variation is mostly innocent.
"It's not a Deflategate deal," he said.
Stewart, though, sometimes suspects trickery. During shoot-arounds on the road, he said, he has noticed some teams supply "all those beat balls. It's not like the balls the home team plays with."
Which teams?
"Oh, I'd rather not say," Stewart said. "But it happens."
The Trojans seems to prefer their own game balls, broken in to their own standards. In conference play, they are just 2-5 on the road, with one trip left to Stanford and California.
"Luckily," Stewart said, "both these teams are Nike."
Follow Zach Helfand on Twitter @zhelfand
Get our high school sports newsletter
Prep Rally is devoted to the SoCal high school sports experience, bringing you scores, stories and a behind-the-scenes look at what makes prep sports so popular.
You may occasionally receive promotional content from the Los Angeles Times.